By Lam Seng Fatt
"We like it loud…and accurate," said Brian Russell, president of Bryston, while he was having dinner with James Tan and Low Chan Weng of AV Designs and hi-fi bloggers at a Chinese restaurant in Kuala Lumpur on Monday.
We were talking about the Bryston speakers (the Model T) and why they feature three woofers, two mid-range drivers and two tweeters per speaker.
How did a company like Bryston famed more for its amplifiers get involved in making speakers? Brian explained that it started off as a personal project of James Tanner (VP of sales and marketing) who in one of his crazy moments wanted to build a pair of speakers.
"So he contacted some speaker manufacturers and asked if they would work with him, but they all declined. Except for Axiom, which is located near Bryston," he said.
After numerous design changes and after Axiom custom made speaker units for James according to his specs, he was satisfied with the sound, but it took another year or so to convince Brian that it could be marketed as a Bryston product.
Though the Model T speakers have not been marketed yet, there have already been preorders. By December, one pair will reach AV Designs, which will make Malaysia only the second country in the world to have a pair.
The subject moved on to Bryston's headphone amp (BHA-1). How did a company like Bryston famed more for its amplifiers get involved in making headphone amps?
Brian said about three years ago he was in a hi-fi store in Japan and he saw rows and rows of headphone amps on the shelves of the store and his business sense told him that there had to be a huge market for headphone amps. Back in Canada, he told his engineers (and Tanner) to come up with one and thus the BHA-1 was designed.
But how did it become a preamp too? "While it was on the production line, one of our staff suddenly realised that there was space for a preamp section and asked why the engineers didn"t include one. It was like "Why didn't I think of it?" and it was back to the drawing board to design a preamp section for it. By then 48 headphone amps were already made and these had been sent out to retailers," he said.
Brian said every new product launched by Bryston in the past few years had been winners. The BDP-1 digital music player, the BDA-1 DAC, the B-135 SST2 integrated amp, the SP-3 Surround Sound Processor/Preamp and the BHA-1 headphone amp/preamp have all been selling very well.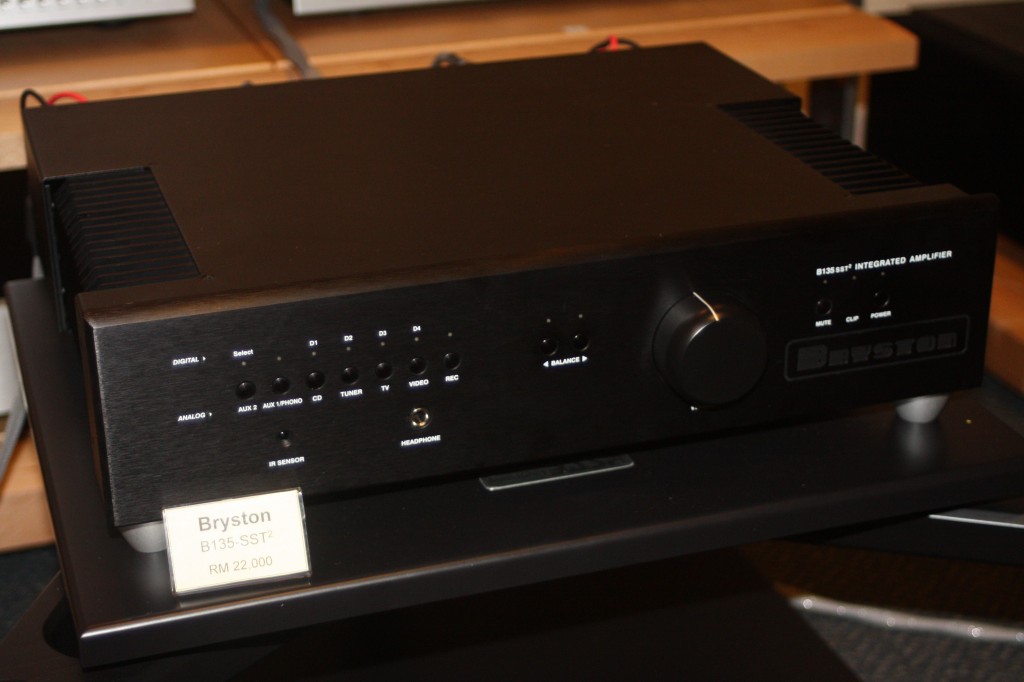 "Bryston is doing very well despite the bad economic conditions," he said.
Since Bryston is now making all sorts of products, I asked if there could be a Bryston turntable some day.
"No," he said.
What about new versions of the amplifiers like an SST3 perhaps? "Not in the forseable future," he said.
What about a CD transport? "Nope."
Okay then, we'll just have to be satisfied with the Bryston BDP-2 digital music player and the matching BDA-2 DAC for the time being.