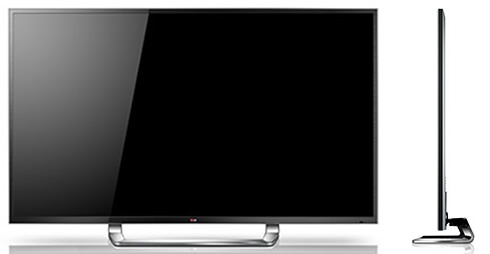 By Dick Tan
It has to happen.  At  first, earlier this year, with a couple of high-end home theatre projectors and now with top of the range high performance digital display systems that virtually most of the 'big boys' of the consumer digital TV industry seem to be fielding.
One of the earliest off the block is LG with its 84″ 84LM9600.
With a native resolution of 3840 x 2160 pixels the 84LM9600 is described as an Ultra HD display with a resolution that is approximately 4 times that of the Full HD of 1920 x 1080p that we are so familiar with today.
An LCD design featuring LED backlight technology with local dimming capability the 84LM9600, as one would expect of premium digital TV is extensively 'smart' allowing comprehensive access to Internet programmes.  It is also, needless to say, 3D compatible.  In spite of its tremendous width  (for a TV that is ) the 84LM9600 is still unbelievably thin measuring only 1.57″ thick.  Yet the whole display is no  lightweight, weighing in at almost 175 lbs, inclusive of stand.
To keep pace with what must surely be a stunning picture LG engineers have incorporated a 10 speaker audio system driven by a built-in 50 watt amplification system.  LG describes the built-in sound as a 2.2 system which probably means that it's a stereo format with up to 2 built-in woofers for extended bass performance.  That is commendable but chances are anyone lucky or rich enough to own such a display will likely not bat an eye-lid in accompanying it with an equally super duper external surround system.
Four HDMI inputs are provided with other digital video sources covered with up to three USB 2.0 ports, an Ethernet port, component video sockets, PC audio and video  input, digital audio output and composite video input.  The last, the composite video input is a mind-boggler.
Sending in lowly, low resolution video into a 4K display device is like sending dual channel analogue audio from a high resolution BD player into  the latest generation digital AV receiver.
Who would own such an Ultra High Definition display?  Rich videophiles who want and appreciate the best.  For the rest of us we will just have to wait for the price to drop.
Retail price RM70,000