By Dick Tan
After a short period of hiatus, the king (to me anyway) of no-holds-barred,  high-performance subwoofers is back.
SVS recently announced the release of its dual model 1000 Series which comprises the PB-1000 and the SB-1000.  Both models, given SVS's reputation for making great sounding subs, are incredibly affordable, priced at RM2,499 each.
One would think that both models must share many common features.  The opposite is true, they could not have been more different like  chalk and cheese.  At this price level something has to give and it is in the finishing.
Both subs come vinyl clad, not in the usual piano gloss or natural wood finish of the more expensive SVS subs.
Having said that the vinyl application appears fairly well done and unless you have a fetish for natural wood both the SB-1000 and PB-1000 will easily pass master.
Described as entry-level subs (by SVS standards) one features a 10″ front ported woofer in a mid-size enclosure while the other has a 12″ woofer in a sealed micro-sized enclosure.  Both are driven by high-efficiency class D power amplifiers conservatively rated to deliver  300 watts RMS with up to 720 watts dynamic peak capability.
According to Max Loh of Maxx Audio Visual the opposing size and aesthetics of the SB-1000 and PB-1000 are to ensure that high performance bass reproduction can be had by audiophiles and movie lovers whatever their space constraints may be.
When prodded for a recommendation, Maxx said the choice as to which one to opt for would depend very much on what one would want the sub to do.  If it's music, the micro SB-1000 with its more linear low end may be more suitable  while the deeper and higher output level of the PB-1000 maybe more appropriate for  home  cinema.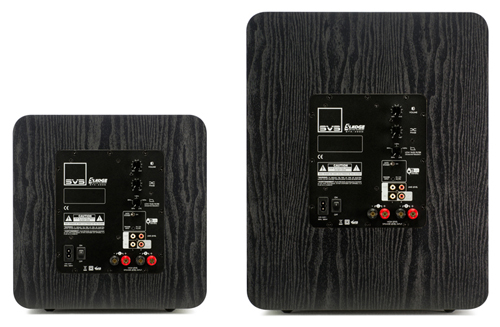 Measuring only 13″ on all sides, the long throw rubber surround 12″ driver of the SB-1000 is said to be able to achieve low frequency depth to 24 hertz.  That is a lot deeper than many larger, more expensive subs.
On the other hand, in a larger room, the PB-1000 measuring 18.4″ x 15″ x 17.4″ with its front firing ported woofer may be the better choice.  In spite of its smaller 10″ driver the PB-1000 is able to hit a bass extension of down to 19 hertz, quite unheard of for a 10″ sub that retails for less that RM2,500.
Standard features of both the PB-1000 and SB-1000 include line level as well as LFE inputs, the latter for bypassing the subs' built in crossover network system, low 0.5 watts standby power consumption, high power, heavy duty voice coil for greatly improved power capability, speaker level inputs and a generous 3-year warranty.
The SVS range of subwoofers will be on demo/audition at the coming KL AV Show 2013 July 5-7, JW Marriott Hotel, Kuala Lumpur.
For further information contact :  Maxx Audio Visual Trading
                                                                      Tel:  06 7620811