By Lam Seng Fatt
Now this is an interesting component – not only is it a USB DAC headphone amp, but it also has an ADC (Analogue to Digital Converter) function for vinyl ripping. The last component I reviewed which had similar features was the Furutech/Alpha Design Labs GT40 USB DAC with phono stage.
While the GT40 has the extra bit called a phono stage, the Brik AP-32H offers a 32bit/384KHz DAC and a 24bit/384KHz ADC.
The Brik is sized like a small brick but weighs much less. Packed in it is something quite mysterious as there is no mention either in the instruction manual or the Brik website of the type of DAC and ADC chips used.
Also, the instruction manual that came with the unit was inadequate and I had to google around to find out how to get the ADC function to work. When I reviewed the Furutech/Alpha Design Labs GT40 USB DAC with phono stage, all I had to do was to download Audacity, connect the phono cables from the turntable to it and I could perform vinyl rips.
So I thought it would be a breeze with the Brik. I downloaded the latest version of Audacity, connected the interconnects from the phono preamp to the analogue inputs of the Brik and… nothing happened. That was when I had to google around to look for answers and found this very useful page in the Brik website: http://webbuilder3.asiannet.com/ftp/2407/AP-32H Usermanual.pdf Before you start using this Brik component, it is essential to read this page.
I downloaded the recommended recording software "Magix Samplitude Pro" and followed the instructions on the user manual. Since it was a free trial copy, I could not monitor the recording with headphones and adjust volume as these commands were disabled. I presume with the full paid version, these commands would be activated.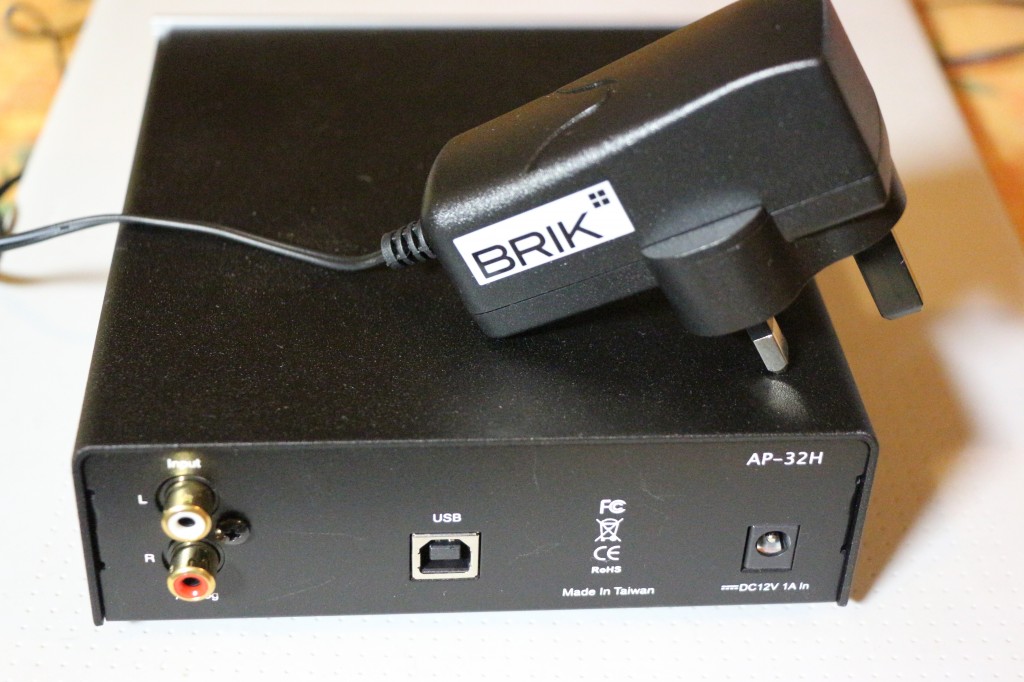 I took out a copy of Bad Company"s first album and ripped all of side one (since I could not monitor with the headphones, I did not know when to stop recording). I must say that ripping at 384Khz sampling in WAV format creates extremely huge files – be warned. Your hard disk memory will be used up very quickly.
Getting the USB DAC to work was easier. Simply put in the CD-R disc that comes along with the Brik and click "Set-Up". Then connect the USB cable that came with the Brik from the DAC to the laptop.
Brik recommends Foobar, but I already had J. River V17 in my HP laptop and decided to stick to it. Setting audio output to "Wasapi Event Style" got the Brik DAC to work.
After that it was just a matter of selecting the tracks and click "play"
The Brik handles 16,24 and 32-bit files with sampling rates of 44.1, 48, 88.2, 96, 176.4, 192 and 384KHz. So I played a variety of files ranging from ripped CD songs to 192KHz music files. I was about to finish this review and post it when suddenly I decided to google around to find out if I could download any 24/384 file from some music site. I checked the 2L site and found out that it had DSD and DXD (24/352.8) files, but no 24/384 files. Then I found some 24/384 free downloads – from Kent Poon"s site. I quickly downloaded two tracks – Lush Life – in 24/192 and 24/384.
Then I plugged in the Brik and the resident Sennheiser HD600 headphones. For some strange reason, the J River downsampled the 24/384 file to 24/96 whilst the 24/192 file could be played in its native sampling rate. So I decided to use Audacity which allowed me to play the 24/192 and 24/384 files in their native sampling rates.
I must say that there was a difference between the two files and the 24/384 sounded much richer and fuller. So it would appear that 24/384 files sound closer to the real-life event than anything else other than DSD files. It was the second time that I had heard 24/384 files played natively; the first time was with a Playback Design DAC that costs many, many times more than the Brik.
The Brik"s sound quality is clear and clean but a bit on the lean side. This characteristic is apparent when playing downloaded digital files or ripped vinyl tracks. In other words, both the DAC and ADC have a similar sonic signature.
The Brik is quite fun to have and if you spend hours working on the laptop, it is a worthy buy as it takes the sound quality to a higher level compared with the laptop"s headphone jack.
The vinyl-ripping feature definitely gives it more value.
BRIK components are available at CMY Audio & Visual.