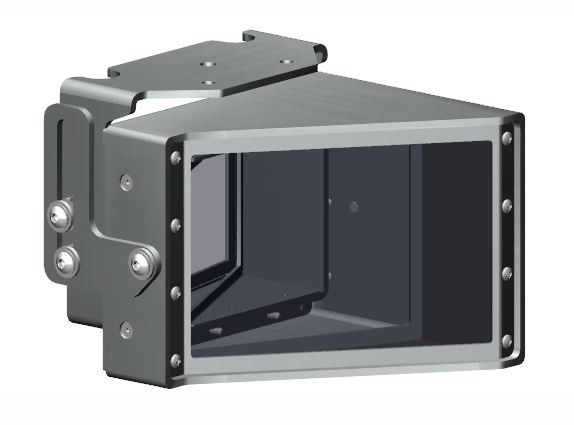 Have you finally made the big move and gone for a two piece front projection system?  If  so you might want to consider going for an ultra wide CinemaScope 2.35.1 screen instead of the standard 16.9 (1.78.1) screen, particularly if your visual preference are movies.
Unlike video programmes made for HDTV, a big percentage of movies are made in 2.35.1 aspect ratio.  They are a wider then that of your digital display which has a 16.9 (1.78.1) aspect ratio.
For a while the screens used in most front projection systems were of 16.9 aspect ratio too but that meant that any movies which are photographed in 2.35.1 aspect ratio are projected onto a 16.9 screen with black bars at the top and bottom.
To the serious movie lover/videophile that is unacceptable and sometime back the more forward thinking screen manufacturers began to offer screens in 2.35.1 aspect ratio.
That meant that 2.35.1 aspect ratio movies, of which practically all blockbusters movie are shot in, can now be viewed without the pesky top and bottom black bars.
However any movies or HDTV video programmes shot in the narrower 16.9 (1.78.1) aspect ratio will now be accompanied by black bars at the side of the 2.35.1 screen, if viewed in their native aspect ratio.
What we have here is an impasse and the choice for the serious videophile is obvious, he would likely opt for a 2.35.1 screen and tolerate 16.9 (1.78.1) programmes with black bars at the side.  On the other hand for those whose visual diet consist mainly of 16.9 video programmes, the 16.9 screen would be the preferred option.  Conversely, such a viewer will put up with the top and bottom black bars when viewing 2.35.1 CinemaScope movies.
But the number of videophiles opting for 2.35.1 screens has grown steadily, prompting projector manufacturers to incorporate features on their more premium models that will help optimise 2.35.1 aspect ratio performance on 2.35.1 screens.
There are,  a few methods available to those who wants to get best out of their 2.35.1 video system.  The most basic simply involves zooming a 2.35.1 aspect ratio movie to fill a 2.35.1 screen.
But bearing in mind that all projectors are  fitted with  16.9 imaging devices ( at the time of writing there are  no known projectors that come with a specially fitted 2.35.1 aspect ratio imaging unit ),  this method will mean black bars will still spill over the top and bottom of the screen.
The more astute installer can overcome this problem to a certain degree by installing the 2.35.1 screen with fairly large borders covered in soft black velvet material that will, to a degree, absorb some but not all of the spilled light, rendering it almost undetectable. The keen eye will however still spot it.
Another  more effective method, the one most serious videophiles prefer, would be to use what is known as an anamorphic lens installed just in front of projector lens.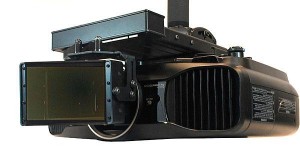 The main objective of such lens is to preserve the resolution of the 2.35.1 movie and the benefits could include improvements in perceived resolution as well as visual details. It will also not leave any spilled lights.
Quite a  number of specialist manufacturers make such lenses and among the most well known is Panamorph, an American company that offers an unusually wide range with varying capabilities, performance and cost.   Its most affordable model for those who do not have  very deep pockets is the CineVista.
Unlike its more expensive brethrens  the CineVista offers only a permanent attachment to your projector and cannot be slid  out of the way but at RM6,900 it is a relatively affordable (as far as anamorphic lens are concerned !) way to optimise on one's 2.35.1 projection performance.
Experience have taught me that anything that gets in the way of the light path of projector is lightly to cause a loss of  brightness but that was not the case with the CineVista.
Perceived brightness was increased along with visual detail with the picture looking more punchy and sharp.
Although the CineVista is the most basic model from Panamorph, its set up is anything but and unless you are technically proficient expert installation is advised.
Used in conjunction with my Panasonic PT-AE8000 projector that offers a vast selection of scaling and aspect ratio stretch  memories, the CineVista also allows the option of viewing 16.9 (1.78.1) aspect ratio movies cropped to fit the entire StewartFilm FireHawk  2.35.1 screen.
The purists among us will no doubt object, preferring to watch such movies in their original  aspect ratio and tolerate the black side bars but the sheer  pleasure of watching a movie fill up the entire screen (without visual distortion) is in my opinion, worth the loss of, albeit relatively minor, part of the picture.
I would have preferred the option of being able to slide the CineVista lens on and off for comparison purpose but that  would incur a much greater cost.  The CineVista is  simply a no frills anamorphic lens for getting the best out of your CinemaScope 2.35.1 set-up, similar in analogy to a minimalist but high performance amplifier.   In that respect the CineVista has succeeded admirably.
For further details contact :  Audio Visual Designs Sdn Bhd.  Tel: 03 21712828
Article by Dick Tan