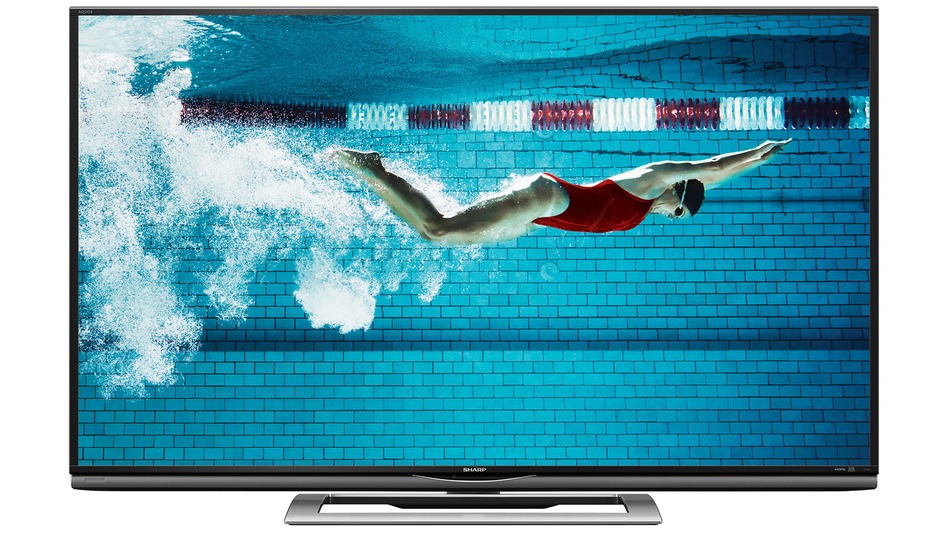 In a recent new product line up ceremony, Sharp announced the launch of its first 4K TV, the 70″ Aquos LC-70 UDIX which Sharp claim is also the world's first THX 4K certified TV.  This Sharp UHD monolith is set to retail at RM29, 999.
The Aquos LC-70UDIX will be the first of many variable sized Sharp 4K TVs to come.
As Sharp's spearhead 4K unit the Aquos LC-70 UDIX appears well prepared to lead the company into the new, heady market of ultra high definition display technology.
At its heart is a 3,840 x 2160 pixel LED backlit LCD panel that is said to be able to produce up to four times the resolution of a conventional full HD 1080p panel.  According to Sharp that is equivalent to over 8 million pixels against a full HD 1080p panel's 2 million pixels.
What this means in layman terms is that 4K displays, because of their much higher and therefore finer resolution, is able to produce a much bigger picture without an accompanying loss of perceived resolution. On the other hand a 4K/UHD displays resolution is so fine one can actually sit closer to it without seeing any picture grain or pixel structure. It creates, therefore, a win win situation.  You can achieve a really big picture with 4K but you don't need a huge room to do it in!
As regards the LC-7 UDIX's THX 4K certification, Sharp said that it had to ensure that the LC-70UDIX is able to pass over 400 vigorous tests to cover over 1,000 data points to meet with THX labs' extremely high and uncompromising standards of visual performance.
One of the results of the LC-70 UDIX's research work to meet THX test standards  is Sharp's proprietary Aquos 4K  Master Engine Pro Video processor that is designed to ensure optimum up scaling of sources, in particular full HD1080p/i programmes to meet its native 3,840 x 2,160 pixels.
While no one will argue that modern super sexy, slim digital displays produce great pictures with excellent aesthetics, the same cannot be said of the sound systems accompanying them.
Due directly to the fact but that is precious little space to install an effective sound system in, most HDTV simply sound dreadful.
Sharp however appears undaunted and has taken the lead in incorporating a 30 watt 3way sound system that includes up to 2 subwoofers with separate left and right midrange and tweeter aligned along the base of LC-70 UDIX.
Notable features include up to 4 HDMI, digital and analogue audio outputs and 3 USB inputs.  The LC-70 UDIX is also Smart and 3D capable.
According to Hiroyuki Nuizato, Sharp's Managing Director in Malaysia, the company is optimistic of its digital TV business growth and in spite of the challenging economic outlook, Sharp has been on a steady growth path, far out stripping other Sharp subsidiaries in the Asia Pacific region.
Says Nuigato, "Take the LCD TV market in Malaysia as an example.  Next year the overall demand is projected at 2 million units.  Sharp intends to be at the frontline jostling for a big share of the market with our Big Aquos series leading the way".
Too late to include the LC-70 UDIX in your Christmas wish list to Santa?  Never mind there's still the New Year Resolution!
For further details contact: 
Sharp-Roxy Sales & Service (M) Sdn Bhd
03-5192 5678
Article by Dick Tan