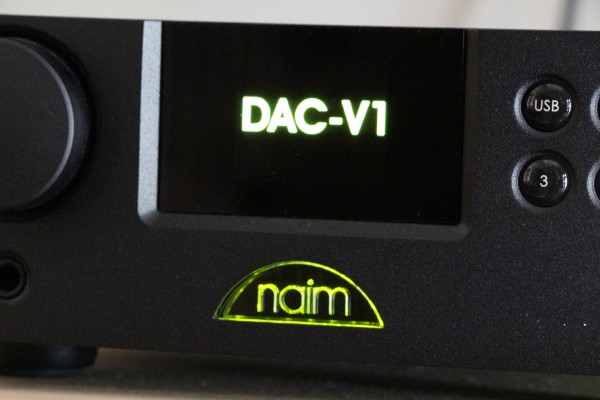 By Lam Seng Fatt
Unlike some other British manufacturers, Naim does not release that many DACs that often. So when they do, it is only after they have given much thought to what the market wants and where things are heading to. Naim realises that the trend is heading towards very hi-res music.
That explains why the Naim DAC-V1 can process up to 24-bit 384KHz PCM music files. Unfortunately it cannot accept DSD files otherwise it would have made a good buy an even better buy.
The Naim DAC-V1 is a shoe-box size component which is typically British in terms of spartan design and typically Naim in terms of sound quality. It measures 8.7 x 20.7 x 31.4cm (H x W x D) and weighs 4.3kg.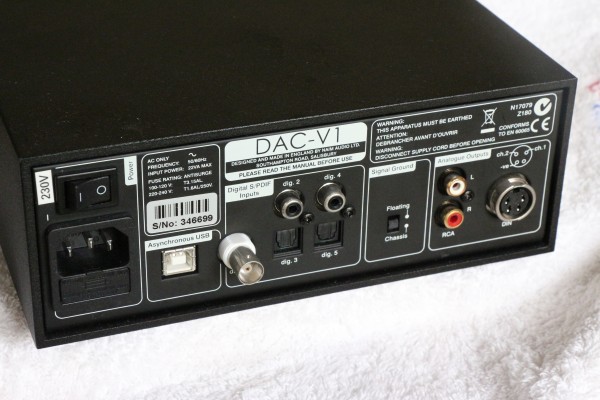 It has five digital inputs that can handle 24/192 – 1 BNC, two coax and two Toslinks. The asynchronous USB input can handle up to 24bit/384kHz. Doing the digital to analogue conversion is the Burr Brown PCM1791A chip.
Its analogue outputs are fixed or variable and activating them is quite simple using the remote control buttons. When fixed, it acts as a DAC and is meant to be connected to a preamp or an integrated amp. On variable setting, it acts as a preamp and the large volume knob on the front panel is very handy. Volume control is analogue and the level is shown on the panel.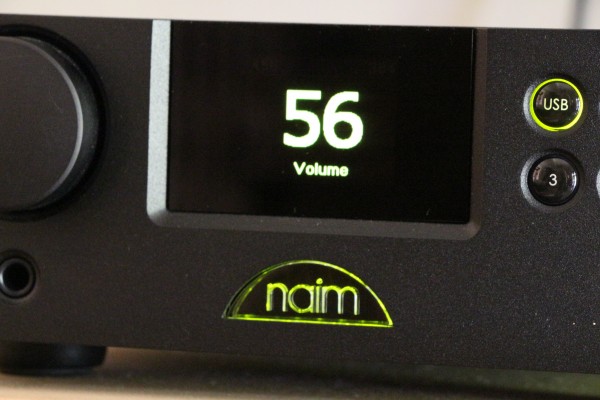 The DAC-V1 also functions as a headphone amp. With its matching NAP 100 50-watter power amp, the duo can be the heart of a pretty high-quality stereo system.
They say that in life there is always a first time – it is the first DAC I have reviewed which offers a Floating or Chassis ground switch. I used Chassis ground throughout the review and there was no hum at all. Normally phono preamps have ground switches.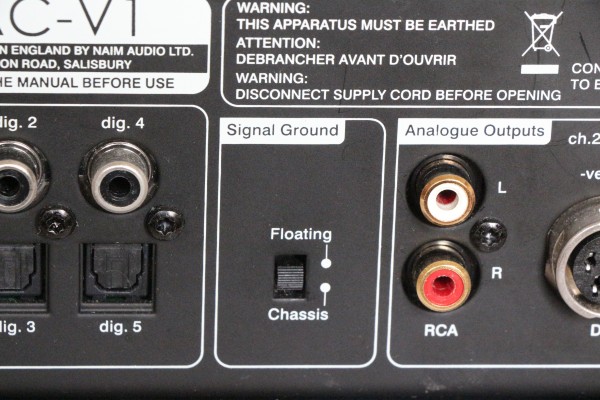 Before proceeding further, it is advisable to go to Naim's website http://www.naimaudio.com/hifi-products/dac-v1 and read the manual. The website also offers a download of Bit-perfect test files, but I did not check that out.
If you are using an Apple laptop with the Mac OSX 10.7 and above, you do not need to install a driver to stream 24/384 files. If you are using Windows 7 or 8, you have to install a driver to stream up to 24/384. The website also has instructions on how to configure Amarra, Audirvana, Pure Music, Foobar and J River music players.
I have J River V 19 which I bought earlier and I downloaded Foobar2000 to my Lenovo laptop and followed the instructions in Naim's website. I am advising that you should do this first because I wasted much time trying to get things going. Once things are properly configured and set up, it is a breeze to use the Naim DAC-V1 to play hi-res files. Just click play and look out for the sampling frequency to appear on the display panel of the DAC.
I discovered that Foobar2000 plays 352.8 files natively while J River converts them to 384.
Headphone amp
I shall start with the headphone section. Naim uses the pre-amp's single-ended Class A output amp to drive headphones. Once the headphones are plugged in, the output current drive is automatically increased by five times so that headphones of any impedence can be driven.
I used the Sennheiser HD600 and the Audio Technica ATH Pro5 Mk II headphones and found that the sound was more dynamic with the kind of PRAT that Naim is famed for than when the DAC-V1 was used as a preamp.
A good feature was the automatic muting of the DAC-V1 when used either as a DAC or a preamp.
DAC/preamp
I was actually quite surprised that the sound quality of the Naim DAC-V1 was not as lean as I expected. Somehow there is this impression in my mind that Naim components sound fast but lean.
The DAC-V1 connected to the Bryston 4B SST power amp via WireWorld Platinum interconnects created music that had pace, rhythm and drive. The sound was quite full-bodied and rich – that was the surprising bit.
Even more surprising was that it sounded quite refined when playing classical music. I was playing a 352.8 track from 2L and I was taken aback by how rich and smooth the violins sounded and how refined the music was. I always had this impression that Naim was great only for rock music.
I used the Roksan Caspian CD player as transport connected to the DAC with van den Hul Digicoupler and Optocoupler, and I used the laptop with a Kimber silver USB cable. Music ranged from 44.1kHz to 384kHz. Since it was one of the rare times that I could hear 352.8 and 384 files being played natively, I spent much time listening to these super hi-res tracks.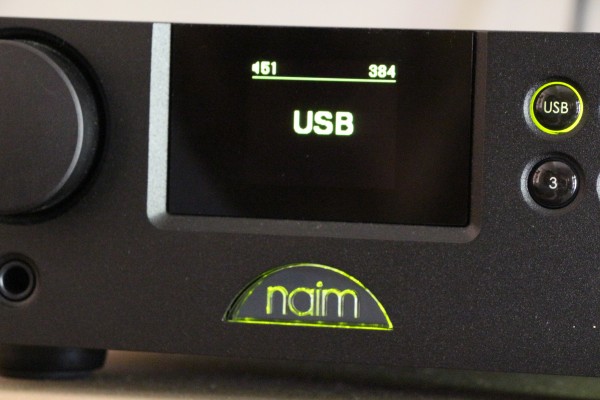 I can report that 352.8 sounds very good, but 384 is slightly better with a greater degree of naturalness and three-dimensional shape to instruments and singers.
DAC
Setting analogue output to 'fixed' turns it into a standalone DAC. It was connnected to the Lamm LL2 Deluxe preamp with WyWires Platinum interconnects.
In this set-up, the character of the music changed with the Lamm preamp imposing its signature of spaciousness and a bit of warmth at the expense of a tiny bit of drive. This way, Naim loses a little of its character and signature.
So it's a question of which you prefer – the Naim sound or something else. If you love that Naim drive, punch and pace, I would suggest you use the DAC-V1 as a preamp and mate it with the matching NAP 100 power amp or some other Naim power amp. As expected of Naim, the DAC-V1 has a DIN analogue output.
For the Naim fan, this is not just a good buy, it's a great buy. The DAC is good and can decode 384 files, the preamp has that Naim signature sound and the headphone amp is fabulous.
Naim is distributed in Malaysia by CMY Audio & Visual.