Article by Dick Tan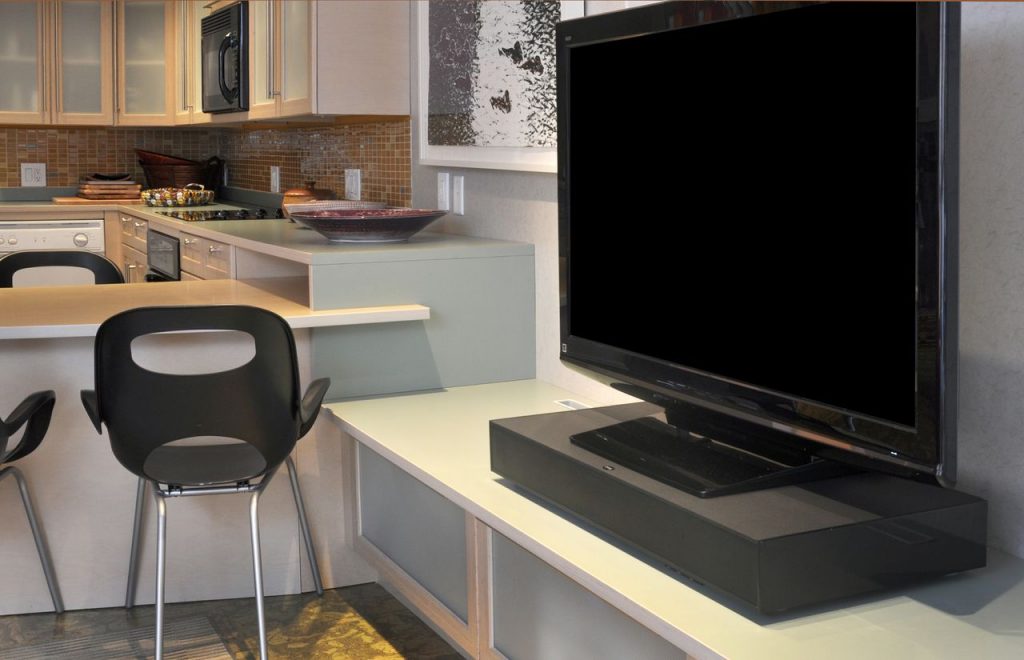 ZVOX is a U.S. based speaker company found in 2003 by audio industry veteran Tom Hannaher, a former member  of the highly regarded Cambridge Soundworks Company.
One of the pioneers of the soundbar/base segment of the speaker market, ZVOX is today best known for its extensive range of soundbase systems.  It's obvious that ZVOX would rather have you place your HDTV on top of its soundbase (hence 'base') instead of directly behind.
It is of course quite impossible, because of their extended depth, to wall mount the ZVOX soundbases along with the HDTV.
Nevertheless, depending on one's component storage arrangement, it is possible to place a ZVOX soundbase directly on top a sideboard or on AV rack that is  located just below a wall mounted HDTV.
According to ZVOX one of the major advantage of a soundbase, as opposed to a soundbar is the ability to obtain a far more extended bass response due largely to the amount of internal volume a soundbase has over a soundbar which is usually wide and thin.
A soundbase such as ZVOX's latest Z-Base 580 measuring W914mm(36″) x H127mm(5″) x D419.1mm (16.5″) is at least 4 to 5 times the depth of most conventional soundbars and at least as tall.  Everything being equal, a speaker enclosure with a larger internal  volume will  produce a more extended bass response than one that's smaller.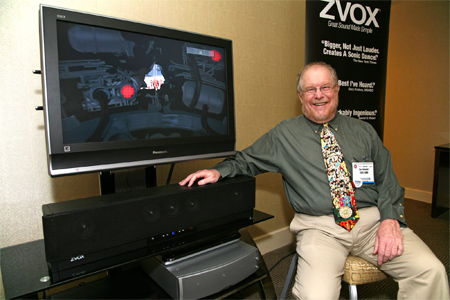 Constructed from extensively braced MDF panels the Z-Base 580 is extremely well made with a matt black top and high gloss side panels.  At 33lbs it is heavy for a one box solution audio system and rightly so, for no soundbar/base this large, can amount to anything good if it were to weigh like most conventional soundbars do.  The Z-Base 580 is infact so strong that a HDTV weighing up to 150lbs can be safely used on it.
Partly accounting for the heft are five 82.55mm(3.25″) paper cone full range drive units and two 165.1mm (61/2″) woofers, the latter mounted in a downward firing configuration.
A built-in 120 watts RMS multichannel power amplifier provides the drive, 35watts each to the two woofers and 10 watts each to the remaining 5 full range units.
With a bass driver compliment that's better than many standalone subwoofers, especially those that come with conventional soundbars it is no wonder ZVOX is confident of the bass producing capability of its Z-Bases, especially the Z-Base 580, their flagship model.  ZVOX claims a bass extension of down to 35 hertz for the Z-Base 580, an extended bass region that even some full sized floorstanding speakers may have problem achieving.
For connectivities the Z-Base 580 features two digital inputs in both optical and co-axial flavours and three analogues inputs in coaxial and 3.5mm style sockets.


ZVOX has also thoughtfully included a subwoofer output, just in the event that the exceptional bass performance of the Z-Base 580 is not exceptional enough for the bass freaks among us.
Features of interest include a handy remote that provides adjustment for volume, bass, treble, programme selection, surround level (ZVOX calls its surround algorithm 'PhaseCue'), Output Leveling,  ( a control that prevents extreme changes in volume such as when the TV switches over to a  commercial) and Dialog Emphasis, a self explanatory control that increases vocal clarity.
Connected to the audio output of a 65″ HDTV the transformation of the HDTV's audio performance was staggering.  Where the HDTV's onboard audio at best sounded adequate, the Z-Base 580 now brought powerful, tight punchy bass with crisp, clear midrange and a sweet, well extended top end.
Depending on your taste you might want to judiciously add a touch of PhaseCue to achieve a mild but just perceivable sense of surround.  Too much PhaseCue and the soundstage starts to muddy up.  I prefer mine with none.  The sound was not as enveloping but it was clear and distinct and the bass powerful and extended.
The best news yet?  The cost – for all that you get in a large, impressive package you pay only RM1,100.00
Got a budget that's 'tighter than a Scotsman's you know what'?  Well there's the model immediately below, the Z-Base 555.  It's a little smaller, with one woofer instead of two but cost only RM850.00
Not as well connected as some of its more wirelessly endowed competition?  Well this is where you draw a line in the sand and choose between connectivities or sound quality.
If its the latter, the Z-Base 580 may just prove to be the solution to a significantly improved audio without the need to acquire a separate and often mesy external multichannel sound system.  Ringgit to ringgit the Z-Base 580 is undoubtedly one of the best soundbar currently available.
The Z-Base 580 and other ZVOX products can be auditioned at this coming KL International AV how 2014, July 04 -06 at the JW Marriott Hotel, Jalan Bukit Bintang, Kuala Lumpur.
For further information contact :
Desa Home Theatre Sdn Bhd
Tel:  03 -62756511
03- 21431229
012 -3923209
Article by Dick Tan