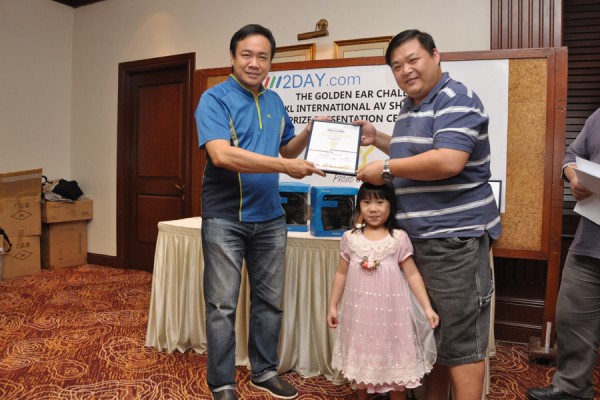 By Lam Seng Fatt
Geneticists will tell you that good genes run in families. We have in Malaysia the Chua clan from Johor who have been certified Golden Ears by AV2day.com.
The father and son team from the Chua family were among the eight audiophiles who won AV2day's Golden Ear contest held during the recent Kuala Lumpur International AV show at JW Marriott hotel.
Last Saturday, Chua junior – Chua Lin Chyn – turned up at the hotel to pick up the certificates and Goldring headphones for himself and his father. His daughter tagged along and she could have the potential to be another Golden Ear winner some time in the future.
Lin Chyn, 32, said he inherited all sorts of cables from his 59-year-old father CK Chua. His father would use all types of cables and then when he bought new ones, Lin Chyn would 'inherit' the older cables.
"I have all sorts – Audioquest, Cardas…When my father doesn't want to use his cables anymore, he will give them to me. My father's sound system is at a very high level and I do not like to listen to his system because after listening to his system, I find my system not sounding as good and that leaves me not so satisfied," he said.
The winners were:
1) Chua Lin Chyn
2) Adrian Alex Foo
3) Chua CK
4) Joseph Ki
5) James Chin
6) Vincent Lau
7) Alvin Chang, from Kuching (represented by Chong Tze Heng)
8) Lee Fook Yuan, from Singapore (represented by Arthur)
All of them won certificates and Goldring headphones sponsored by CMY Audio & Visual.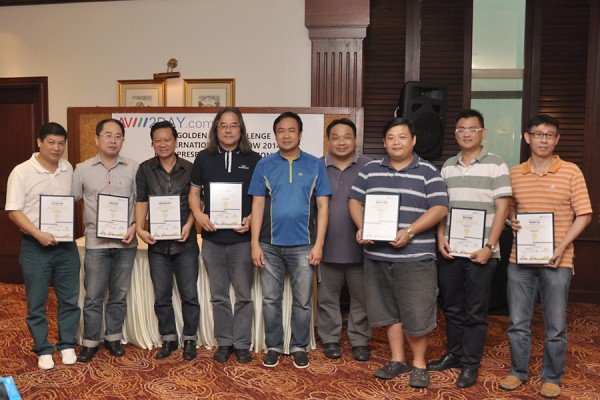 During the contest, participants had to identify between co-ax and Toslink cables used to play songs on a system comprising Bryston, WyWires and PMC speakers with the components on an Audiophle Base isolation rack sponsored by AV Designs. The cables were QED models from CMY Audio & Visual.
Before the prize-giving ceremony for the winners of AV2day's Golden Ear contest, other prizes were handed out to the lucky draw winners of the Kuala Lumpur AV Show 2014.