Article by WL Low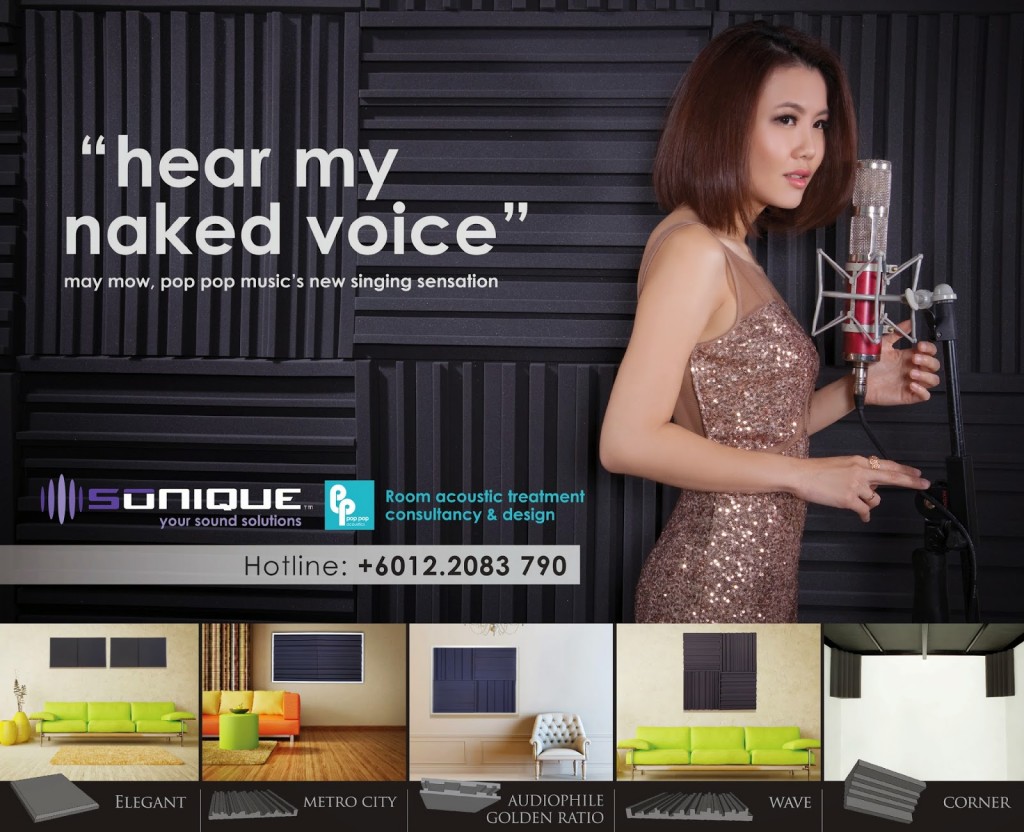 Pop Pop Acoustics launched Sonique room acoustics treatment panels some time ago and offered me an opportunity to re-check, and re-evaluate my room acoustic properties, now that I have a bigger speaker, in the form of the PMC IB2i in the room.
Upgraded from the PMC Fact 8 slim towers some time ago, I was actually very surprised that my small room, measuring only 12 x 10 x 9ft(L x W x H) didn"t gave much acoustical intrusion in the form of bass boom, which it previously did so very much. Perhaps the the room coupled well to the PMC IB2i with a good dose of luck? That I"ll never know. However, the with the bigger pair of speakers, music can sometimes turn peaky with a tad of aggressiveness, especially when turn on loud(we are talking about 100db and above here!).
So when Leslie offered me a range of acoustic foam treatment panels to test, I am all ears. I picked up a pair of Audiophile Golden Ratio panels and another pair of Wave panels, all measuring 2 x 2ft. Leslie also included a pair of Corner bass traps for good measure. All Sonique panels come with self adhesive back panels, which is a boon to stick on walls, but will probably damage your paint surface if you attempt to pull the panels out later! So please make sure of the optimum position for your panels before you apply, as this is pretty much a one way ticket.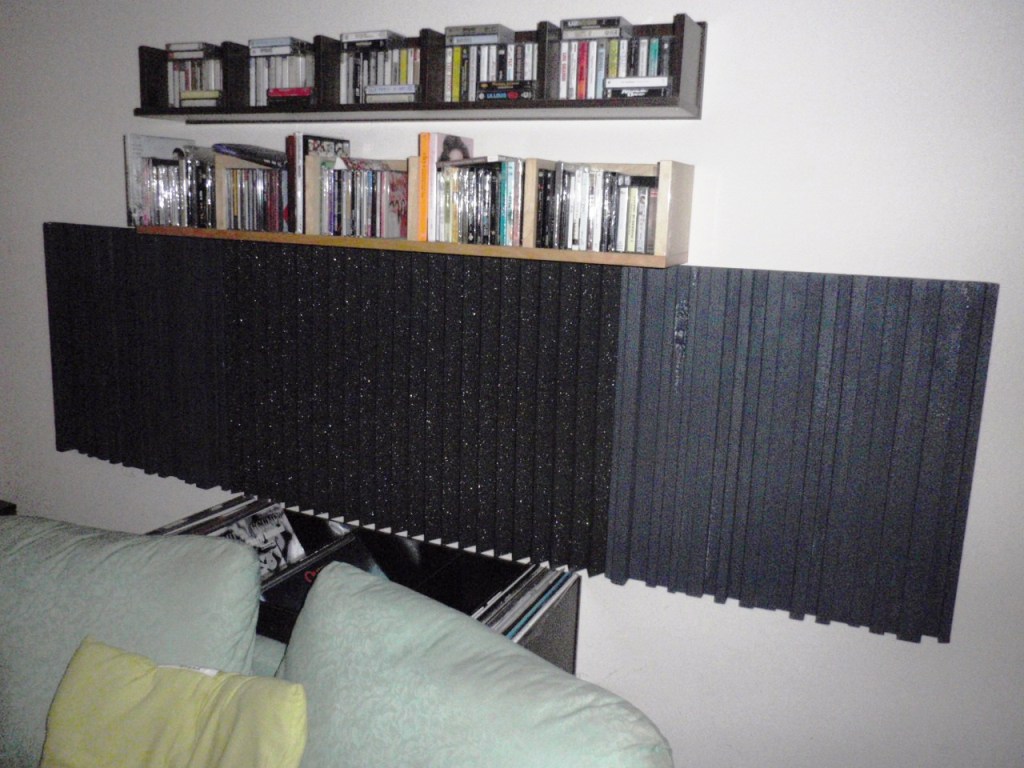 I started with a test combo of both the Audiophile Golden Ration and Wave panels for the rear wall. The Wave panels replaced my existing Auralex Ridges and the Audiophile Golden Ratio replaced the existing Auralex MetroFusor panels. I got an eerie silence for the room, when no music is played. When I hit the play button, the sound took on a softer, gentler golden tone, if slightly rolled off. Lush, smooth highs with creamy textured mid range is the order of the day. With Jazz or audiophile Vocal music, this combo was excellent, but with Rock or Metal music, the combo lacked some bite and sparkle. I guess the room became a tad over damped.
Time to try a different combo. The Auralex Rigdes went back on with the Sonique Wave panels on the sides. This time the room ambient noise floor became whiter, a good omen for liveliness. However like everything else zen, I believe in achieving a good balanced room ambient between being sonically too dark (lacking "air" and sparkle) or too white(noisier). This time, the musical rhythm & pace picked up slightly, taking on a slightly vibrant tone. The creaminess in the mid range reduced and the highs will now bite, sometimes a bit to close for comfort.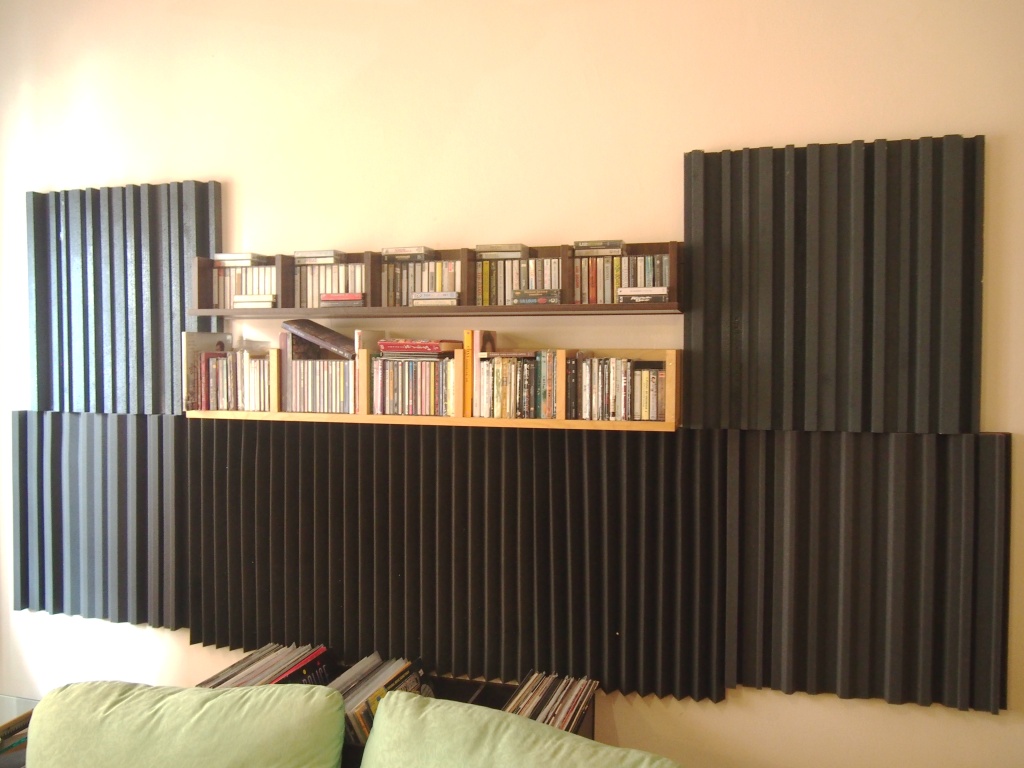 Realising I was in the right direction, but still more work to be done, I took on my old Auralex MetroFusor panels, but this time stacked them up at the sides on top of the Sonique Wave panels. With this combo, I finally got what I wanted, the finesse highs with Jazz, the slightly creamy mid range with vocals and the right amount of sparkle in the highs when playing Rock or Metal music. When playing Rock, Metal and sometimes Classical Orchestral music, my in room listening levels can peak at 104db, all these without the peakiness or aggressiveness describe earlier. I consider my room acoustics treatment a success and stop here.
What about the Sonique Corner bass traps you asked? I didn't have bass boom or experience much issues in that area, so I did not go too far with them. I tried putting them at the two corners behind the speakers or behind the throne with little difference. I won"t say the Sonique bass traps are ineffective, but one should understand that with the long wave lengths of bass frequencies, mass, lots of mass is critical to be effective. Simply said, I need a whole lot more than a pair in the corners before anything meaningful could be achieved.
With improved room tune in form of absorption and deflection, my audio sound staging and imaging took on a more 3D realism. Staging extends beyond walls and imaging with flesh and bone quality seems to float within and beyond the front wall. I love the way the Sonique acoustic treatment panels transformed my musical listening experience.
For enquiries, contact Leslie of Pop Pop Acoustics at 012-2083790.
Article by WL Low