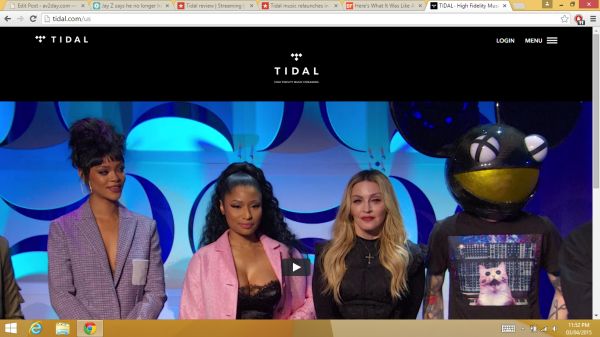 By Lam Seng Fatt
The latest thing happening in the world of music and hi-fi is not MP3 downloads from iTunes or hi-res ones from HDTracks. It is not even connected with the supposed superior sonic quality of DSD over PCM files.
The major event in the United States earlier this week was the beginning of The Streaming War. The latest trend is a continued decline in sales of CDs, a surprising slowdown in downloads and an upward wave in music streaming. Thus far, music streaming sites like Pandora and Spotify have offered MP3 quality files.
TIDAL, which was launched in the United States on March 30, is offering lossless CD-quality (16/44.1) music.
Another interesting feature is TIDAL's partnership with Meridian whose MQA (Master Quality Authenticated) format will be an integral feature of TIDAL.
At the TIDAL launch in New York, Jay Z and a host of showbiz friends like Beyonce, Rihanna, Kanye West, Jack White, Arcade Fire, Usher, Nicki Minaj, Coldplay, Alicia Keys, Calvin Harris, Daft Punk, deadmau5, Jason Aldean, J. Cole and Madonna stood in a row with him to show support and add star power to the streaming service.
Now what business has an artiste like Jay Z to meddle around with a music streaming service? The answer is simple – he owns it. In fact, all the artistes mentioned above are equity partners.
TIDAL began as a high-quality but small music streaming outfit in Scandivania and its parent company Aspiro was bought up by Jay Z for US$56 million earlier this year.
Jay Z's move into the hi-fi part of the music industry is reminiscent of Dr Dre who launched the Beats headphones which was bought by Apple.
Can Jay Z turn TIDAL into a success? Some users have noted the better sound quality, but whether that matters to a whole generation raised on iPods and MP3 remains to be seen.
But what he can offer is star power – with his superstar partners, he can introduce songs that other sites like Pandora and Spotify will not have. He and his superstar friends can record songs specially for TIDAL such as unplugged versions of their hits, remixed or extended versions, etc.
Jay Z was reported to have said "their big push is currently the Discovery Program, where TIDAL's owners will showcase talent they're into or have stumbled upon". TIDAL can be the launching pad for fresh faces.
It costs US$20 a month to subscribe to TIDAL HiFi, which is pricier than its rivals. But TIDAL has positioned itself as "the first ever artist-owned global music entertainment platform".
An interesting nugget of information was that during the launch event, invited guests were given expensive Sennheiser headphones as door gifts and notably Apple and Beats representatives were not invited. Why? War has been declared…and Apple (which owns Beats) with its iTunes download site is now an enemy. What is there to stop Apple from launching its own lossless hi-res streaming service using Beats Music as its platform?
Looks like there will be casualties in this Streaming War.