Article by WL Low
I've always wanted to evaluate the Furutech Daytona 303 power line conditioner for many years now, but the local distributor would not play ball, and remains adamant that he doesn't like the attention, or is it local public scrutiny? Furthermore the local dealer politics in play for the Furutech brand has always been intense to say the least.
Along came Mr Alex Leng, who is a sub dealer of all things Furutech, who advertises his wares in the "For Sale" section at one of the local leading Hi-Fi classifieds. I normally refrain getting and writing about stuff "NOT" obtainium from the official importer, but I have enough confidence in Alex to write about his Furutech stuff. Alex also imports and sells other hifi items, if one enquires from him. Those who followed my Hi-Fi journey through my DIY years, would know that I am a Furutech fan-boy, in fact my whole system is powered by Furutech FI-11 and FI-UK series plugs all the way.
I've heard the Daytona 303 PLC in a friend's place a few years back and remain pretty impressed by it, but could never get a unit for review purpose. Now many of you would know that my long term reference PLC is a Torus Power RM-8A AVR and that's a mighty top of the line unit. So how does the RM$13k Daytona 303 stack up against the Torus Power? Let the battle begin!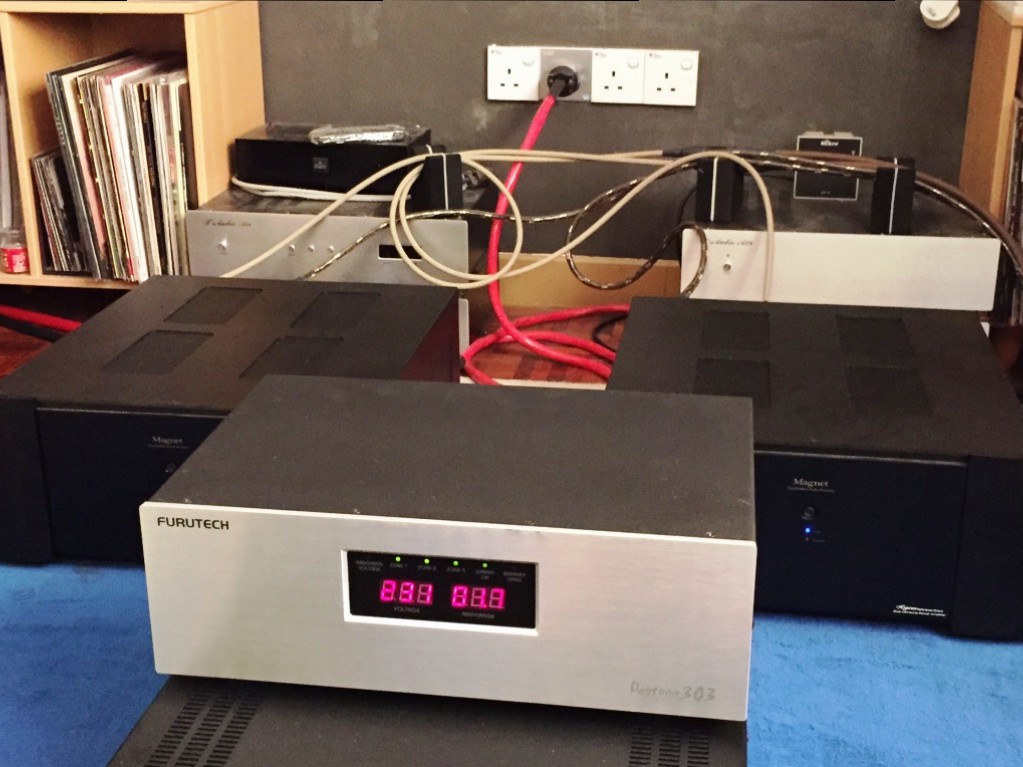 The Furutech Daytona 303 comes finished with an all aluminium front panel, which features a power input and another output voltage meter in big red LED for easy reading from a far. The back panel features an IEC power input and multiple zone output sockets(ten NEMA, or US style sockets in total), such as a digital zone, an analogue zone, and power amp zone, all with different power filter criteria, as shown in the open casing picture below. The Furutech is a passive device which stays on all the time, unless one takes the trouble to switch it "OFF" from the back panel once a listening session is over, which is what I do because I am located the in lightning "strike" valley of Subang Jaya! I do not take risk to keep my Hi-Fi system on the boil, even if it does sound better.
I used the Daytona 305 in place off the Torus Power which is removed from the system. Like the Torus Power, the Daytona 303 powers my whole bi-amped system, which is pretty demanding, power wise, in terms of ampere requirement. It's not unusual to see my system clocking over 6 amps in peak current draw. The Daytona 303 seldom seemed fazed by it. So how does the Furutech sound?
The Furutech changes surprisingly little to the system sonic signature. My system remains slamming dynamics, if a little fizzled at the extremes. There seem to be a slight rounding off in the kick ass beat of kick drums, in concert like volumes. Yeah I I like my music loud and proud of it!
The highs are somewhat finer sounding, like watching a TV set with finer pixelation on HD mode, which is good. The mid range remains creamy as before, while the bass dives just as low, if kicking just a tad less hard at the volume extremes. The system never exhibited much hash, or white noise during it's residence here, but that doesn't mean the Furutech darkens the sound stage in any way either. It's just as quiet as any other first rate PLCs out there.
The main Hi-Fi factor that benefited much from the Furutech's presence is the imaging qualities, which are less round, with better focus. Lovers of small(50 cent) vocal mouth size, take note, this could be your thing here? For me, I like plus sized curves more. Gives me something to hold on to when the lights are off! Oopsss, we're still talking Hi-Fi here, right?
Fact is this, for a passive designed Power Line Conditioner, the Furutech is about as least intrusive to the music as it gets. Unlike the older style Shunyata Hydra PLCs, which smooths, mellows and softens the sound for a system character white wash. On the other extreme, some active, or regenerative designed PLCs pumps up the music, like as if it's on some kinda kick ass steroid high. Both extreme are not appealing to an already well sorted Hi-Fi system in play. The Furutech Daytona allows your system to keep it's sonic signature in tact, yet allowing some refinement to the highs and less power grid noise making it's way out through the speakers, along with the music.
Alex Leng can be contacted at 012-3023330.
Article by WL Low