The Multi tool for Audiophiles
by Venoth Nair

TEAC has of recently produced a plethora of hi-fi equipment targeting the new age of audio enthusiast who want big things in small packages. TEAC's 2016 lineup tries to squeeze as much functionality and performance out of its equipment while still looking snazzy in their quaintly sized package.
The new TEAC CR-H101 is essentially a micro system unit minus the speakers with a potent hi-fi twist. TEAC has stuffed as much of its audio know how into a neat little package a mere 182 mm wide. The tiny dimensions of the CR-H101 does not in any way deter from its seriousness as a piece of hi-fi thanks to the TEAC design team putting in much thought on the materials and design of the unit.
The CR-H101 has a slick retro look to it like all the other components currently available from TEAC with its rack mount style handles on both sides of the unit. Built using solid 3mm thick aluminum panels all around, the unit feels robust with quirky design elements that take hues from typical features found on other high performance hi-fi equipment. Elements such as the large cutouts with grills found on the top of the unit are starkly similar to those found on typical high powered power amplifiers. Even the control knobs on the fascia scream quality with their immaculately finished metal surface which is ridged on the side, reminiscent of professional styled audio equipment.
On the source department, TEAC has provided a machine that has pretty much every major audio front covered. This little beast comes with a front loading slot CD player, FM radio, Bluetooth audio streaming and even USB support for those who would like to hook up their PC's to this little beauty. If all those sources listed aren't sufficient for you or if say a new source were to come up, the unit has an optical digital input and a single line level input pretty much covering every possible angle available today.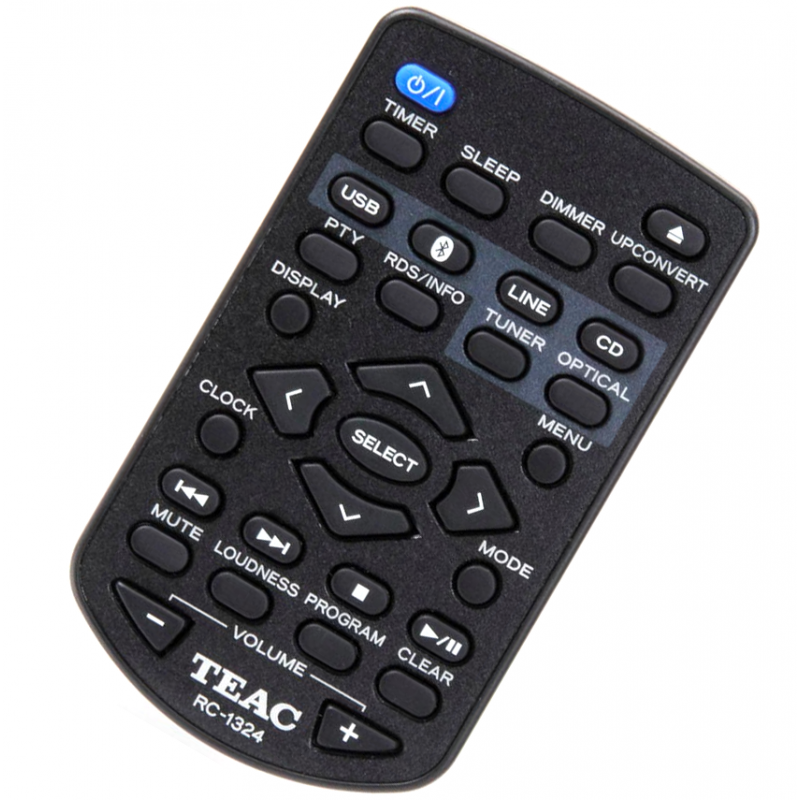 The CR-H101 comes with a modest class D amplifier with an output of 26 watts per channel. This unit is meant to be used in a desktop environment or a small room, so the amplification though small will be sufficient enough to drive most small sized bookshelf speakers. If you desire more volume, try pairing this unit with speakers which are more sensitive to deliver more output.
On the inside it's good to know that TEAC has ensured quality through and through, utilizing a Burr Brown PCM 1795 for digital to analogue conversion duties. The CR-H101 is also equipped with many features that help minimize jitter such as dual clocks and a USB interface with asynchronous transfer mode. The unit is also capable of PCM 192kH/24 bit Hi-Res audio playback via streaming through USB. Control of Hi-Res audio playback can be done through the "TEAC HR Audio Player" software which is provided with the unit at no extra cost.
Though small in sized and packed with features, the CR-H101 is by no means lightweight when it comes down to business producing quality sound. The TEAC delivers great audio output with excellent, rich detail and an equally impressive soundstage. The bass department may not be up to par for some, but TEAC has even got that covered by including a subwoofer output to drive an external active subwoofer, should one be required. This planned approach is great as the TEAC has some great mids and high frequencies with a sound signature that's undoubtedly TEAC.
The completeness of this great unit also shows through the inclusion of a headphone output as this unit is targeted at desktop users who nowadays more often than not switch between speakers and headphones when listening. In my opinion this is actually the best place for this unit, paired up with a PC in a small desktop setup. Its broad functionality, stunning good looks and of course excellent sound quality makes this little tiny wonder a really big hit.
The TEAC CR-H101 retails for RM2, 790 and can be auditioned at the coming KL International AV Show 2016 from 22 -24 July at the JW Marriott Hotel, Kuala Lumpur.
For further details contact:
WKH Distribution Sdn Bhd.
Tel: 03-62700035
Kenny Sea h/p: 019 3395186
Article by Venoth Nair