A Horny Issue
by Dick Tan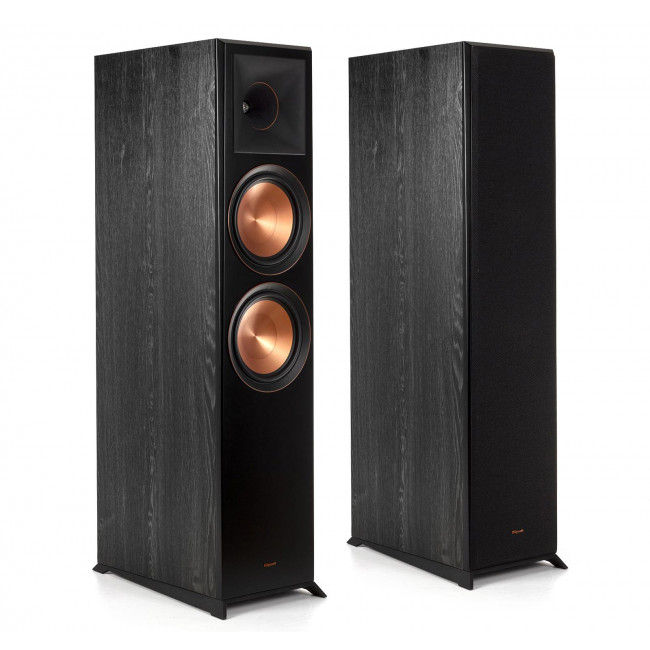 First introduced at the KL International AV Show 2018 and now available at all authorised Klipsch dealers the new Klipsch Reference Premiere speaker systems comprises a range that include floor standers, compact stand mount main speakers, centre channel models, surround speakers and subwoofers.
Flagship of the range is the RP-8000F, a large 110 x 10.9 x 17.6cm MDF enclosure floor stander that houses two 8″ Ceramettalic Cone Woofers and a 1″ Titanium LTS Vented tweeter positioned behind a hybrid Cross Section Tractrix Horn. As most of you will know Klipsch uses its proprietary horn design to load its tweeter to achieve maximum high frequency dispersion sensitivity. The Tractrix horn is today a familiar iconic Klipsch trademark.
Weighing up to approximately 28kg the hefty weight of the RP-8000F is indicative of the quality of the drive units, the electronics and the enclosure itself which is extensively braced internally.
According to Klipsch the RP-8000F is able to achieve an extremely high sensitivity of 98dB with only a 1-watt input. In comparison most conventionally, loaded speakers average a sensitivity level of only between 88-90dB. It is also powerful enough to be successfully matched to amplifiers with power output in excess of 600 watts.
Klipsch also claim a low frequency extension capability of down to 30hertz for the RP-8000F and to ensure it is able to achieve this without undue chuffing reflex noise a Tractrix reflex port design is utilized to load the twin woofers.
The RP-8000F retails for RM7,999 and its important features include dual bi-wirable/bi-ampable speaker binding posts as well as a custom designed speaker support system to minimise structural resonance.
For further details contact:
WKH Distribution Sdn Bhd
Tel: 03 62700035
Kenny Sea: 019 3395186