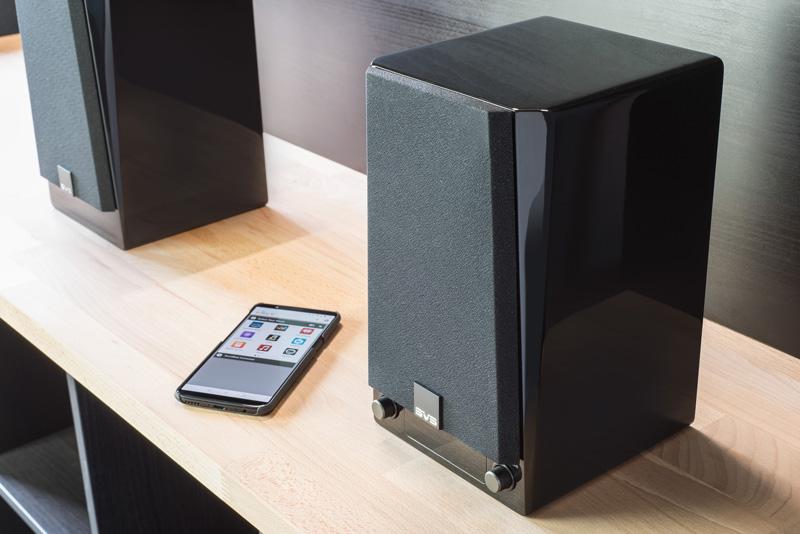 SVS, the sub-woofer specialist, is venturing into a totally new area — wireless speaker systems.
The SVS Prime Wireless Speaker System is aimed at changing the popular view that wireless speaker systems are all about convenience and lifestyle aspirations with sound quality taking a back seat.
SVS claims that it will be changing the game.
According to its website: "The SVS Prime Wireless Speaker System combines immersive, reference quality sound with smart speaker control and future facing connectivity. Equipped with both WiFi and Bluetooth connectivity and the ability to control from your smartphone or any mobile device, it offers true stereo separation, a massively powerful internal amplifier, a high-resolution 192KHz/24-bit DAC and a precisely tuned digital crossover for sound quality that's miles ahead of any other smart wireless speaker available.
"Control of the Prime Wireless Speaker System is simple and seamless with the DTS Play-Fi app over WiFi, the front panel display or even with your voice using an Amazon Alexa device. Line level connections let it play with nearly any device in your home while delivering crisp and accurate sound with stunning dynamic impact. And with the included Play-Fi app, Prime Wireless can easily be used as a smart wireless music zone in a whole-home, WiFi-based multi-room audio system. Going wireless never sounded better."
The features include:
> 200-watt amplifier delivers commanding 50-watts to each driver for effortless power and room-energizing       dynamics
> 192KHz/24-bit DAC for pristine sound quality
> Sophisticated active digital crossover renders precisely tuned output and commanding bass by optimizing power from amplifier for bold and explosive sound with revealing clarity
> WiFi connectivity for uninterrupted wireless streaming and direct access to your favorite streaming stations, playlists and more
> Bluetooth with aptX and AAC for the highest fidelity wireless streaming from iOS or Android smartphones or tablets
> Critical Listening Mode enables 192KHz/24-bit lossless streaming for the most discerning audiophiles
> Smart wireless audio zone connected via WiFi or Bluetooth with jaw-dropping sound quality anywhere in the house
> Optical and line level inputs for TVs, gaming consoles, CD players, AV Receivers, turntables, PCs and more
> USB input for powering mobile devices or adding an SVS SoundPath Wireless Audio Adapter and making your subwoofer fully wireless
> Ethernet input for hard-wired Internet connection
> Mono or Stereo playback options
> Compatible with all DTS Play-Fi enabled products
Since SVS is known for its sub-woofers after all, the wireless speakers have a sub-woofer output for easy connection to your favorite SVS subwoofer for deeper bass and a more thrilling and immersive experience.
SVS is also launching the SVS Prime Wireless SoundBase which delivers high-resolution wireless audio streaming, powerful amplification, and future-facing connectivity and control to conventional speakers. Or, via line level output, it converts any two-channel stereo system or AV receiver into a smart wireless audio zone fit for the most discerning audiophiles.
"Simply connect speakers to the Prime Wireless SoundBase via standard binding posts and it delivers a massive 300 Watts (150 Watts x 2) and pristine sound quality from the 192KHz/24-bit DAC, while unlocking high-resolution wireless audio streaming from all your favorite music streaming services, playlists and more.
"Bring high resolution wireless audio streaming, multi-room music playback and more to your existing AV system by connecting Prime Wireless SoundBase to an AV receiver or two-channel stereo system via line level output. Use it to create a stereo zone or transform your main system by adding advanced connectivity, smart speaker control and wireless accessibility to your all favorite content," SVS states in its website.
According to Max Loh of Maxx AV, the Malaysian SVS distributor, the SVS Prime Wireless Speaker System will be launched in Malaysia by the end of November.
"We are looking at prices around RM3,999 for the Prime Wireless Speakers and RM3,599 for the Soundbase," Max said. — By Lam Seng Fatt