by Dick Tan
Epson's 4K PRO-UHD Projectors EH-TW7400 (left) and EH-TW9400 (right)
In a recent launch in Kuala Lumpur Epson announced the release of two brand new home cinema projectors, the EH-TW7400 and EH-TW9400 that are powered by the new 4K PRO-UHD technology. The projectors feature an advanced pixel-shifting, resolution-enhancement technology that is said to be able to deliver a stunning and immersive 4K experience to film enthusiasts.
Epson also asserts that with this new 4K enhancement technology, these new home cinema projectors are able to deliver exceptional image quality with its myriad of features such as brightness, colour accuracy and image detail for a vivid 4K PRO-UHD experience. These PRO-UHD projectors offer a high dynamic contrast ratio of up to 1,200,000:1, a wide colour gamut displaying the entire DCI-P3 colour space, and with an equal colour brightness and white brightness of up to 2,600 lumens (The EH-TW9400 ). The more affordable EH-TW7400 claims a contrast ratio of 200,000.1 and a brightness level of up to 2,400 lumens. Lamp life when operated in the ECO mode exceeds 5,000 hours for both models.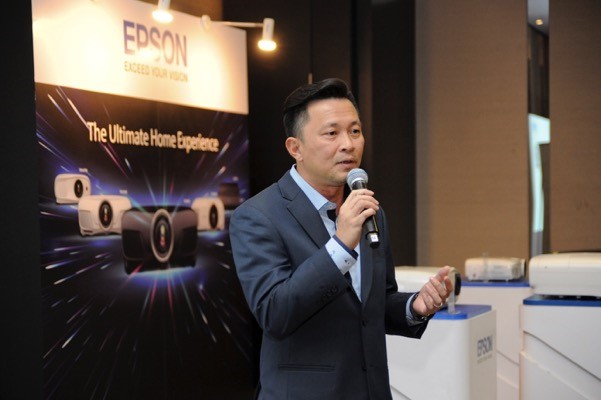 Additionally, the projectors are compatible with High Dynamic Range (HDR) contents, which are capable in delivering an extraordinary range of colour and detail in both bright and dark scenes while giving natural yet richer colours.
In terms of image performance, the projector features a 12-bit digital processing chip with Frame Interpolation and proprietary Advanced Motion Control for smooth, crisp transitions between scenes, leaving images free from any distracting rainbow effect.
The projectors are said to be straightforward and easy to set up with its powered lenses. For installation flexibility, they come with a wide lens shift range of up to ±96 percent vertically and ±47 percent horizontally.
"Our latest 4K PRO-UHD home cinema models bring about a new 4K experience for home theatre projection, making even the smallest details come alive. Using proprietary resolution-enhancement technology, along with advanced forms of HDR and image processing, the new projectors produce incredible brightness, colour accuracy, and image detail for the ultimate 4K experience at an affordable price point," said Danny Lee, Director-Sales & Marketing, Epson Malaysia.
Epson's 4K PRO-UHD Projectors EH-TW7400 (priced at RM9,800) and EH-TW9400 projectors (priced at RM14,919) will be available in the market mid-April onwards at all authorised retailers.
Both models will also make their debut at the coming KL International AV Show 2019 at the Vistana Hotel, Kuala Lumpur from July 26- 28.
For further details contact:
Epson Malaysia Sdn Bhd
Tel: 03 56288288