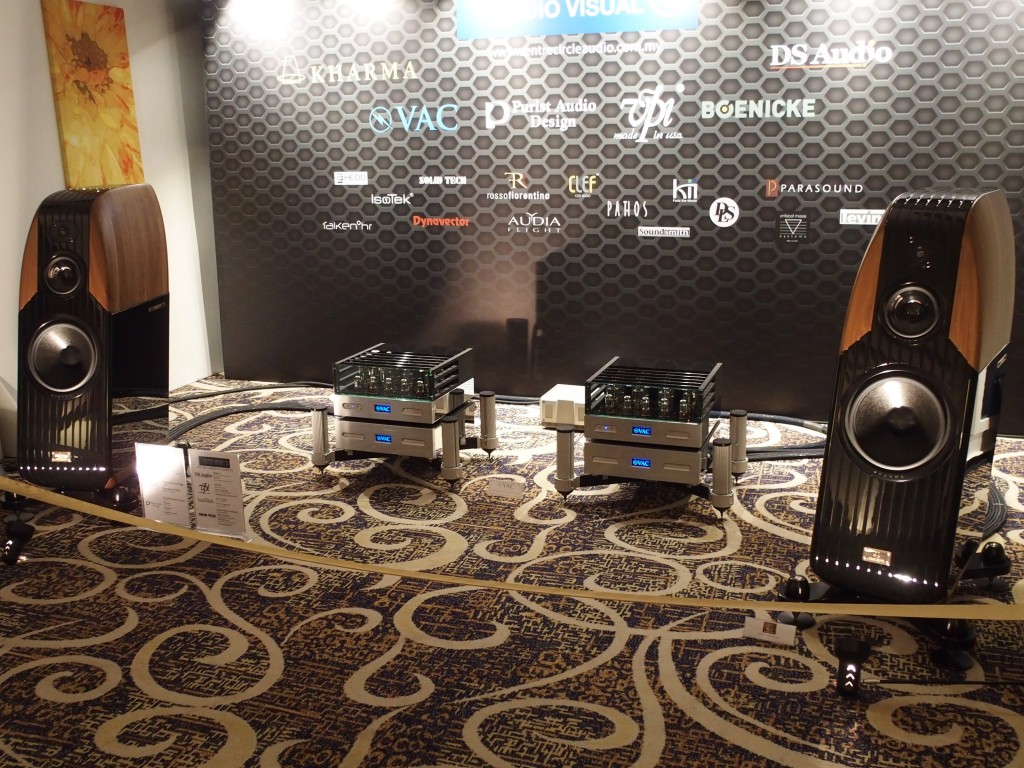 By Lam Seng Fatt
The impressive  demo system set up by Centre Circle during the recent KL International AV show must be the most commercially successful one for the company ever.
This because in the weeks after, Centre Circle has sold two pairs of the Kharma Exquisite Classique speakers. These are high-end models which cost a few hundred thousand ringgit per pair.
Nelson of Centre Circle said negotiations are being conducted on the sale of the VAC Statement 450 iQ monoblock amps and the VAC Statement preamp that featured in the demo system.
According to Kharma's website, for many years the Exquisite Classique has been Kharma's flagship, and the reference speaker for many audiophiles until the development of the Exquisite Grand.
The website adds: "The cabinet of the Exquisite Classique is a piece of art in every way, from the use of perfect materials to construction and finish, all are exceptional. The cabinet is built up using vertically layered panels with carefully computed irregularity shaped cut-outs, which minimizes air born resonance. This minimization of air born resonance inside the cabinet is important, because the cabinet should absolutely have no contribution to the sound field itself.
"The combination of high pressure laminate panels, the irregular shaped cut-ours and the de-coupling substance between panels to prevent structure-born energy travelling from one panel to another guarantees a resonance-dead cabinet. The Exquisite Classique has as result a patented cabinet which doesn't contribute to the sound field itself. Simply every form and every detail on the Exquisite Classique has a purpose in the mechanism to create an absolute sound.
"Moreover this loudspeaker comes standard with the Signature treatment of Kharma. The significant improvement as a result of the Signature treatment is realised by using the Silver/Gold Signature version of the Kharma Binding Post System, refining the internal cabling by proprietary Kharma processes and modifying the drivers for better performance.
"The drivers can be seen as the engine of the loudspeaker, which must create the musicality that may be expected from the uncompromised design of the Exquisite Classique. Therefore the quality of the drivers is crucial for creating an ultra high-end sound.
"Without a doubt the quality of the driver is guaranteed by using a Diamond tweeter as a standard in the Exquisite Collection. This high-frequency driver is a true technological wonder. The tweeter has a diamond cone which have been realised by the so called CVD process. With this process incredible stiffness is reached with a minimum of thickness of only 50 µm. Notice a human hair is in the range of 17 to 180 µm. The cone is the most essential part of the tweeter and because this cone is made of Diamond the tweeter is capable to create impressively pure high frequencies."
High frequencies:     1-inch Diamond concave tweeter
Mid frequencies:     7-inch Omega 7 driver
Low frequencies:     12-inch Nomex-Kevlar driver
RMS Power: 250 Watt
Program power: 500 Watt
Frequency range: 22 Hz – 90 kHz
Nominal Impedence: 4 Ohm
Efficience 2,83V/1m: 90 dB
Maximum SPL: 113 dB