Affordable Performance
by Venoth Nair

Selecting a speaker cable can sometimes be a daunting task. Shopping through the proverbial sea of choices from the modest to the downright insane, it's understandable why some audiophiles find it impossible to pick a favorite when it comes to what links their speakers to the amplification. If you are looking for a cable upgrade for your setup and have the budget to play with, then you should consider the Genesis Silver Spiral from QED. The brand has been on the forefront of high quality value for money cables which suit any range of setup and the Genesis Silver Spiral is a great representation of this.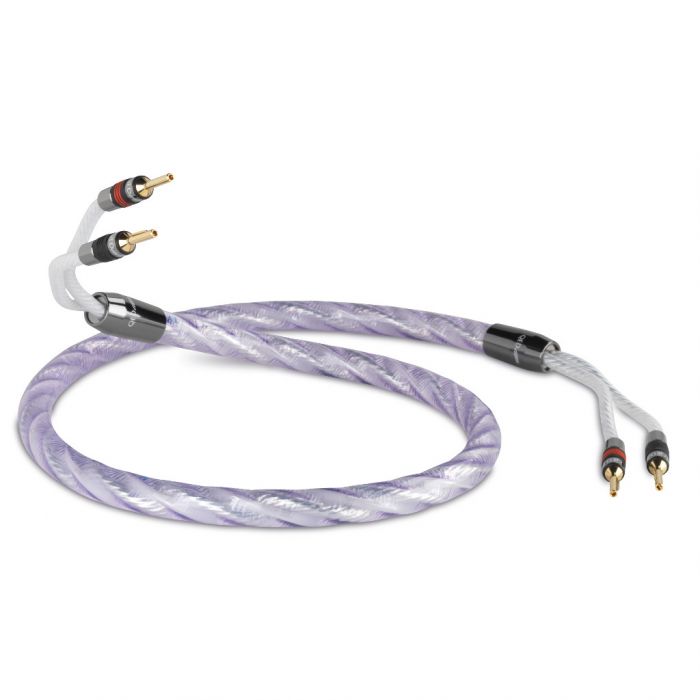 The Genesis Silver Spiral demonstrates its flagship pedigree the moment you hold it in your hands with its assuringly robust build thanks to its 10 AWG thick silver plated 99.999% oxygen free copper conductor wires (9 bunches to be exact) wrapped in a jacket with an outer diameter of 16.6 mm. The cable utilizes QED's Aircore Technology which mitigates the skin effect prevalent in many cables by using specialized engineering. This method involves grouping several individually insulated smaller cores twisted together to a larger cable surface area.
The cable is manufactured using unique triple concentric spiral geometry when analyzed through a cross section. This unique twisted configuration combined with the silver plated cores gives the cable a lovely look which is true to its name, the Silver Spiral. QED also highlights its concentric screen technology which according to the brand, aids in interference immunity for the Genesis Silver Spiral. According to QED, its calculations indicate that the arrangement of this conductors around the hollow central core made of polyethylene, the inherit inductance usually exhibited can be halved.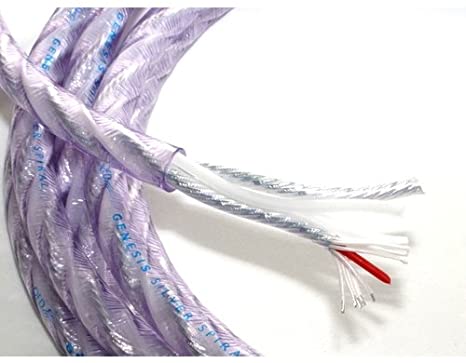 All the effort put into the design and engineering of the Genesis Silver Spiral pays off when put it to use. There is noticeably better detail and texturing when this cable is applied to the system. High frequencies sound clear and clean with right amount of gusto. The cable also does a fantastic job with bass, allowing each note to sound tight and punchy without any unwanted wooliness. These cables definitely provide the assistance needed for speakers to reproduce bass more accurately.
The terminations on the Genesis utilizes QED's rhodium plated Airloc plugs which are praised for their ability to resist tarnishing which is a common issue with regular connectors. These connectors never felt too tight or loose and always locked in neatly when hooked up. The rubber ribs found on the plugs are also a nice touch both for ergonomics and aesthetics.
The thickness of the does come with its challenges as there is quite a bit of weight on it which may require a little prop support especially with speakers that sit on stands. Ideally these cables would fit into a premium system with plenty of breathing room to allow the cables to be laid in a workable manner. This freedom is a must because the body of the cable itself is remarkably stiff and not flexible to snake around equipment, performing tight bends. Although to be honest, with the kind of systems in mind, I doubt space would be a concern. The QED Genesis Silver Spiral cost RM 1980 (3m terminated length).
For more information on these cables or other products from QED please contact CMY Audio & Visual Sdn Bhd at 03-2143 9406/2143 4357.