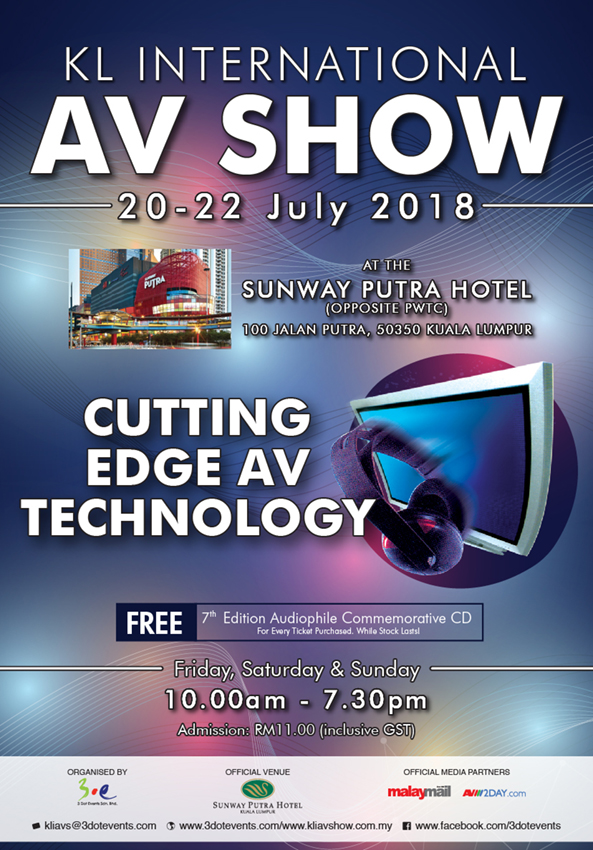 By Lam Seng Fatt
Malaysian audiophiles, please take note. This year's Kuala Lumpur International AV Show, which normally is held in July, is confirmed cancelled.
In late March, Dick Tan, chairman of 3dot Events which organizes the annual AV show, had announced that this year's edition of the KLIAVS was "postponed indefinitely" depending on the COVID-19 situation and he was considering the possibility of holding it at the end of this year. Please see http://av2day.com/2020/03/kuala-lumpur-international-av-show-postponed-indefinitely/
About half an hour ago, he emailed a statement saying that the KL International AV Show for this year is confirmed off while the KLIAVS 2021 is scheduled for July 2021. It will be held in a new venue which will be revealed at the end of this year.
Dick Tan's statement in full:
Dear All,
Greetings!
I trust this letter finds all of you well and safe. I am sure, with the MCO restrictions over most of you are, in one form or another back to the day to day running of your businesses.
I can imagine that much changes would need to be experimented on and adapted in your standard operating procedures to ensure the safe and successful running of your business and showroom premises.  We wish  you every success in your renewed (new normal) undertakings.
Similarly, we have also had some serious brainstorming among the key  KL International AV Show organising staff over the best approach to effectively and safely activate the next  KL International AV Show.
The general consensus we managed to arrive at are as follows:
1) The KL International AV Show for this year is confirmed postponed.
2) The next KL International AV Show is scheduled for July 2021.
3) The KLIAVS 2021 will be held in a new venue to be named towards the end of this year.
4) While all steps will be taken to  ensure the  successful running of the  KLIAVS 2021, we also agreed that  the  ability   to  ensure   the personal  safety  and  health of all exhibitors and visitors  is crucial   in  the  final   decision  of  when  we  are  to proceed with the KLIAV Show 2021.
The above are the four (4) decisions and guiding factors we are firm upon.  If, of course you would like to share any suggestions we are most happy to hear and consider your views,  as we know that like us, many of you are eager to have the Show asap.
As we conscientiously work towards the reactivation of the KL International AV Show,  I will be in constant touch to keep you  updated on all matters pertaining to its development. Until then, stay safe.
Kind Regards,
Dick Tan
Chairman
KL International AV Show
Organising Committee