by Venoth Nair
A New Blast from the Past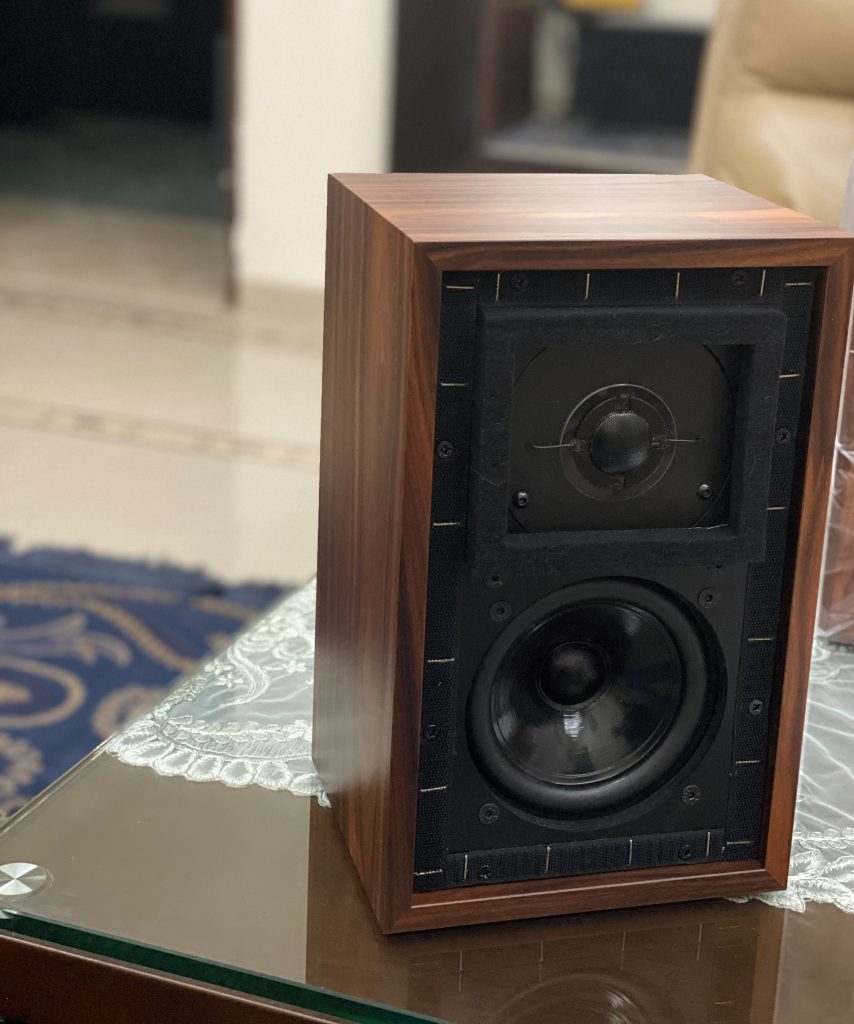 When I was told that there was a Falcon LS3/5a available for review, I wasn't really sure what to expect. I always knew the significance and history of the LS3/5a speaker type as well as the many different manufacturers (including clones) that have reproduced this speaker. I am also very much aware that even though it's been in circulation for close to 50 years now, there continues to be a demand for it. The sustainability of this speaker is driven by its rather substantial cult following that swear by these speakers remarkable sound quality.
Thanks to the KL International AV Show I was able, through the guru of LS3/5a Mr. Jo Ki himself, to sample this little piece of history and admittedly at that point in time I was impressed. So being told that this particular version made by Falcon was available, I decided, well I now have a chance to test it out myself in my own personal domain and find out if I too am enamored by its abilities.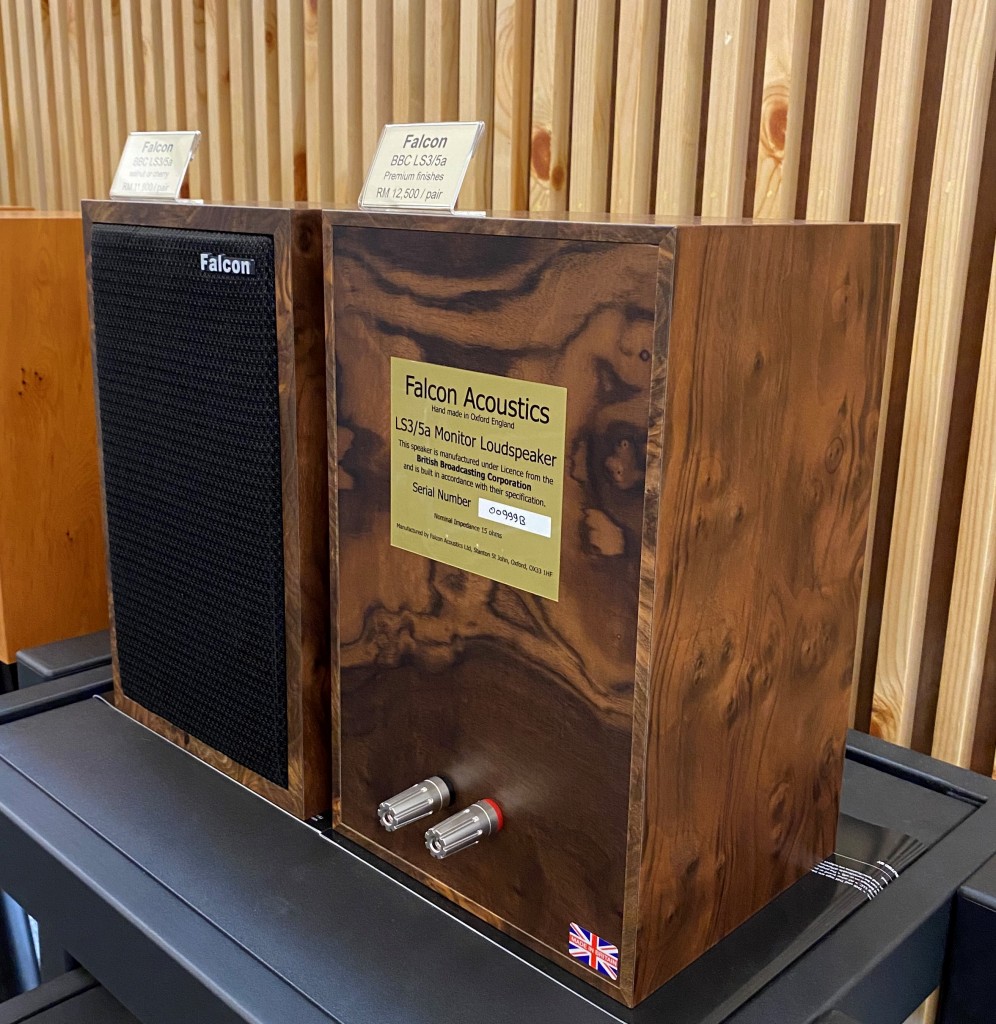 From the moment I drew the speakers out of the box, I was greeted to a fantastically finished cabinet that looked more akin to a piece of high quality vintage furniture. The unit I received was finished in a Rosewood veneer that's exudes class with its deep dark color and beautiful veining.  The Falcon LS3/5a is also available in Cherry, Walnut, Burr Walnut and Yew. Aesthetically the speaker maintains its original look which is either a love or hate decision with no room between.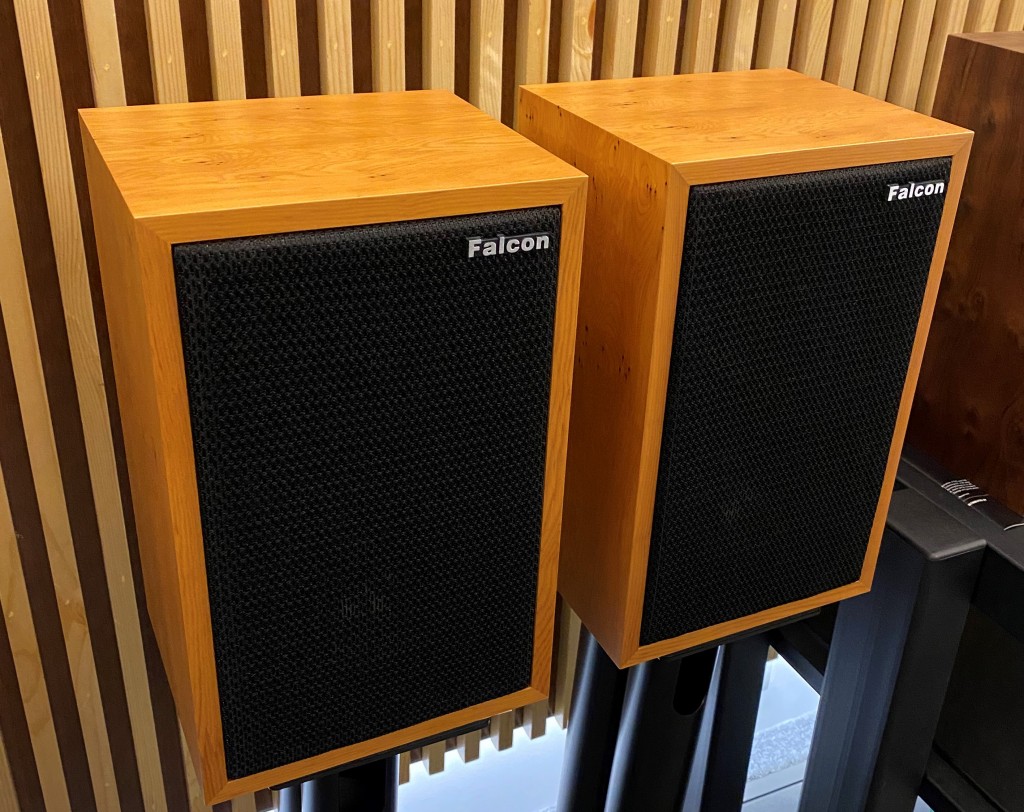 Falcon decided to stay true to the speaker's heritage and maintains details like the Velcro straps that hold the Tygan grill in place on the front baffle. Overall aside from a few very minor updates, the external appearance of the speaker is almost a museum grade piece. Although big in quality, the speakers are rather quaint in size with dimensions of 305mm in height, 190mm in width and 165mm in depth while weighing in at a back friendly 5.35 kgs each.
Falcon's focus on authenticity is even applied through the manufacturing and material selection which honors the original specification dictated by the BBC. Believe me when I say this, those specifications are very detailed and exacting, meaning these speakers are pretty dang close to the originals as it gets. The only giveaway that this isn't the same old speaker is the rear of the cabinet with its label and speaker binding post. The exactingness of Falcon's approach is almost surgical.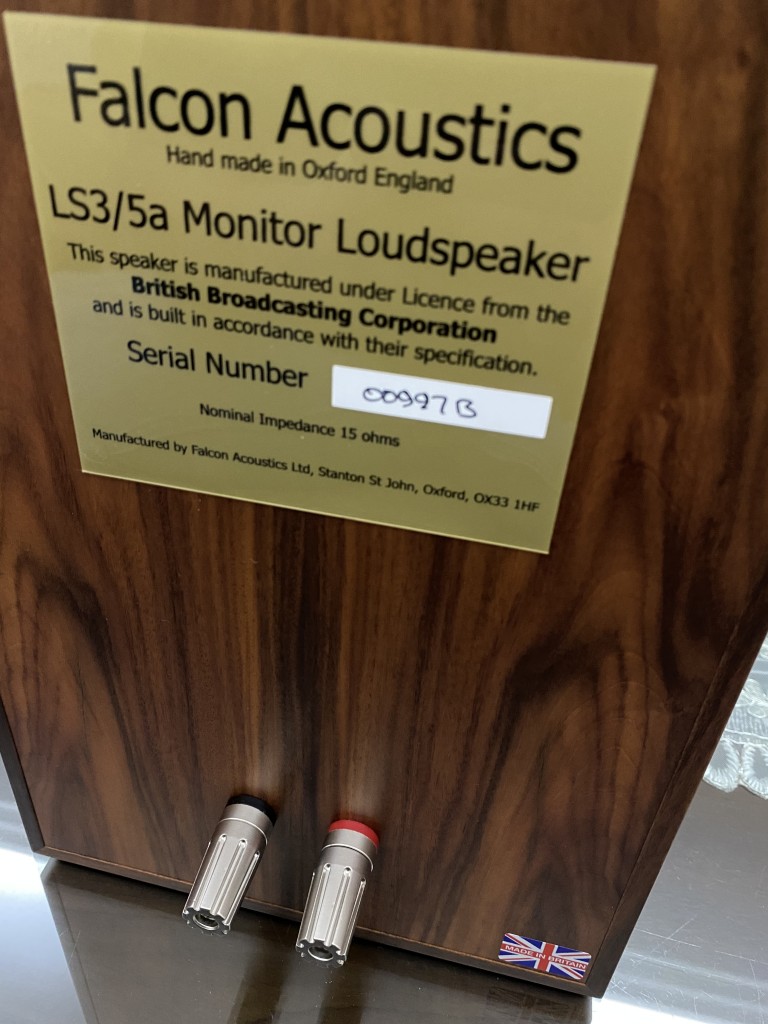 The driving force behind the Falcon LS3/5a is the 138 mm Falcon Acoustics B110 bass/midrange driver paired to the 19 mm Falcon Acoustics T27 tweeter. The designer, Malcom Jones intimately understood the design principles of the KEF drivers and kept every minute detail of the build accurate to the specifications of the original. The gold badge edition, which is the one that was sent to me for review is made faithful to the original LS3/5a with some improvements incorporated through the upgrading of components on the crossovers. The end result is a speaker that is designed to give you the best musical experience possible.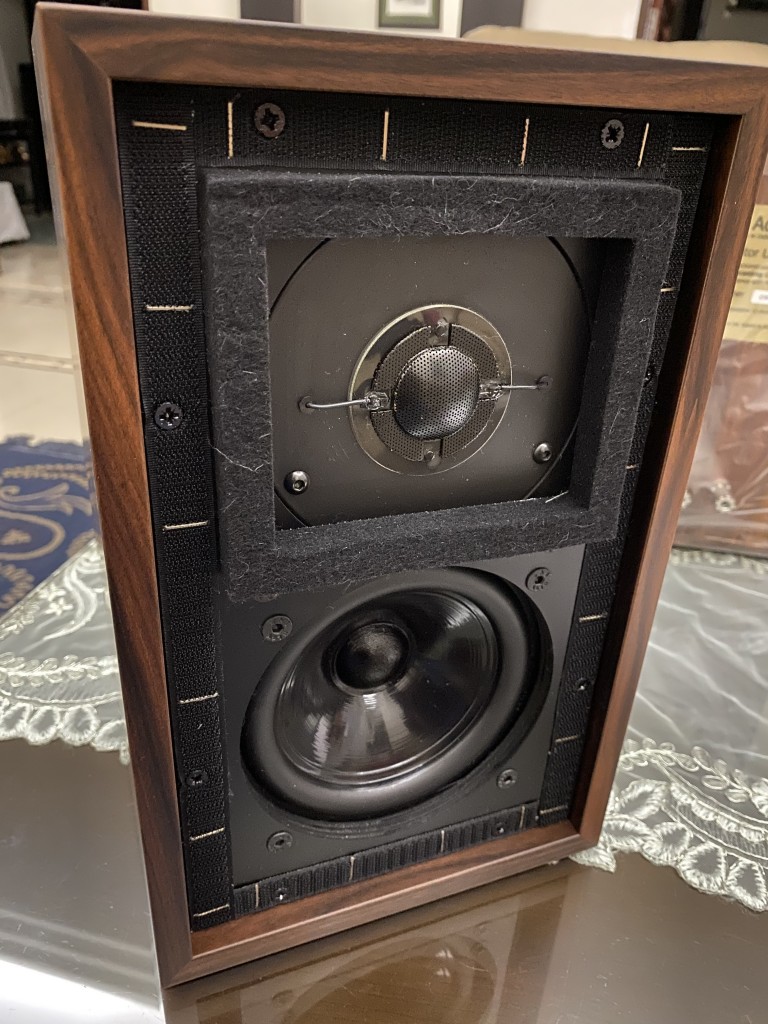 The best aspect of reviewing is actually being able to listen and assess a product using music that you love. Some tracks which have been heard hundreds of times before may when put through a new system or component provide better insight on how the performance stacks up. The Audiophiliac, Steve Guttenberg put it quite nicely when he talked about how you identify a good system through the fact that you just can't wait to listen to it. Let me tell you, this speaker delivers that feeling in spades.
It's not often that a simple, unassuming speaker which is in fact, if anything else, a blast from the past, blows your mind at its abilities. This speaker grabs you from the moment you hit play and is able to do so with a pretty wide range of music. The first track that was played through the Falcon's was Radiohead's "Go to Sleep" from their highly successful album "Hail to the Thief". Almost instantly I am treated to astonishing detail and layering delivered through a broad soundstage. Timing and accuracy is pinpoint with superb speed in the bass.
What particularly impressed me is the amount of bite and flavor that's there with guitars. Guitars tend to have a gritty sound that gets lost in many speakers (especially the audiophile variety) which is why rock music tends to sound lifeless to some extent. That was never the case here, particularly when fed rock music from the 70's up the 90's. In fact, most instruments sound great on the Falcon's from pianos to saxophones, even electronic synth music from the likes of Kraftwerk sound brilliant. Switch it up to more delicate music and the Falcon's continue to deliver with a relentless attitude to present nothing but the best.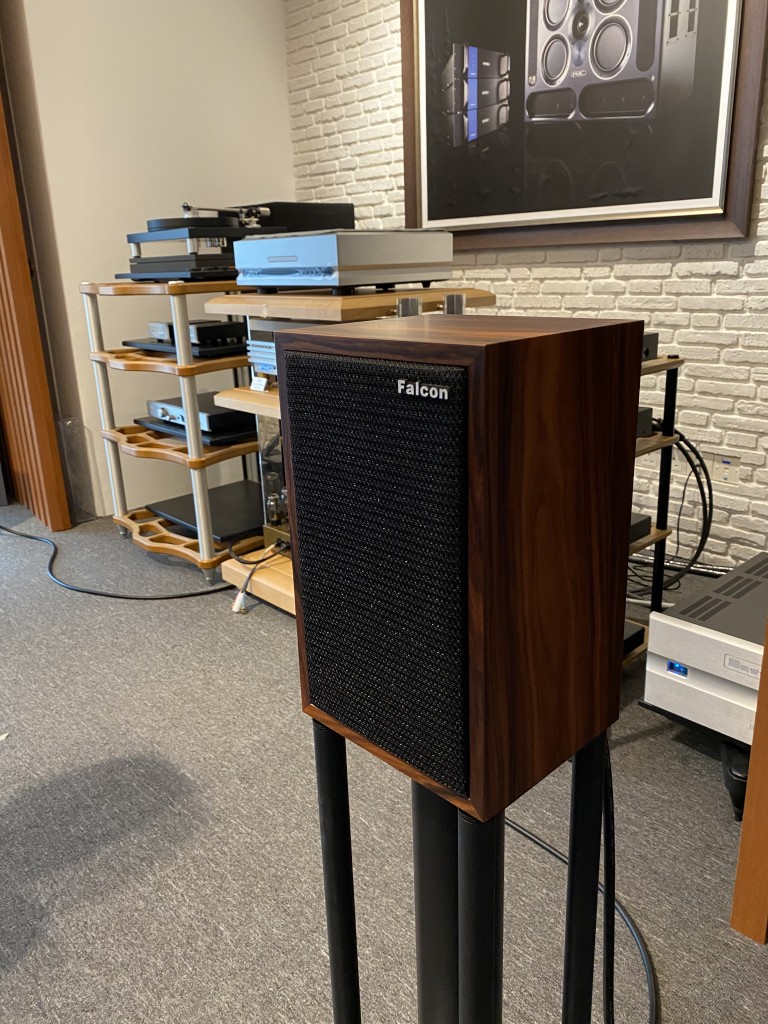 The Falcon LS3/5a possesses a neutral, even handed sound which belies its monitor name. There is a perfect blend of crisp detailed highs, rich mids and fast tight bass. There is however one noticeable downside though with these speakers which is an inability to hit subterranean bass levels. This lack in depth and weight can prove to be an issue when listening to more recent RnB, Hip-hop and electronic dance music that thrives on low end bass heft. This could be remedied with an additional subwoofer but pairing one to match the quality of these speakers could prove challenging to say the least. You have been warned.
In conclusion, the Falcon LS3/5a is a speaker that does many things and does it right. It's homage to a legend which stays accurate to its roots. Its design which is more akin to a precision instrument is built purely to deliver continuous musical enjoyment as faithfully as it possibly can. If you have a small to medium sized listening room and want a speaker that can play a wide range of genres and do it superbly, then this speaker is a must audition. You will be impressed.
The Falcon LS3/5a is sold and distributed by AV Designs and retails for RM 11,700 for the Walnut and Cherry while the Rosewood, Yew and Burr Walnut finishes retails for RM 12,500.