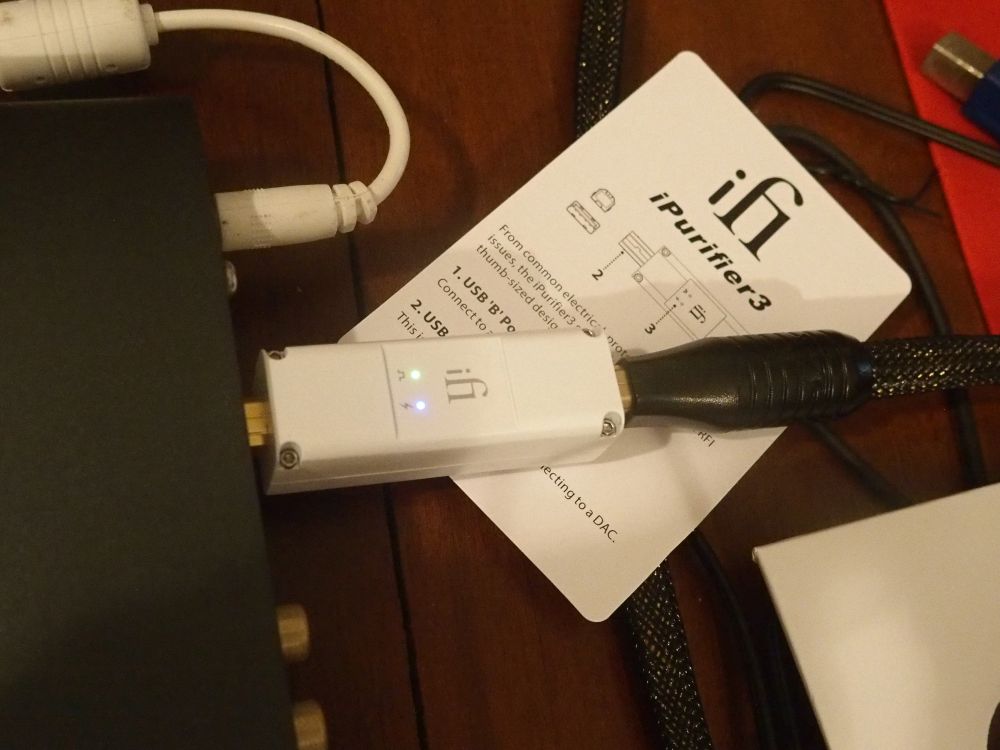 iFi has been making components that sound good and are really affordable.
The iFi Purifier3 is a small component designed to fit into the signal flow between a USB cable and a DAC.
Its function is to reclock, regenerate and rebalance the USB signal before sending it into the DAC.
Now in its third generation, the iPurifier3 is slightly larger than previous models and measures 69 x 19 x 20mm. Both USB Type A and B are available.
Not only does it reclock the signal, it also uses iFi Active Noise Cancellation2 to decrease noise by 100x or -40dB.
It also uses the second generation of the REclock, REgenerate and REbalance technology which creates an all new signal, eliminates computer jitter and removes noise contamination to restore a 'balanced' signal.
"Put simply, it actively 'restores' the USB audio+power streams which eliminates jitter and ensures smooth passage for your music. REbalance actually removes distortion caused by DC offset. The iPurifier3 is set up for all future PCM, DSD and DXD formats," iFi said in its website.
During the current MCO 3.0 lockdown, I have been listening to Tidal and for the past few days, Roon. Once a while, I switched to J River V27 and the system comprised an Acer laptop, the iFi iSilencer+, the Shunyata Sigma USB cable, the iFi iPurifier3, the iFi ZEN DAC V2, the iFi iPower X and the Audio Technica ATH M-50x and AKG K240 Mk II headphones.
It was a simple job to plug and unplug the iFi iPurifier3 in the signal flow to check out its performance.
The iPurifier3 cleans up the sound and there is extra clarity, extra separation and better depth.
I have been listening to Leonard Cohen's Ten New Songs on Tidal quite frequently in the past weeks. With the iPurifier3, the separation between Leonard's and Sharon Robinson's voice is greater and they are located further apart.
These improvements were also noted when I played ripped CD and hi-res files on J River V27 from the laptop's internal hard disk. But it was when I streamed music from Tidal that the improvements were really dramatic and pleasantly surprising. It appears as if streaming music has inherently more timing and transfer error issues. That could explain why the iFi iPurifier3 dramatically improved the sound quality when I streamed songs from Tidal. — By Lam Seng Fatt
The iFi iPurifier 3 retails at RM619 and is available at E1 Personal Audio Malaysia in Sungei Wang Plaza, Kuala Lumpur.