By Lam Seng Fatt
Bryston making speakers? That took me by surprise, but when I found out that it was actually James Tanner's private project which became part of Bryston's product range (read https://www.av2day.com/2012/11/bryston-has-been-hitting-home-runs/), I realised that it was a logical step forward for the Canadian company that became famous for making ultra-reliable amplifiers.
Tanner had contacted several speaker manufacturers asking if they wanted to collaborate with him and all turned him down except for Axiom, whose factory was near Bryston. And so Axiom made speaker units according to the needs and specs of Tanner who tweaked his design till it was totally different from what he originally had in mind and the Model T was born. It took about year before president of Bryston Brian Russell was convinced to market it as a Bryston product.
The design goal was to design speakers that were loud and accurate and obviously the famous 1812 Overture with its cannon shots was used in the listening tests.
The unusual factor is that each speaker uses three woofers, two mid-range units and two tweeters.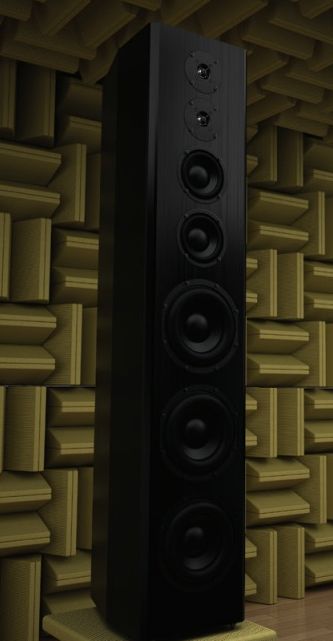 From the Mode T brochure:
Dynamic Compression
One of the major issues with many speakers is dynamic compression. If you hear a very loud sound such as the
1812 Overture cannon shots, there is a huge dynamic range associated with the sound. Small 2-way and 3-way
loudspeakers fall short trying to recreate the huge dynamics range necessary to produce realistic sound
pressure levels. With Model T, one of the foremost priorities was to create a speaker that could truly reproduce
these real world dynamics without compression.
Tweeters
After evaluating several tweeter technologies
including domes, horns, magnetic planers, ribbons,
and ring radiators, we ultimately preferred properly
executed titanium dome tweeters. The titanium dome
tweeters provides the most natural sound, superb
measurements, and high power handling.
Midrange Drivers
Extensive tests were performed on highly respected
midrange drivers in other very expensive reference
level speakers. We were able to get the most natural
sounding midrange drivers using a combination of
ceramic coated aluminum/magnesium cone material
with robust cast aluminum speaker baskets.
Woofers
The woofers are also constructed with custom ceramic coated
aluminum/magnesium cone material, extremely robust cast
aluminum speaker basket, and oversized motor assembly.
Crossovers
The crossovers are specifically designed as an integral part of the overall system; controlling not just
the dividing of the frequencies between the drivers but also tailoring the overall amplitude response.
Bryston crossovers are also designed to be high power to integrate perfectly with Bryston amplifiers;
capable of delivering real world dynamics.
Cabinets
Model T cabinets are designed to reproduce extremely high SPL without introducing any cabinet resonances.
Bracing in the correct areas is critical and, contrary to popular belief, it is not a simple more is better. The
Model T has a complex internal cross bracing system that eliminates cascading resonances.
In addition to the complex brace design, the unique non-parallel cabinet shape also aids in eliminating
resonances and internal standing waves.
The front baffle is a laminated 1.5 inch thick material to provide for ridged mounting of the multiple high
powered drivers. The drivers should move, not the front baffle.
Model T standard vinyl wrapped finishes are black ash, natural cherry, and Boston cherry. Hardwood veneer
finishes are also available at additional cost.
Specifications
Frequency Response 25Hz to 22kHz ( /-3dB)
Impedance 4 Ohms (nominal)
Sensitivity 91 dB SPL @ 1 meter with 1 watt (anechoic)
Maximum SPL 118 dB SPL @ 1 meter
Recommended Power 10 watts to 500 watts RMS
Tweeter 1.0" (dual)
Midrange 5.5" (dual)
Woofer 8.0" (triple)
Crossover 160Hz & 2.3kHz
Dimensions 52.5" H x 10.5" W x 16.5" D
1334mm H x 267mm W x 419mm D
Weight 108 lbs. (each)
49 kgs. (each)
One pair of Bryston Model T speakers should reach AV Designs in Kuala Lumpur by December. The price is not finalised yet, but should be around RM30,000 to RM40,000 a pair.