By LS Loo
The yearly KLIAVS event is usually marked in my diary along with a meet up with Miss July as well. I climbed up and down the 8th, 7th, 4th and 3rd floors of J.W Marriott hotel  searching for goodies once a year!
However, this year was different. I stopped searching for the goodies, and instead went looking for better music that suits me.
A day before the show, a buddy of mine passed me a copy of the show's commemorative CD. The CD artwork already confirmed that I had booked a ticket for nobility in sound.
There were 15 tracks on this CD and without further delay I played it twice. All I can say is this year Jo Ki had invested plenty of his precious time into music selection. Most of the selections might not appeal to the average tastes.
It is a very system dependent CD! My humble system had a hard time 'walking' through all the tracks. Out of all, I picked track 13 "Chitlins & Gefiltefis from Christian Mcbride/Conversation with Christian" as my preferred track. Play it right and you will be able to enjoy the bass attack followed by lots of 'air' from the string movement. Most admirable was the communication between the female and male vocalists. Highly enticing indeed!
Rooms that are still fresh in my mind where I spent most of my time (meaning I liked what I heard!) will be shared with you, in no particular rank or order.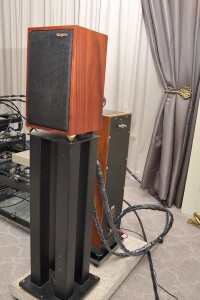 I loved the crowded LS3/5A room that was 'powered' by Joki. Every year this is the only room that gains respectability from the public.
Early in the morning of day one, I went quickly to the 8th floor in order to find a better seat for myself. I knew it was the best time for me to enjoy music from his system with fewer people around.
Skogrand and Wywires were the main linkages used to enable smooth and full sonic details to be delivered from 'Heaven'. This year something was missing. The crystals on the LS3/5A were gone and the hard disk was 'naked'. Removing the crystals was to ensure visitors would  pay more attention to the music rather than busy themselves with the functions of the crystals. I think not everyone  noticed the 'nakedness' of his hard disk. This could be another of Jo's discoveries which is yet to published. I requested Jo to play track 13 from the commemorative CD.
The energy and ambiance presented were close to live music, with layering and 'twanging' from the 'cow tendon' string reproduced well. The small speakers sounded as big as floor standers. When the track ended, I realised – sadly – that there was no way for my 'baby'  to come near this level of performance.
Announcement! Jo is the only gentleman with bow tie on this year. His nobleman look is to match his noble system, I presume.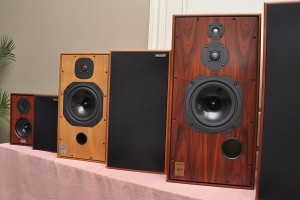 Next to catch my attention was Tropical Audio's The Harbeth Monitor 30.1 although it offered a different signature than the LS3/5A. The full Quad system comprising Pre 66 and Power 606 was perhaps the vital factor behind the system's sound.
You won't be able to find any high-end and expensive stuff in this room – even the speaker cable was still the same old original Quad cable and yet the music flow sounded right to me. I stayed in Sam's room for much longer than planned just to enjoy the CDs that Sam choose to play. All I could say is this room was full of harmonics and clarity in musical notes that convinced me to stay put for that long.
I loved its rendition of vocals and I kept being drawn to the imaging. The singer just 'stood' at a decent level with depth. I really enjoyed the soundstage presented. Dynamics, definition and tonality were expressed in the right way. The Harbeth Monitor 30.1 was only going for RM9.3K for the Cherry Wood finishing. I would be able to bring home with me a system that has great tonality and sonority with less than RM20K investment. It was definitely value for money! I have to confess I was almost ended up spending the rest of my life with Miss Harbeth 30.1 but finally I went home empty-handed due to my powerful hand brake. It was another sheep-counting night for me!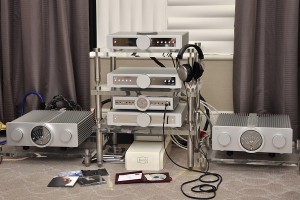 Come to me baby – another unobtainable dream system seemed to beckon to me. It was in Audio Art's BMC demo room. It was crowded and I was sure there had to be something special happening over there. This room showcased a full line up of BMC products.
Carlos Candeias, president of BMC, was there to explain technically the BMC components with his expressive body language. I really enjoyed 'reading' his full body expression during the products briefing.
He shared with us that BMC believed in thinking outside the box to fulfill their goal of delivering lifelike musical experiences. Their designers and engineers believe superior audio equipment requires innovation in the same way as the musicians require – "Creativity"!
He also told us that their group of R&D personnel understood that distortion is the main issue with audio equipment. The team had conducted extensive research into the impact of electronic circuitry to overcome this barrier.
Finally the demo was held after the long briefing session but it was worth tit!
Arcadia, the only speaker in BMC's product line is able to serve all  music genres – vocals, jazz, orchestra, percussion, violin, piano and others. During the demo session, I could not point out any particular unique area or weakness between the highs, mids or the lows. Every music note just complemented each other fluently without any breaking down; it was sonically coherent.
Since the tonality was in such fine balance, I requested the volume to be turned up.  Music instruments that were smaller in image size did not grow bigger. The all-BMC system that consisted of a top-loading CDplayer, DAC, preamp, a pair of mono blocks and speakers was going for for RM200K. One such system has already been sold to a Malaysian.
I hope in the coming KLIAVS all my dreams will come true!