By LS LOO
Interconnects and cables are connectors that play their roles as signal transducers from one music component to another. A well engineered cable's objective is not to improve or change the basic characteristic of the signal passing through; rather it is to find ways to allow signals to flow more freely with minimal energy transfer losses.
A great cable will be judged by how efficiently the details and integrity of signals are sent over a cable. Some would say good cables in use will experience sonic information delivered from 'God' in each listening session. On the other hand, there are also quite a number of music lovers who believe that cabling would not be their first priority in this game. How noticeable cable switching will change a system's sound is still an 'unresolveable' controversy among audiophiles who have different poles of thought. The above has actually indirectly been used to determine product quality and value as well. Now despite all the above, what do we care for a pair of good and reliable interconnects?
Attention has to paid to the connectors' quality as each changing of music components and/or any rearrangement of components will involve cable unplugging and plugging again. Poor quality connectors will easily get scratches, suffer oxidation which can somehow affect the purity of signal transmission in the long run. This is something that we can't accept. Besides, how well a cable can prevent signal loss and how efficient sonic details and signal are passed through are part of the user's important perception.
The Vermouth – The Black Pearl MKII RCA Interconnect 1.5 meter is being reviewed.
Below is the product description in brief:-
"The perfect blend of solid core and multi-size OCC conductors wrapped in high-quality Teflon insulation make The Black Pearl MKII one of the most advanced and complex cables we have ever produced to date, perfecting the already sensational old Black Pearl. We decided to go to basic, by having the main material right. Both types of conductor that we used are believed to be at their highest grade of purity. This is the best material that we have ever come across so far, and we are privileged to have the opportunity in obtaining such materials. Once the fundamental aspect of a cable Vermouth Black Pearl MKII is made right, we then incorporated air tubes and cotton filler for electrical and mechanical purposes."
The Black Pearl MKII Interconnect is Vermouth Audio's latest product and currently only available from their web site. The cable build not only looked strong but solid as well and features high-end finishing. Each connector is designed with a screw lock. The cables were plugged into my system between the Copland CTA-10 pre and Copland CTA-504 power to replace my resident Mogami interconnects. I had to ensure The Black Pearl MKII was connected to the RCA binding post with extra caution as each of the connector has to be pushed into the binding post and then slowly screwed tight.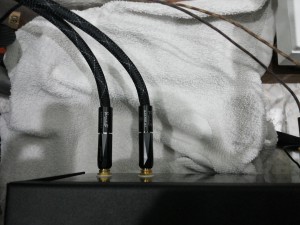 I start off with Rickie Lee Jones's "Pop Pop" album. This album contains the most number of tracks that are able express Rickie's feeling and emotions through her personality. First I listened to track 7 "I'll Be Seeing You" featuring acoustic guitar sounding 'steely' and crisp in the beginning. Imaging improved and was defined significantly noticeably with the Black Pearl. I was even able to pick out clearly the appearance of the male background singer who moaned from far in the beginning of this track. Each instrument position is distinguishable just before Rickie's high-pitched vocal that caught my attention. The whole presentation can described as glistening from the darkness.
As I progressed to track 12 "Comin' Back To Me", The Black Pearl was able to bring out Rickie's vocals truly attractively like a well-seasoned violin – smooth, subtle and without any sign of tension. I noticed an extremely quiet background and I could clearly hear the space around each instrument. At almost the end of the track – at 4:06 – all of a sudden her powerful vocals knocked me like a wave from Niagara Falls. I don't think the cable has any problem revealing better micro and macro details and dynamic extension. Most worthy in this track is Rickie's skilful interpretation being well presented. Of course all her intended skill is clearly exposed and delivered by The Black Pearl. After listening to these two tracks, I think the cable has the ability to produce breathtaking midrange frequencies and take realism of sound to the maximum with no issue.
The album "One More Night – Dave Mcmillan & Andrew Farrell" was the next to be played. Most of the tracks have simple arrangements primarily featuring piano, guitar and vocals. The piano notes decayed gracefully into the air rendering its highly beguiling tonality. The flow of music was so awesome and full of ambiance especially when I listened to track 5 "Excerpts From Greig's Piano Concerto In A Minor" When solo piano was  played, truth of timbre and tonal accuracy were the most noticeable on every leading edge of upper-register piano notes. Each pressing of the piano's keyboard was felt through vibration in the air. Whenever the hammers hit the steely strings, all the notes were successfully generated.
Cable matching is as complicated as choosing a life partner, yet achieving it is considered as delicate as handling a child. I had the most out of my system by having The Black Pearl MKII and the excitement had kept me awake almost every night. It had also helped the performance of my system immeasurably and had contributed significant improvement via its ability to make me 'feel' the music.
The Black Pearl MKII Interconnects come in standard lengths of 1 meter at USD275 and 1.5 meters at USD365 sold by Vermouth Audio.
Those who are interested may contact or visit the following e-mail addresses & websites:
[email protected]
www.vermouthaudio.com
[email protected]
www.sinfoniaaudiovideo.com