By Dick Tan
Denon's latest range of AV receivers, the four strong X-Series comprises the AVR – X1000 (RM2,999), the AVR – X2000 (RM2,999), the AVR – X3000 (RM3,999) and the AVR – X4000 (RM5,399).
Slotted at the middle rung of the X-Series, the AVR – X2000 is the true embodiment of what a modern AV receiver should be.
In its elegantly styled enclosure that is classically clean without any protrusions found in its predecessors, the AVR – X2000 offers a powerful 7.1 channel amplifier capable of generating up to 95 watts per channel into a nominal 8 ohms impedance. At a lower 4 ohms impedance output is increased to 150 watts per channel. That is more than ample to drive all but the most inefficient of speaker systems.
In addition to its high resolution Dolby Tru-HD at DTS HD Master Audio lossless multichannel sound decoding capability the AVR-X2000 is also spot on with its network connectivity offering support for Airplay which allows remote interaction between Apple devices such as the iPhone, iPad, iPod Touch and iTunes.
The AVR – X2000 is also DLNA 1.5 compatible giving access to high resolution WAV HD and FLAC HD audio files.
To cut a long list short it is safe to say that the AVR – X2000 is packed with just about every network feature that is available.
It is however not Wi-Fi enabled, that feature is to be found only in its larger stalemates, the AVR – X3000 and AVR – X4000.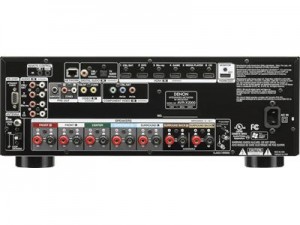 Connectivity that matter include up to 6 HDMI inputs at the rear and one at the front panel. All HDMI inputs are 3D/4K pass through compatible.
In addition to its pass through capability the AR – X2000 also incorporates a video processor that among other duties, up scales legacy SD as well as FHD 1080p video signal to 4K Ultra HD (3840 x 2160p) level to match the emerging new generation of 4K display systems.
As with all modern surround AV receivers, the AVR – X2000 also features an up-to-date room acoustic correction algorithm, in their case the latest generation Audyssey  MultiEQ XT automatic room acoustic measurement and correction system. Whatever speaker you may choose to partner the AVR – X2000 with, the Audyssey MultiEQ XT will acoustically balance them for the smoothest and most accurate response possible in any room the system is intended to operate in.
For further details contact: 
Wo  Kee Hong Trading Sdn Bhd.