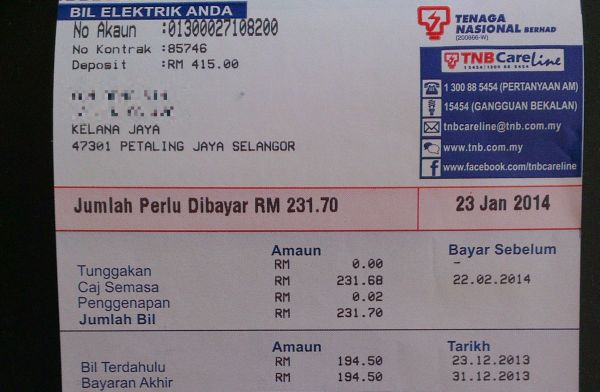 By Lam Seng Fatt
Reality strikes! I just received the latest electricity bill this morning and had a mild shock – the amount was quite a lot more than the previous bill.
After eating some kangkung, I decided to share some tips with audiophiles on how to cope with rising costs of living. My last month's electricity bill amounted to RM194.50. This month, it went up to RM231.70. Like the majority of Malaysians, I am feeling the pain of inflation too. I have a friend who operates a beef noodle shop and he just told me his average monthly power bill last year was RM1,200-RM1,300 and this month, it went up to RM1,500.
According to the Tenaga Nasional Berhad website (http://www.tnb.com.my/), "For domestic users, the tariff will remain unchanged at 21.8 sen/kWh for the first 200kWh consumption per month – this constitutes nearly 50.4% (or 3.25 million) of all domestic users who pay RM43.60 or less monthly.
"About 20.3% or 1.3 million customers who fall in the consumption band from 201kWh to 300kWh will not experience any increase at 33.40 sen/kWh. On average, the domestic customers will experience an increase of 10.6% (3.03 sen/kWh)."
For audiophiles, I am sorry to say that those using pure Class A amplifiers will feel the pinch more than others. Though Class A amps sound much better than Class AB or Class D amps, they are unfortunately very energy inefficient – they consume lots of power even when idling.
For example, the Pass Labs Class A XA100.5 monoblock consumes 300 watts per monoblock (600 watts for a pair). And it is only a 100-watter amp. Compare that with the Class AB X150.5, which is a 150 watt per channel stereo amp and it consumes only 200 watts – it is more powerful and consumes less electricity.
Unfortunately, there is no escape route for Class A amp owners. It is inherent in its design that much of the power is lost as heat. But the sound quality is something else…
Integrated amps and power amps guzzle lots of power even when on idle. The bigger they are, the more they consume – that's the way it works. For example, the Pass Labs XA200.5 monoblock is a 200 watter Class A design and it consumes 700 watts (1,400 watts per pair). Such powerful amps are power-hungry even when on idle.
A power amp like the Bryston 28B SST2, a 1,000 watt monoblock in Class AB, consumes 215 watts on idle and 1,486 watts at full output (though it is very unlikely it will be used at maximum output).
Valve amps also consume lots of power. For example, the Unison Research S9 integrated amp is only a 30-watter single-ended Class A stereo design, but consumes a maximum of 700W. The Audio Research Reference 750 monoblock amp, which outputs 750 watts guzzles 600 watts of power at idle and 2,400 watts at maximum output.
So what can the poor audiophile do short of switching to energy efficient Class D amps?
I would recommend these:
1) Switch off all the components when you go to sleep. I know many audiophiles leave them on 24/7 on stand-by mode. This, I am sad to say, results in your TNB bill shooting up.
2) If the component does not have an on-off switch, unplug it from the mains.
3) Reduce warm-up time to perhaps 30 minutes or so. I know some components do not sound good when they are cold, but warming up for too long will result in higher power bills.
4) If drastic action is needed, just switch off the wall plugs supplying power to all your components, including AV stuff like sub-woofers, AV amps and LED TVs. Switch everything off until you need to listen to something or watch a movie.
5) If you have an air-conditioned AV room, turn up the thermostat. Even a 1°C difference can cut down electricity costs by a noticeable amount.
It is also time to search for all the brochures and manuals for all your components to find out which ones are power hungry when in use and also on idle.