By Lam Seng Fatt
I have to admit that I was once a sceptic, but now with the help of the very revealing Lamm LL2 Deluxe preamp I am a believer.
Can the material used in a fibre optic cable that transmits light affect sound quality? Previously I would have said "No"; now I will say the opposite.
I recall comparing a QED Performance medical-grade plastic Toslink cable with an MIT Terminator 3 coax while I was using the Benchmark DAC1 Pre as the preamp and found little difference between the two. So I thought then that plastic fibre optics had improved so much that it did not matter if glass or plastic was used to transmit the light signal.
Then things changed – I picked up the Lamm LL2 Deluxe preamp and one day I spotted a van den Hul Optocoupler listed on hifi4sale. I had always wanted to check out a glass Toslink and I knew for sure that the VDH Optocoupler (1st version) was made of glass. So I telephoned the seller and asked if there was a "II" marking on the jacket. He said there was no such marking and he was quite sure it was a Mk 1.
There is nothing in van den Hul"s website to confirm that the Optocoupler II uses glass, so if the seller was certain it was an Optocoupler I, I was all prepared to buy it. The seller and I met in Taipan, Subang Jaya, and after a quick exchange of cash for goods, I sped home to test it.
Using the resident Roksan Caspian M1 CD player as transport and the Wyred4Sound DAC2, I played one song with the plastic Toslink and switched to the glass model.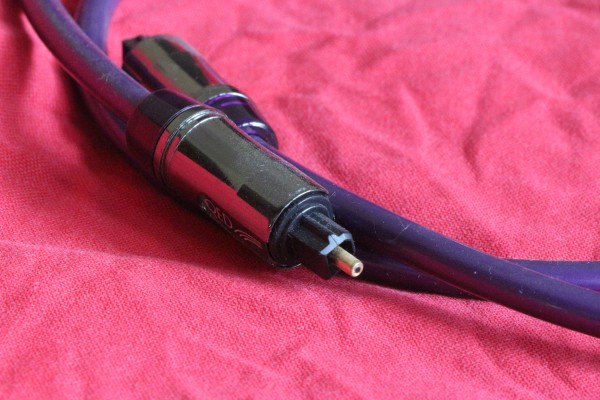 Others have noticed this before – just google "glass vs plastic Toslink". The glass Toslink sounded cleaner and clearer while the plastic sounded warmer, less detailed and not as clear with "fattish" images.
If I were to use metal to describe the sound quality, I would say that plastic Toslink sounds like a copper cable while glass Toslink sounds like a silver cable. After a while, I decided that I preferred the sound of glass Toslink in my system.
The clear and clean sound with more bite to leading edges appealed more to me than a warmish, "fattish" sound.