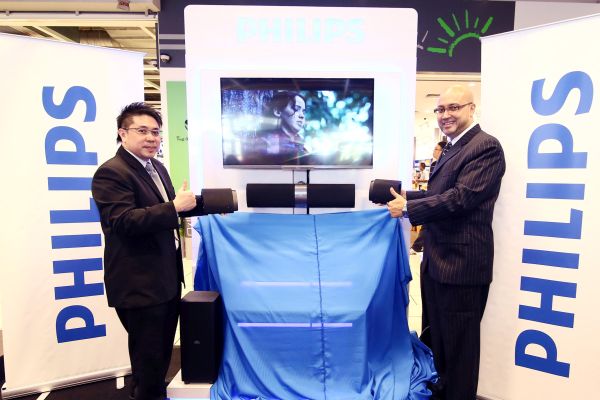 By Lam Seng Fatt
Imagine a soundbar hung on the wall below your LED TV which is neat and compact and providing you with high-quality music. Now, imagine being able to detach the ends – about six inches long – and place them behind you to function as rear speakers for sensurround effects when you play a movie with 5.1 effects.
There is no need for wires because the detachable rear speakers use rechargeable batteries and music signals are transmitted wirelessly. The Wife Acceptance Factor is very high indeed.
Such a device was launched yesterday at Ikano Power Centre in Petaling Jaya in conjunction with the Harvey Norman IPC Atrium Road Show 2014.
The Philips Fidelio SoundBar HTL9100 is the world"s first soundbar with detachable wireless speakers.
When the detachable speakers are removed from the soundbar, the format is automatically converted from virtual surround sound to 5.1 channel surround sound. The HTL9100 Fidelio soundbar comes with a wireless active subwoofer too. However, the subwoofer is not battery powered and requires to be plugged to a wall socket. The detachable speakers are attached to the soundbar with magnets.
The Philips Fidelio soundbar is a product of a Philips division called Woox Innovations which is headquartered in Hong Kong. Woox Innovations was set up 20 years ago by a group of engineers who wanted to take to the limit the concept of squeezing the best sound quality from the smallest of components.
Woox Innovations Malaysia Business Leader Andrew Tan said the wireless system – which does not use Bluetooth or wi-fi technology – makes it convenient for those living in condos to enjoy 5.1 sound effects.
"New homes in Malaysia, especially condos and apartments, seem to be getting smaller and space is at a premium. A full surround home theatre system takes up too much space and is not practical for high-rise dwellers. We have received many requests for the Philips Fidelio HTL9100 from Malaysian consumers and we are confident the product will appeal to audiophiles faced with space and budgetary constraints," he said.
He added that the amplifiers for the entire soundbar system including subwoofer are all Class D.
"We have tested the range of the wireless system and there was still sound three shoplots from our office. There was no distortion or interference from handphones.
"As for the batteries, it takes 6-8 hours for a full charge and the detachable speakers can then play for about 10 hours," he said.
The Philips Fidelio HTL9100 soundbar is retailing at RM2,999. Till March 16 and only at Harvey Norman outlets, every unit of the soundbar purchased entitles the buyer to buy the Philips HMP8100 media player at only RM99 (normal price: RM699) and receive an RM200 discount voucher which can be used for the purchase of the soundbar. Plus any purchase of RM500 and above of Philips audio products will entitle the buyer to take part in a lucky dip.