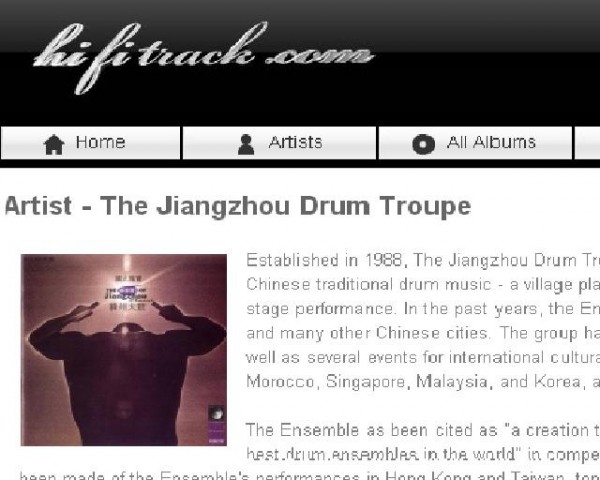 By Lam Seng Fatt
After the recent visit to Pete Teo's studio when a pair of PMC twotwo.6 professional monitors were delivered to him and the long chat we had on recording quality and how his Hong Kong-based sifu Leo Fung had rescued a traditional drums troupe in China from going extinct by recording them in performance and sending the proceeds from the sale of the CD back to the villagers, I decided that it was time for me to Look East.
Back in my house, I googled and found out that Leo Fung's seminal recording was called The Drums of Jiangzhou and it was available for download at www.hifitrack.com (http://www.hifitrack.com/en/node/1881). There are 11 tracks and each song costs HK$20 (RM8.35).
The Jiangzhou Drum Troupe is from Shanxi and its music dates from the Qin Dynasty (221-207BC). The drummers are farmers and their music is folk music that has been passed down the generations which Leo Fung has elevated with his superb recording into an elegant art form highly praised by music lovers worldwide.
According to shanxi.chinadaily.com.cn (http://shanxi.chinadaily.com.cn/2013-10/18/content_17044227.htm), Shanxi is the cradle of Chinese drumming. Hailed as the home of percussion, Jiangzhou drum music originated during the Qin Dynasty.
"Called Jiangzhou in ancient times, Xinjiang County is located in southwest Shanxi Province. Jiangzhou is a time-honored ancient city and holds an important historical place in politics, culture and economy. According to Jiangzhou records, Jiangzhou drum music originated during the Qin Dynasty (221-207BC), and became popular in the Ming (1368-1644) and Qing (1644-1911) dynasties.
"The Huaqiao drum is one of the most representative in Jiangzhou drum music. One ensemble consists of different kinds of drums and at present there are more than ten preserved drumming skills that include beating the edge of the drum, 'lashing' the surface of the drum and 'knocking' drum rings.
"There are three genres in Jiangzhou drum music and each of them has different melodies. Jiangzhou drum music boasts a long history and is a favorite of local people. In recent years as many older Jiangzhou drum musicians have passed away, the music is in danger of becoming extinct," the website said.
After downloading the tracks – which are only 16-bit 44.1kHz quality – I proceeded to play them first with a Lenovo laptop with J River V 19 via Kimber silver USB cable to a Wyred 4 Sound DAC2 and later with a Bryston BDA-2 and BDP-2 with the files stored in a thumb drive.
For the past week or so, I have been listening to lots of hi-res music with resolutions from 24/88.2 to 24/192 from various companies such as HDTracks, 2L, HDTT, Reference Recordings, etc, but Leo Fung's 'lo-res' 16/44.1 files stand out in terms of sheer sonic quality.
The imaging is immaculate and the depth is astounding. Dynamics and micro-dynamics are impressive and clarity is excellent.
Indeed Pete Teo was correct – the quality of the recording matters very much. And Leo Fung's recording of the Jiangzhou drums is deservedly an audiophile classic. It took me so long to discover it simply because my perspective of audiophilia is too Western-centric.