Article by Dick Tan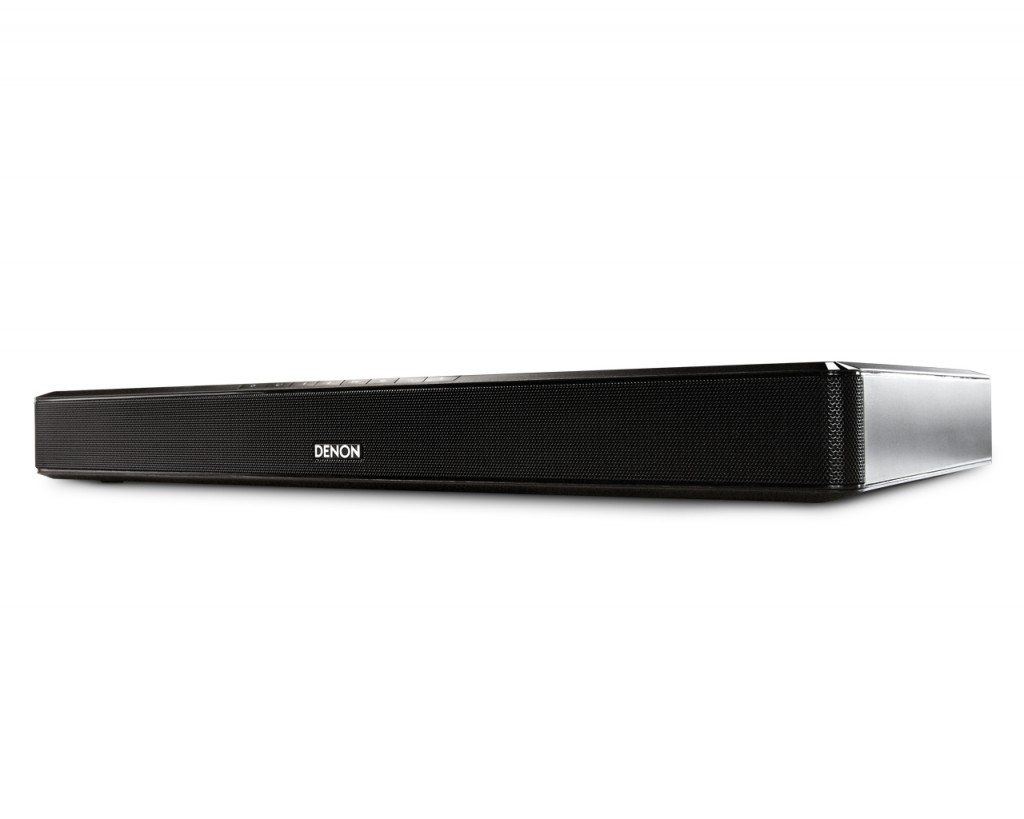 If statistics are to be believed people actually demand good sound from their home entertainment systems but are loathed to take the necessary steps required to achieve that. The soundbar if statistics are correct is proof of that.
What is a soundbar?  In its conventional form, it is usually a long rectangular shaped speaker, usually accompanied by a separate subwoofer.  The soundbar is normally placed in front, at the bottom, of a TV and its role is to improve the mediocre (at best) but often grossly inadequate audio that is staple in just about every digital flat screen TV.
So why is the audio from a digital flatscreen TV so bad you ask? Simple, the very feature that makes a modern flatscreen, be it plasma or LCD, so sexy is its waif like thinness.  This very feature makes it almost impossible for TV engineers to incorporate a decent sound system.  Hence the soundbar.
What is a soundbase then?  It is simply a clever variation of the soundbar.  Instead of being rectangular and wide the soundbase, as its name suggest is wide and deep, much like a plinth, which infact is.  The idea is to have your flatscreen TV sit on top of it.  Soundbar or soundbase , the goal is the same i.e. to improve the sound of the modern flatscreen TV.
Designed to do just that is Denon's DHT-T100, a soundbase measuring 608 mm wide, 255 mm deep and 71mm high.  Attractively styled and robustly constructed from a hard industrial plastic, the DHT-T100 is rated to be able to withstand a weight of up to 27 kg. Which should mean a flatscreen  with a maximum size of up to 50″ and in some case even 55″ depending on the type of flatscreens (LCD flat screens tend to be lighter).
Retailing at RM1,699 the DHT-T100 is pegged a little on the higher end of the price spectrum as compared to other similar makes and this especially so when one takes into consideration that the DHT-T100 does not come with a subwoofer, nor for that matter a sub pre-out. Denon's take on this issue is that the DHT-T100 is designed to produce adequate bass without the a need of a subwoofer and that the soundbase should offer, above most other considerations, ease and simplicity of operation.
The soundbase, Denon argues, by virtue of its bigger enclosure offers a much greater internal volume as compared to a soundbar. This in itself will ensure that the DHT-T100 produces a deeper and higher level of bass output, much like a bigger speaker, everything being equal, will produce more bass than a smaller one.
In this respect the DT-T100 is exactly what Denon's engineers have inspired it to be.  It is certainly simple there being only two digital inputs in coaxial and optical flavour.  There is also one 3.5mm minijack input for connecting a smart phone or MP3 player.
Ergonomically, the controls of the DHT-T100 are fairly intuitively laid out on top of the front edge although a remote unit is provided as well.
The DHT-T100 is also packed with a substantial built-in amplifier that drives four drive units – a pair of 14mm tweeters mounted at the extreme right and left and two oval shaped bass/midrange drive units. Bass extension is augmented by dual reflex ports at the rear of the soundbase.  For those where wireless connectivity is paramount, the DHT-T100 is Bluetooth compatible.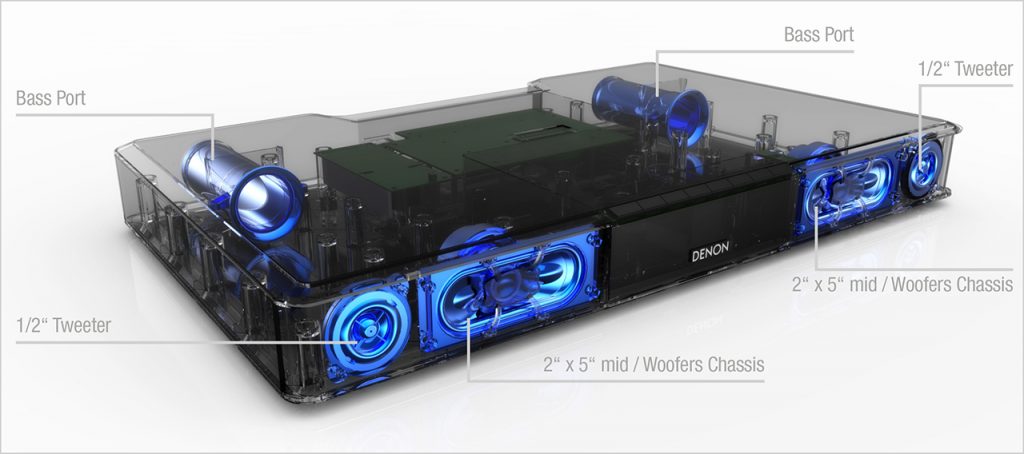 Setting up the DHT-T100 is elementary enough. Since most flatscreen TV, are equipped with optical digital outputs the DHT-T100 was connected to the TV output with an optical digital cable that is provided with the soundbase.
There are two ways to control the sound, either though the remote unit provided or via the TV"s remote.  To do the latter the DHT-T100 can be programmed to learn the commands of the TV remote.
Does the DHT-T100 improve the sound from the TV? Without a doubt yes, and quite significantly too.  Bass, as Denon claims is fairly extended and reasonably tight while mid and treble frequencies are detailed and crystal clear.  You know you are not listening to the TV's built-in sound system.
Having said that, no soundbar/soundbase can ever compete with a properly set-up external sound system such as a multichannel receiver with separate speakers can provide.  But then again it is not the aim of soundbars/soundbase to replace the separate system.  They do however provide an effective alternative to those who, for some reasons are not disposed to the complexities that setting up a full fledge external separate audio system would entail.  Your grandmother ought to be able to hook up the DHT-T100 without breaking out a sweat!
In this respect the  DHT-T100 succeeds admirably although I still feel that Denon should consider including a subwoofer output, if only, for those who at a later date might feel the need to really plumb the depths with more bass than what the DHT-T100 is currently designed to deliver.
The DHT-T100 and other Denon products can be auditioned at the coming KL International AV Show 2014, July 04 -06 at the JW Marriott, Jalan Bukit Bintang, Kuala Lumpur.
For further information contact :
Wo Kee Hong Sdn Bhd
Tel: 03 79548088
Article by Dick Tan