By Lam Seng Fatt
On May 5, audiophile El Hefe posted a comment in the previous article titled 'Bryston pair: Very detailed sound'.
He had wanted to know how I managed to play hi-res files on iTunes.
So I had to google around for an answer and this is what I found.
When I used my wife's MacBook Air to play music files via iTunes with the Bryston BDA-2 DAC, I actually did not set it to play hi-res files as the output settings were at 16bit 44.1kHz. However, all the files I played were received by the BDA-2 as 192kHz files as the '192' light was on. Why? I don't know.
Anyway, I found out from some forums that it is possible to set iTunes to output files up to 24/192.
From the outset, I must state that I am using the Windows version of iTunes v 11.1.5 to show the steps simply because my wife has set a password to her MacBook Air and has refused to divulge it to me (sigh).
Here's how to do it:
At the top bar of iTunes, you will see 'File', 'Edit', 'View', 'Controls', 'Store' and 'Help'. Click 'Edit' and in the dropdown menu, you will see 'Preferences'.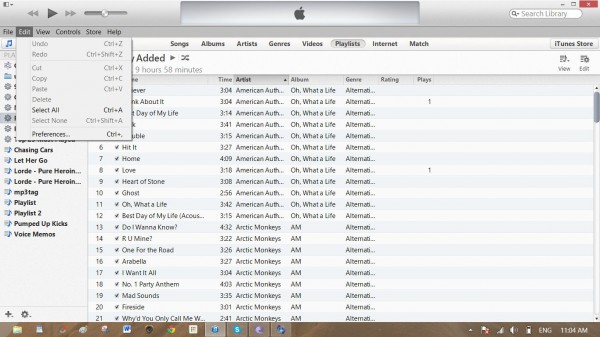 In 'General Preferences' you will see 'General', 'Playback', 'Sharing', 'Store', 'Parental', 'Devices' and 'Advanced'. Click 'Playback'.
At the bottom, you will see 'Bitrate For Audio Playback' Click in the box and you wil see 44.1, 48, 88.2, 96, 176 and 192. Select the preferred sampling rate. Below it is 'Bits Per Sample For Audio', click the box and you will see 16 and 24. Select '24'. Then restart iTunes.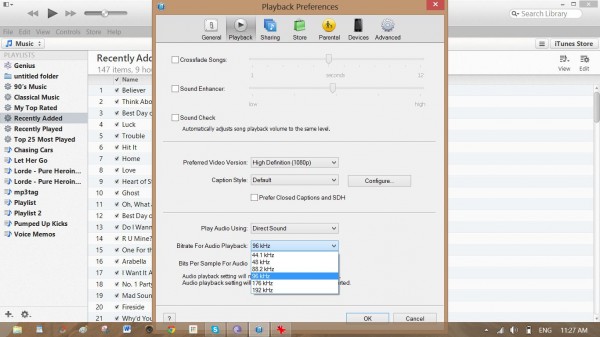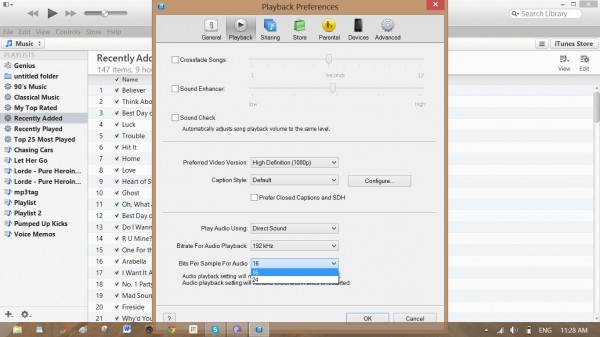 It must be noted that iTunes does not automatically reset sampling rate according to the file. If you set it at '192', it will remain at '192' regardless of file being played.
So it is a bit 'ma fan' (bothersome in Cantonese) which is why most Mac users prefer to play with Pure Music, Amarra or others.
Having said all these, I have to inform that with iTunes, the DAC will state '192' even if the output is set at 16/44.1 I have noticed this with two DACs so far – the Bryston BDA-2 and the TEAC UD-501. I am not sure why. If any reader knows why, please post a comment.