By Lam Seng Fatt
When the Magnet Hyperion Reference One stereo power amp was delivered to my house, I wondered what it would be like since it was made in a country that few audiophiles would associate with hi-end hi-fi – Thailand.
Would it be hot and spicy like tom yam? Or would it be sweet and succulent like Thai mango?
The Magnet Hyperion Reference One stereo power amp is big – bigger than the resident Bryston 4B SST. It is also heavy and hot. Though the literature does not mention it, the amp seems to be a very high-biased Class AB design – that explains the heat and the fluid sound.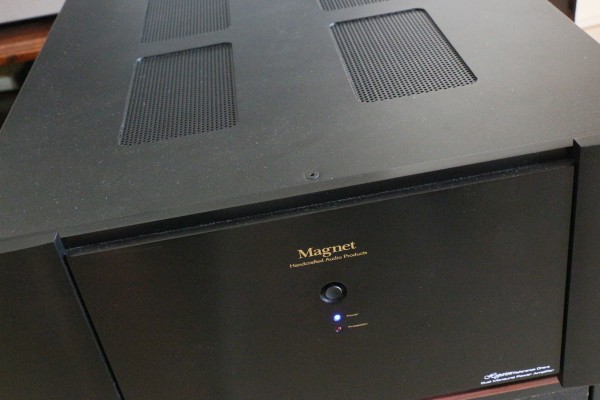 From Magnet's website (http://www.magnet.co.th/) – "The Hyperion Reference ONE uses a current feedback topology for low distortion and greater clarity even at the highest levels. Magnet amplifiers employ full complementary differential circuit, so the two halves of the amplifier are mirror image of themselves helping low noise and distortion.Balance complementary push-pull input stage delivers ultra wide bandwidth performance for the best reproduction audio resource.Ultra-High current stage output delivers instantaneous current for maximum transient impact. The Hyperion Reference ONE provides high peak current delivery, for a realistic music experience. Dual Monaural A monaural feature of The Hyperion Reference ONE features each channel having its own transformer and power supply. Power amplifiers that share a single power supply across all channels will actually deliver far lower power levels than maximum power rating when all channels are driven."
Its specs are also impressive:
Number of Output Channels 2 Channels Bridgeable
Power output Stereo – 250Wrms @ 8Ω from 20Hz – 20khz all channels driven
Stereo 400Wrms @ 4Ω from 20Hz – 20khz all channels drive
Bridged 650Wrms @ 8Ω from 20Hz – 20khz all channels driven
Total harmonic distortion THD+Noise <0.01% at 1 KHz and <0.02% at 20KHz, at rated power 8 Ohms
Frequency response 20 Hz – 20KHz ± 0.1dB
Signal to noise Ratio > 110dB from A-weighted below rated power
Cross talk > 70 dB at 20KHz
Slew Rate 70 V/microsecond
Damping Factor > 600
Input Impedance 25k Unbalanced / 50k Balanced
Input Sensitivity 1.55Vrms for 250W ; 1Vrms for 100W
Signal gain 29 dB
Bandwidth 300KHz @ 1W – 8Ω Load
So on paper it appears that a Made-in-Thailand amp is as good as any made in USA, Europe or Japan. But how does it sound?
In terms of looks, the amp is impressive. It is heavy and huge and is well built. Since I did not want to carry it around, the amp was placed on a coffee table in front of my system. Luckily its power cord was long enough to be plugged into the MIT Z-Strip power conditioner.
The components I used to test the Magnet amp were the Roksan Caspian CD player used as transport, the TEAC UD-501 DAC and Wyred4Sound DAC2 DAC, Lamm LL2 Deluxe preamp, with interconnects from WyWires, the Kimber 12TC speaker cables and the ATC SCM40 floorstanders.
After a few days of playing all sorts of music, I reached the conclusion that it had a dense, lush and smooth sonic signature. It was also more forward sounding than what I am used to.
It had a very fluid 'class A' kind of sound with a particularly alluring mid which gave vocals a very 'sweet and succulent' quality.
So it was not a 'hot and spicy seafood tom yam' adventure, but a 'sweet Thai mango with glutinous rice' kind of experience with the Magnet amp. Just like the sweet and succulent mango, you want more after the first bite and the Magnet amp does not disappoint.
The Magnet amps are brought in by Victor Pheh of hifi creations and will be showcased in the coming Kuala Lumpur International AV show. The Magnet Hyperion Reference One stereo power amp's list price is RM16,200.
For more information on the Magnet amps and other Magnet components, call Victor Pheh at 012-2962799.