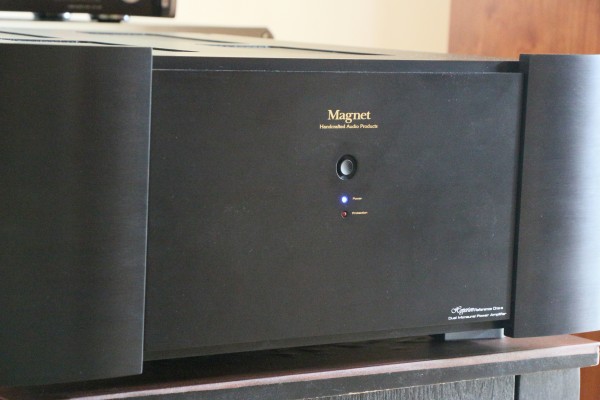 By Lam Seng Fatt
To promote ASEAN solidarity, allow me to introduce Magnet components which are made in Thailand.
Magnet makes amplifers, preamps, power conditioners and CD player.
I think most audiophiles in Malaysia are guilty of looking down on hi-fi components that are not made in USA, Europe or Japan. Of late, companies from China have managed to break into the international market, but it took them a while to shake off the 'cheap and bad' label. Some products from China now are of quite good quality and a few Chinese firms have bought up well-known hi-fi manufacturers from the West.
But Thailand? Well, there's more to Thailand than elephants, beaches and tom yam.
Victor Pheh of hifi creations has brought in a comprehensive range of Magnet products which he will be officially launching at this year's Kuala Lumpur International AV Show.
Magnet is the brainchild of Pongtorn Malakul Na Ayudhya who had a vision of building "remarkable sounding amplifiers at a remarkably affordable prices". He started off by selling amplifier kits to students.
In his company's website, he wrote: "30 years ago, I got hired by Philips for 9 years. I recalled that my first assignment there was to design the audio system for the Parliament. Then, I was hired by Zercon for years to design amplifiers. At that time, I knew I did not want to be an employee my whole life. I started to open my stereo box, NAD Turntable, Microseiki amplifiers and Infinity RS-8B three-way speakers which I had been listening to in my home for a long time, to study the circuits inside. Then, I designed stereo circuit projects with my team pressed in Semiconductor, a magazine published by Se-education, our distribution channel by that time. It turned out we sold a million baht within months, from what started at a budget of 100,000 baht. Soon after, I made the PR-3a amplifier and I have sold amplifiers since then.
"Ten years later, Richard N. Marsh came to visit me at my office and we became partners, and Vern Smith was our marketing partner. We founded Marsh Sound Design together to sell Marsh amplifiers in the US.
"At first, the Marsh circuit was adapted from the Magnet circuit and we adapted Marsh circuit to upgrade Magnet. Then, A400s was born and sent for a test conducted by The Absolute Sound, a major hi-end magazine in US. I was thrilled – the review was positive. Robert E. Greene, the writer, wrote there was 'amazing improvement on sound definition' when using Marsh amplifier. He praised us with the phrase 'a great engineer who can do for a dime what anybody can do for a dollar'. He also implied that our A400s amplifier is the boon to the customer to get an extraordinary amplifier at 1/10 price of retail."
Right now, I have two Magnet Hyperion Reference One stereo power amps for review. I have been using them for bi-amping and will be posting a review soon.
At this juncture, I have this to say: "Don't look down on the Thais. They know a thing or two about hi-fi."
For more information on the Magnet amps and other Magnet components, call Victor Pheh at 012-2962799.