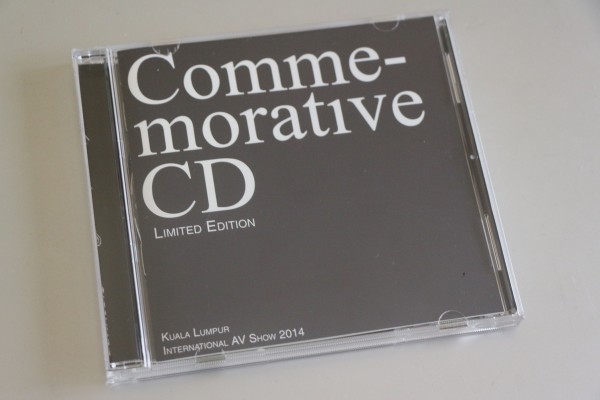 By Lam Seng Fatt
For some reason, Jo Ki and I tend to meet up near Secret Recipe outlets. Last year, he waited for me at the Secret Recipe outlet in Taman Megah, Petaling Jaya, to pass to me a copy of last year's special CD for the AV show.
Last night, the spot where we were supposed to meet up was at The Curve in Petaling Jaya. So I picked up this year's Commemorative CD from him and I turned around and spotted – a Secret Recipe sign. For some strange reason we met up again outside a Secret Recipe outlet.
On the way home, I played the CD on the car audio system and could easily discern that it was a cut above the normal CDs in terms of sound quality. I reached home too late to play it and so this morning I switched on the big rig and played it and heard it in all its audiophile glory.
I will not spoil things for you, but I will say there are no foreign language songs this year other than two Chinese tracks.
There are several golden oldies such as Mona Lisa done very well and there are some well-known names and labels in audiophile circles such as Emi Fujita and MA Recordings.
My favourite song is by Chiara, a British-born Filipino singer whose rendition of Songbird is invigorating.
Okay, I shall stop here otherwise I will start revealing everything.
The special CD will be given to all those who buy a ticket to attend the Kuala Lumpur International AV Show this weekend – while stocks last.