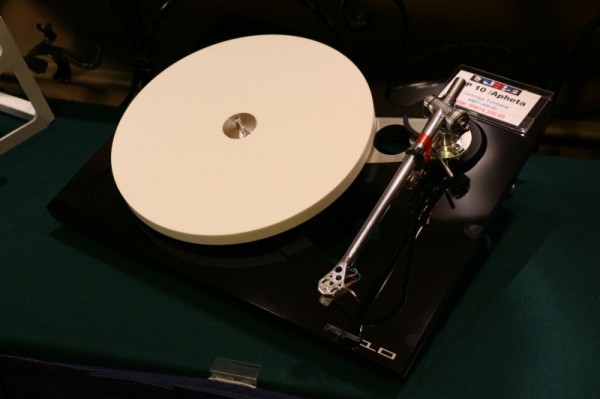 By Lam Seng Fatt
On the third day, it was quite quiet in the morning and I managed to check out the rest of the exhibitors.
Again I popped into the Vertere room and chatted with Touraj while he spun several LPs on his turntable. The sound quality in that room was so good that I wished I had a million ringgit to spend on hi-fi which would result in me going home with his Vertere turntable and the FM Acoustics components.
The other room that I liked was the Audio Image room which also featured vinyl with a battery-powered Thales turntable with its tangential pivoted tonearm. Adrian even played a mono recording with a mono cartridge. Ah, it was another nice sonic experience there. Once more, the Magico speakers were, well, magical.
I also popped into the Goldmund room to have a listen to its wireless speakers. They reminded me of Dynaudio Xeo speakers, but they were higher level with a higher price too.
In Hi-Way Laser's room, I heard the new version of the ATC SCM40 which looked quite good with its new metal see-through grille. They sounded good too – they were more transparent and had a more extended and brighter treble than the SCM40s that I own.
Another system that impressed me was in the A & L Audio Station room which had a full dCS Vivaldi system.
In Jaben's room, I had a quick listen to the world's most expensive pair of headphones – the Abyss. They cost something like RM25k…well, if I have that kind of money, I would rather upgrade my DAC or speakers or CD player.
In Maxx's room, I heard the SVS sub-woofers partnered with Audio Physics speakers. As usual, Max has tuned the HT system well and I was impressed by the well-defined sensurround effects.
Here are some photos of Day 3…