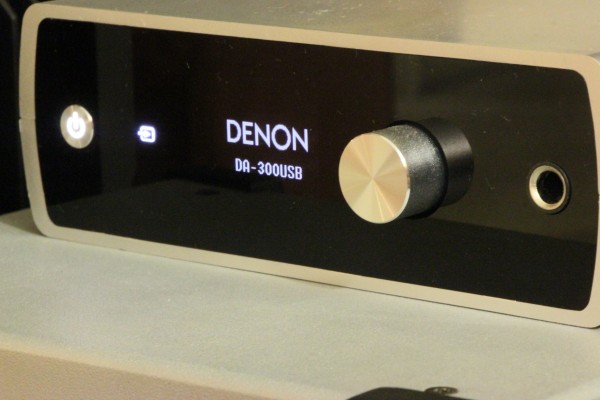 By Lam Seng Fatt
The CAS scene is getting more interesting with the release of really affordable DACs which can handle DSD and hi-res PCM files. One of them is from Denon, which is a Japanese company that has been making good and reliable components for the hi-fi and home theatre segments, including universal players, for decades.
Denon's DA-300USB, which was showcased at the recent Kuala Lumpur International AV Show, retails at only RM2,500 but is filled with lots of features even though it is as big as a thick paperback novel.
Since it is designed for computer geeks, the Denon DAC can be placed horizontally or vertically (with a supplied base) and the display rotates accordingly. If placed vertically, it will occupy little space on your desk at home or in the office.
It can handle DSD 2.8 and DSD 5.6, PCM up to 192kHz and it has a headphone amp function. Its other features include a ground isolator for DAC Mode operation, an iPod / iPhone compatible USB input, a low-noise OLED display, and two master clock crystals, instead of the usual one.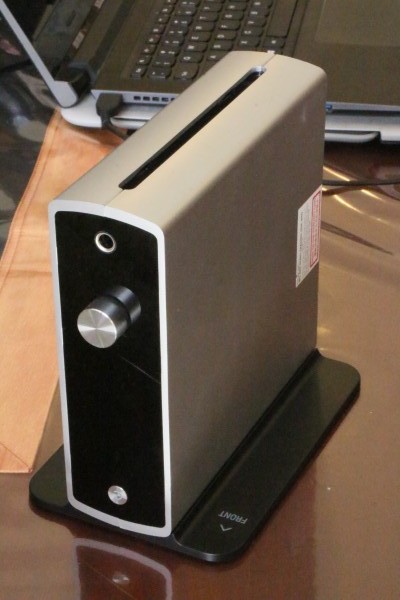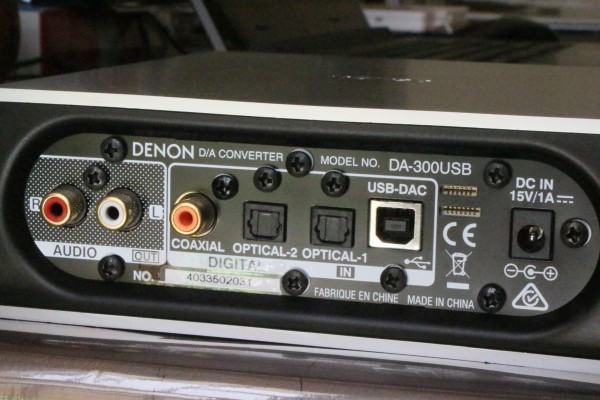 The Denon DA-300USB DAC uses the Burr-Brown PCM1795 (192kHz/32bit) chip which as the ability to decode both 2.8Mhz and 5.6Mhz DSD files (either natively decoded or via DoP – DSD over PCM).
When I received the Denon DAC for review, I was informed by someone that he had problems playing DSD files with the DAC. Apparently, it would accept some DSD files and reject others. However, the person used Foobar to play the files.
In my case, I went to http://www.denonasia.com/ap/Product/Pages/Product-Detail.aspx?Catid=c29d6de4-80b4-416c-b7c4-ce5fba28f532&SubId=USBDAC&ProductId=DA-300USB to download the driver for Windows 8, lauched J River v19, selected the Denon ASIO driver and encountered no problems at all.
I played both DSD 2.8 and DSD 5.6 files and both were accepted by the Denon. I also used J River v19 to convert PCM files on the fly to DSD 5.6 and the music just flowed and flowed.
The only files this petite Denon DAC could not handle were PCM 352.8kHz and 384kHz tracks. For the listening sessions, I used either the CD player as transport and connecting it to the DAC with co-ax cable or the laptop and a USB cable.
Now that I have commented on the functionality of the DAC, what about the sound quality?
The Denon DAC has a detailed sound with a somewhat lean tonal balance that tilted towards the uppermids. It wasn't bright sounding, but the sound quality was somewhat lightweight and airy.
This DAC should help brighten up dull and thick-sounding systems. The soundstaging was quite big and open which led to the impression that it sounded 'airy'.
It has a volume control, but it can only control loudness for headphones. Its headphone jack sounded very clean and detailed with my pair of Sennheiser HD600s though the tonal balance was a bit lightweight.
At its price point, there are no complaints. Anyone entering CAS now must have a listen to this.
The Denon DA-300USB DAC is available at Wo Kee Hong.