Article by Dick Tan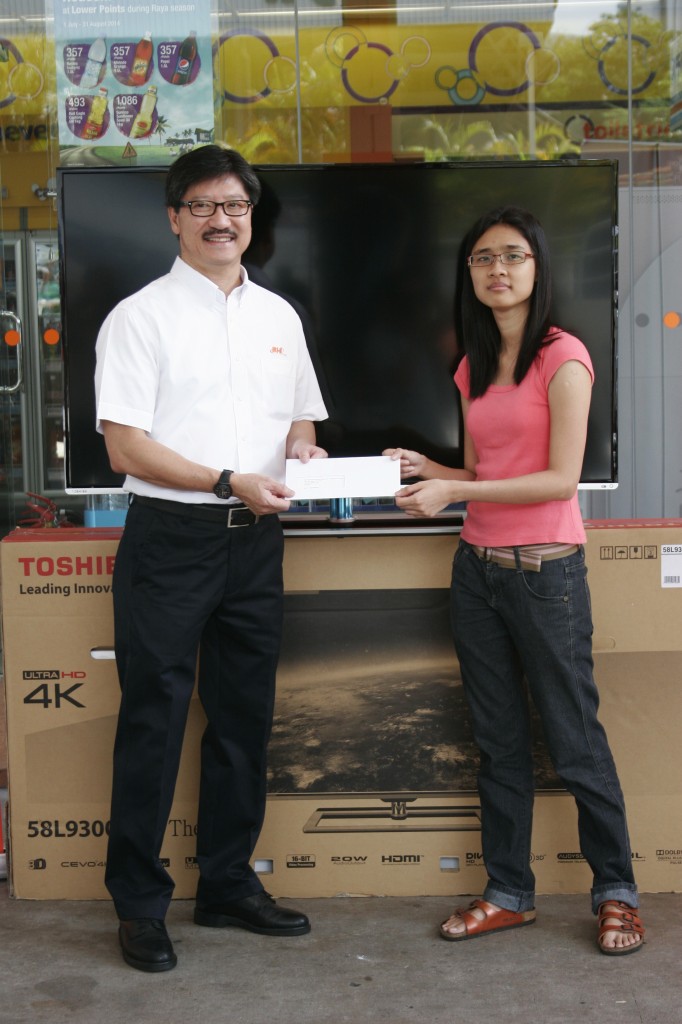 Don't believe in luck? Well, tell that to first time KL International AV Show visitor Dianne Foong.
According to Dianne it was a last minute decision to visit the KL International AV Show 2014 on the last day of the Show on 6th July that won her a Toshiba 58L9300 58″ 4K Ultra High Definition TV worth RM15,000.00
Dianne who was undoubtedly thrilled about her unexpected win said, 'Although I have heard of the KL International AV Show for quite a number of years and have wanted to visit it, I have always missed out on an opportunity for one reason or another'.
'This year I finally made it, at the last minute, with some friends who share my interest and curiosity for AV products. All of us filled in the BHPetrol lucky draw questionnaires, slot them in the drop box and quite honestly forgot all about it until I got a call at the beginning of the month informing me of my win. You can imagine my utter and complete surprise'.
According to James Khoo, BHPetrol's Retail and Supply Director, the KL International AV Show which attracts a strong middle class group of Malaysians is an ideal venue to promote the better qualities of BH petrol.
Khoo, who confesses to being an ardent audiophile and a regular visitor to the KL International AV Show says, 'Most audiophiles and home theatre enthusiasts I know drives and anyone who drives is a potential client for the superior quality of BH petrol'.
Part of Toshiba's Pro Theatre Series of high performance UHD TV, the 58L9300 is the smaller of a two model 4K TV range, the other being the 84L9300, an 84" behemoth with a retail price in excess of RM40, 000.
Size aside, both models share the same cutting edge 16bit CEVO video engine which provides state- of- the art video processing that includes what Toshiba claims is among the most flawless upscaling of Bluray and other 1080 high definition sources.
This 3D ready UHD TV also feature up to four (4) HDMI inputs and a powerful 40 watt integrated sound system.
Article by Dick Tan