Article by Venoth Nair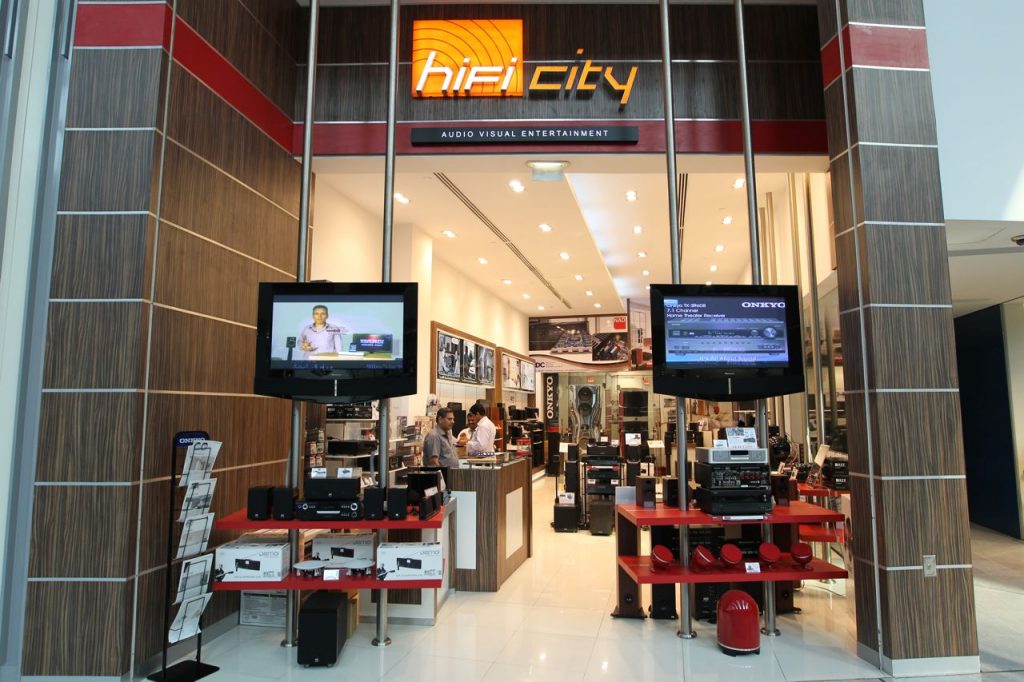 As a travelling audiophile, I can't help but be curious about the audio scene in the places which I visit. Discovering the flavour to which audio and video is enjoyed interest me just as much as tasting the local cuisine or experiencing the native culture. So for my current trip to Dubai, I felt it would be interesting to write about the local AV industry compared to how we do it back home in Malaysia.
The Dubai lifestyle is one filled with extreme displays of wealth and glamour, with an almost limitless boundary to what the human spirit can achieve. Here we find a place where man has proven his ability to overcome any odds, building an entire city in the desert. In this city we find unparalleled luxury and comforts which quite frankly feel surreal sometimes.
To begin my journey into Emirati AV culture, I start at the most logical location, the local shopping malls of course. Immediately it is apparent how they love to keep everything organized with most of the electronics stores all bundled into one location within the mall. I personally like this as it takes minimal effort to locate what you desire for your AV fix.
On a whole the people in Dubai (and pretty much the rest of the world), focus the largest allocation of their AV funds to the procurement of a television set. In this neck of the woods, 4K is a must, as only the latest and flashiest of technologies would satisfy the cravings of the average Dubai citizen (if there was even such a person).
Taking the lead on this front are the Korean titans, Samsung and LG with their offerings of class leading 4K and full HD big screens. These brands have a commanding presence here and show off their foothold with massive stores which stock pretty much every gadget that they manufacture. Back home these brands were usually sold by independent retailers with brand stores limited to just cellular phones and accessories related to that.
Hi-Fi and home theatre however, just like every other place on earth, is a niche market where only the discerning few participate in an almost religious like devotion to the pursuit of audio nirvana. Dubai is no exception to this philosophy with maybe one jarring difference, cost over here is no object.
Tried and tested brands like Marantz, Denon and Onkyo take the lead which honestly doesn't come as a surprise. On the exotic front, brands like KEF, Electrocompaniet, Triangle and Bryston seem to be the focus, with many stores proudly displaying products from these brands.
Systems here are put together using individual components (usually from the same company), paired with speaker from manufacturers with not only a good sound, but also stunning looks. Systems are priced from the almost free (in Dubai anyway) AED 4000 (or RM 3600 for us) all the way to figures that seem pretty unbelievable.
Almost all the systems assembled look great, and almost all the kit that is brought in to Dubai, have some characteristic which makes it stand out such as amazing build, beautiful looks and of course immaculate quality. Don't get me wrong, budget equipment is available, but these usually take the back seat over here reserved for the very few who genuinely are budget conscious.
Let's be realistic, if money was not an issue, wouldn't you want a system of such style and substance to match your Rolls Royce parked out at the driveway? I'm sure now you understand the fundamentals of decision making here in Dubai.
Ultimately, the Hi-fi scene in Dubai is still relatively lightweight (though not in spending) compared to what is going on over here in Malaysia, but that does not mean that it doesn't have a pulse in this land of luxury. Maybe in time with the arrival of more expatriates from various parts of the world, interest in high end hi-fi may grow and considering the absence of a budget in these parts, that would make for a very interesting scene to keep watch.
Article by Venoth Nair