It has been a month since KLIAV 2014 but I have one last article to write, which is about the systems that I found myself liking more than the others.
.
First, we shall start at the entry level. When I walked into Syarikat Instraco"s room, which was demoing loudspeakers from Thonet and Vander, I didn"t know what to expect. Thonet and Vender was a new brand to me, I didn"t know how much they cost and I had no expectation as to how they should perform. I took my photos and then sat down for a listen to the TURM floorstanders that were playing at that time. A few moments later, I started to notice the coherence of the music replay, the generally fault free sound, which was also smooth and musical. Sure, there could be more detail retrieval and better extension at both ends of the frequency spectrum, but the music had a good rhythm and liveliness that could hold my attention and made me want to listen on.
.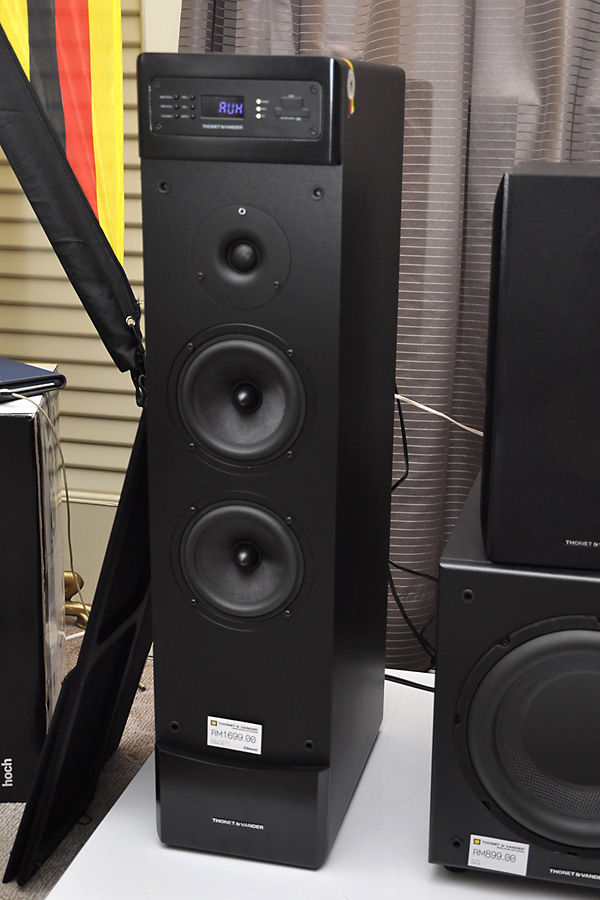 .
I took a glance at the price tag, then I did a double take, and then I walked closer to make sure I really did not make a mistake. Given the price of hifi nowadays, I thought I have missed a "1" in front or a "0" at the back. But no, the TURM cost RM1,699. It was active, with built-in 50w of amplification per side, it had an iPod dock, it also had Bluetooth capability, both necessary features to attract a younger crowd to our hobby. For the older-fashioned among us who wanted to look for higher resolution, it had SPDIF digital input which you could hook a disc player or a streamer to (I don"t know what level of resolution the digital input will be able to take though). I hope it also has a pair of analogue input (I didn"t check during the Show and I could not find this info on the Thonet and Vander website), so that the owner would have an upgrade path, for example, to move no to a better external DAC.
.
Anyway, I believe RM1600 for a pair of active floorstanders with all these connectivities is a no-brainer for anyone who wants to start off on this hifi hobby of ours.
.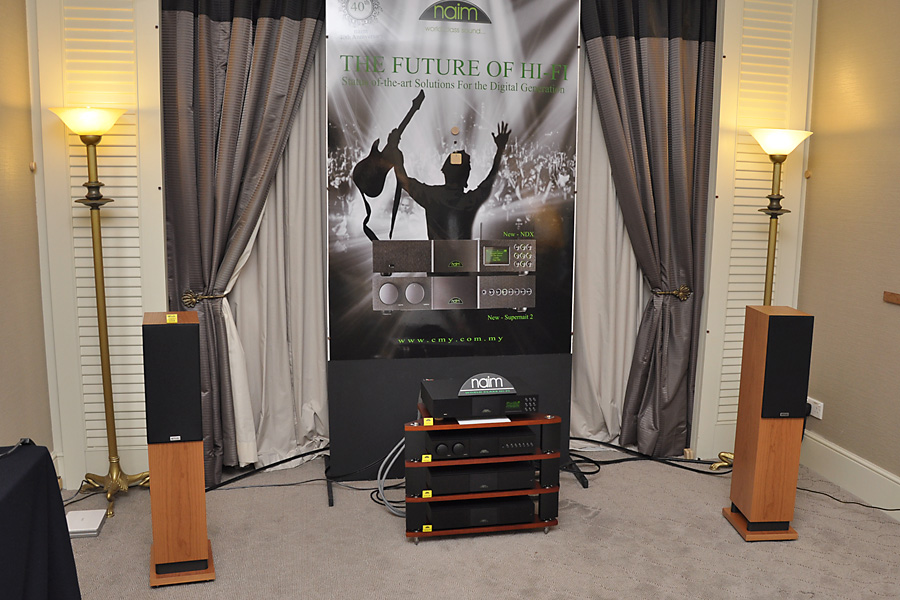 .
Next, we move onto the mid level. The system I found impressive was the Naim electronics and ProAc loudspeakers combo put up by CMY (as seen above). These two proved to be an excellent match. The system showcased Naim"s signature speed and dynamic capabilities, tempered by ProAc"s refinement and attractive tonal colour, with the natural midrange that the Brits do so well, making this an enjoyable system to listen to.
.
Lastly, the high end.
.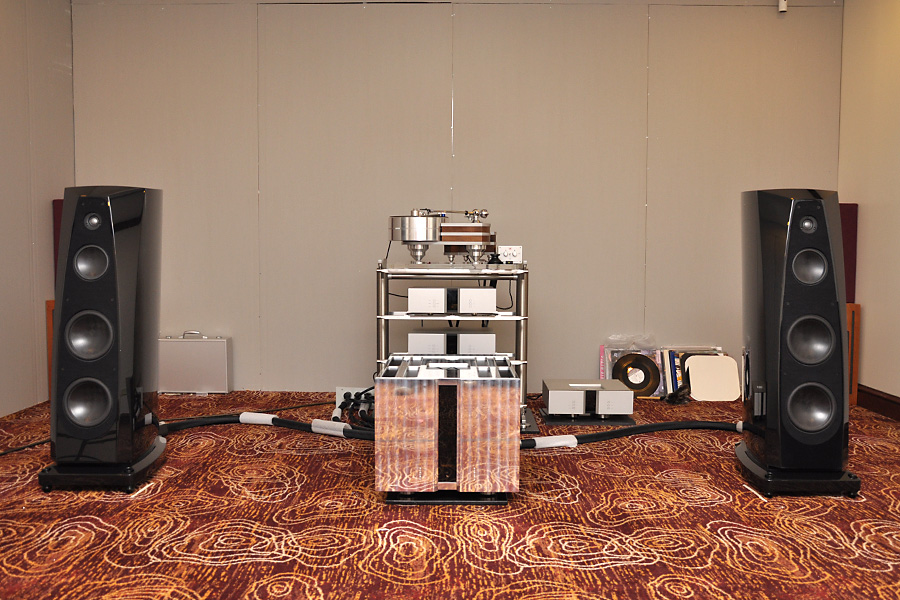 .
The first system I"d like to highlight is the one put up by Swedish Statement, comprised of a Sperling turntable, Vitus electronics with the humongous Vitus power amp driving the Rockport Avior loudspeakers. I chose this system not entirely because of the sound it produced when I was visiting Swedish Statement's room, well, one could poke a few holes at its performance, for example its tonal evenness, under the challenging show condition it was put in. Rather, I chose this system because of its sound performance AND the potential it showed. One could easily discern that there was a tremendous amount of music information in the sound, the Vitus-Rockport combo showed a lot of control on the proceedings, their potentials in dynamic capability, frequency extension and headroom was apparent. With so much ingredients and capabilities already available in the mix, the owner just need make the necessary fine tuning to get the best out of this system.
.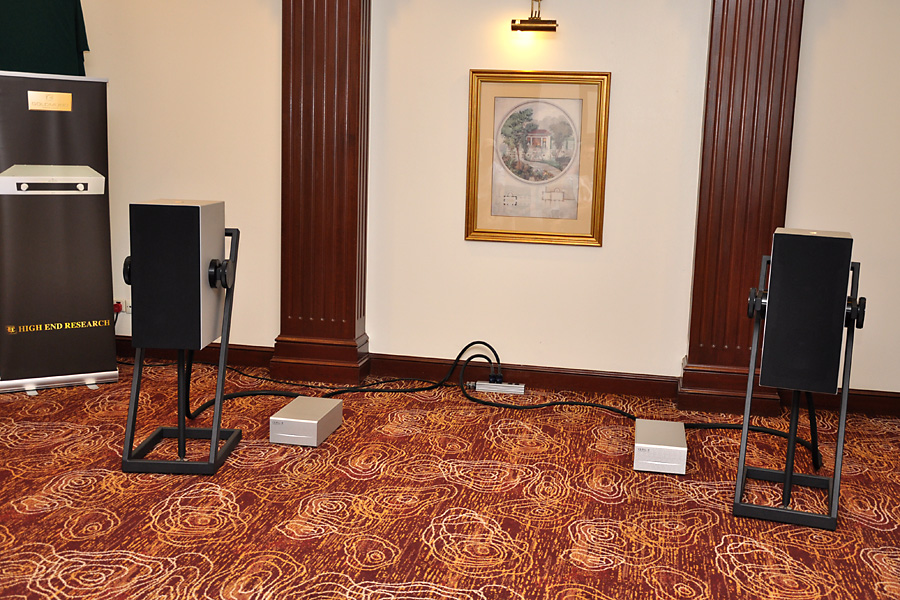 .
The second system was the active and wireless ProLogos loudspeaker system from Goldmund, demo'ed by High End Research. These babies took digital signals wirelessly from a matching Goldmund digital pre-amp.  The size of the ProLogos was small in relation to the room, however, these midsize boxes sounded big, while at the same time acted impactful, fast and dynamic, when the going got tough (it was playing some percussion track when I visited), the ProLogos did not flinch but just went headlong with the demand. I did not have a chance to hear the ProLogos on more 'sedated' music such as vocal or small scale jazz,  however, with what I heard, I believe the ProLogos had made a very solid case for Goldmund unique system philosophy.
.
.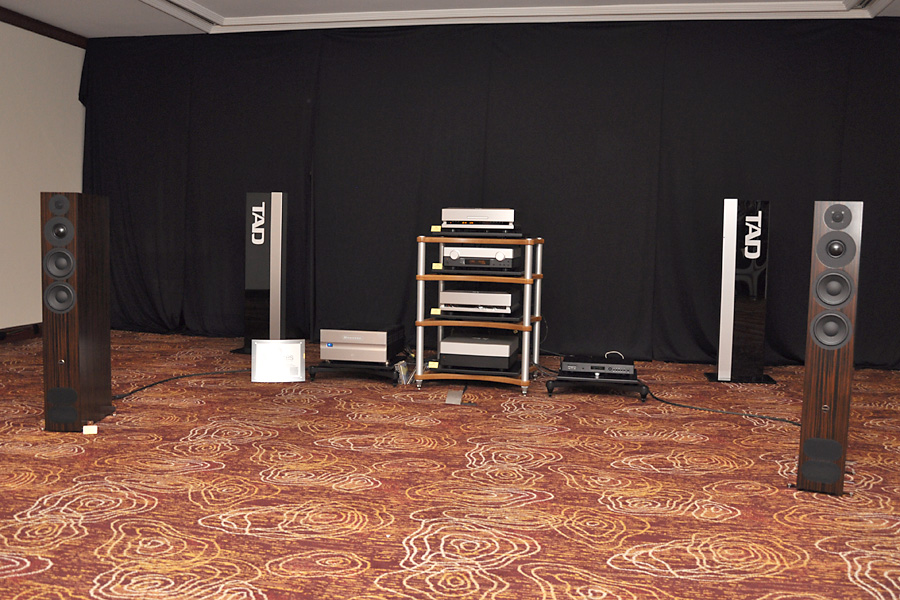 .
The last system that made it to my list is the TAD electronics plus PMC loudspeakers system ran by AV Designs. When I asked James Tan why he paired TAD with PMC loudspeakers rather than TAD's own, he said his purpose was to show that it was not necessary to have a complete TAD system to enjoy the TAD quality, the TAD components were versatile enough to work with other brands to produce great sound too. The end result proved James' point. Let me be honest, I am nuts about TAD (I have TAD's SACD/CD player and loudspeakers running in my own system at home) and I thoroughly enjoyed the music replay on this system too. The sound again was big despite the mismatch between the speaker size and the room, details were aplenty but never veered towards being analytical, rather they were just there for you to pick out, forming part of the musical message. Every track played had a joie de vivre that made one wanted to listen on and on. The performance was thoroughly musical and enjoyable.
.
That concludes my report. Looking forward to 2015.