Article by WL Low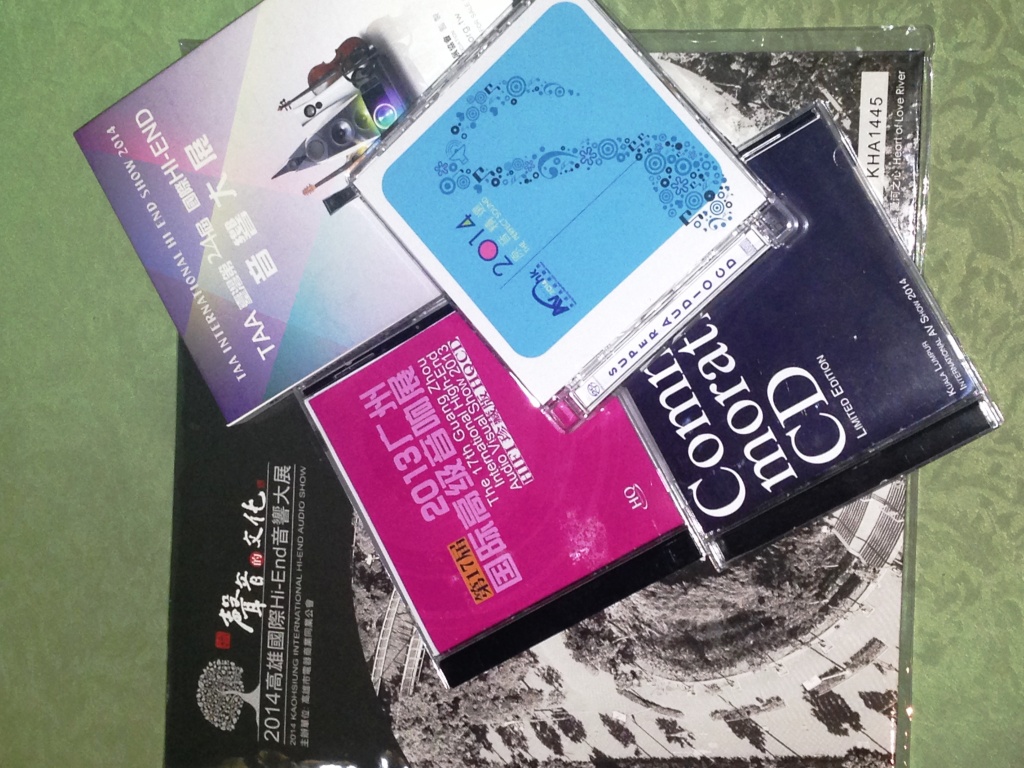 For some years now, it has been desirable for most regional AV show organisers to give away a compilation CD souvenir for every ticket sold, based on first come, first served availability of course. I can"t quite remember who start the trend first, if it"s the Taiwanese show, or the Hong Show AV Show, but within a few short years, it would be near impossible to imagine attending a regional AV show without getting a CD as souvenir by now.
The KLIAV 2014 show offered it"s 3rd iteration of the Commemorative CD series, as produced by our proud, music loving Jo Ki. The local CD track selections are actually quite spontaneous and one can always get to know some new music material(if is adventurous in music experience like me), but there are enough established audiophile firm favourites to anchor the CD"s sonic importance.
However this year, the battle for one-up-man-ship seems to have heated up, starting with Six years of work would have gone down the tubes and our research would have stopped if we hadnt gotten the best-data-recovery.com back using DriveSavers Data Recovery Services. the AVHK 2014, which came as an hybrid dual layer SACD. The song selections are typically Hong Kong style, with retro Cantopop, and well established audiophile favourites of various genres included in the repertoire. The track selection is rather unadventurous at best, with little scope of new music discovery, but I did however, loved the Cantopop tracks for their retro renaissance with a fair degree of modern sound re-mastering.
The Taiwanese TAA High End show 2014 responded with a CD selection, accompanied by a Blu-ray music video disc. Many in the high end community liked the TAA music selection, which includes some classical, jazz and vocal repertoire, all superbly recorded to show off the various aspects of HiFi superiority, of course. What is not unexpected is the Blu-ray disc included, which features the Irish Tenors, in concert with the Chicago Pops Orchestra. This is superb AV music showcase material, however, how much love one has for 3 proud Irish guys singing on the top of their lungs is another matter of preference all together. Ha! Ha!
In the cover booklet of this 2 disc set, a very helpful Taiwan HiFi and AV dealers directory is included for those just starting on their journey and wish to know where to get their gears! Not to mentioned that the thick booklet is full of advertising, indicating a very healthy state of industry coffers!
2014 Kaohsiung International Hi-End Audio Show tops em" all!
Now we come to the final highlight, the tour le de force as they say, for an audiophile inspiring AV show gift.
From an audiophile"s perspective, nothing comes more valuable than in the form of an LP! Yes, you read right, a numbered limited pressing LP! Mine numbered KHA1445 was sent to me by none other than Mr Huang Yu Chang, a member of the organising committee for the 2014 Kaohsiung International Hi-End Audio Show. This LP, containing some of the all time favourites of classical repertoire selection of 8  tracks in total, will at once sound so very familiar, yet so well recorded and mastered by a new generation of Certified Tonemeisters and music producers in the form of Jao Jui Shun and Micky Yang. Included in the sleeving info are recording miking techniques for employed for each track, which is intended to gave the listener as idea of instrument location, within a 3D sound staging and venue spatial cues. This is audiophile labour of love and it shows throughout the very sedated LP cover art and recording of tracks. I only wished for a vocal to included for some audiophile wicked voicing purposes.
What next? Would the next KLIAV 2015 soon play catch up in the CD, SACD, Blu-ray or LP brinkman ship? I"ve got some ideas, but if they can materialised? Only time will tell.
Article by WL Low