Folks, it"s the grand prize giving ceremony for the KLIAVS 2014 Lucky Draw Winners and AV2Day.com's Golden Ear Winners held in conjunction during this year"s July show.
If your name is listed below, please make all effort to attend the ceremony as failure to do so will render your winning entry void, and no further correspondence will be entertained by the KLIAVS 2014 show organisers.
DETAILS OF THE CEREMONY
22nd November 2014 (Saturday)
Bintang 1 & 2
Level 3
JW Marriott Kuala Lumpur
i) Arrival of Guest & Registration : 2.00 – 2.30 PM
ii) Prize Giving Ceremony : 2.45 – 3.30 PM
iii) Refreshment : 3.30 – 5.00 PM
KLIAVS 2014 Lucky Draw Winners:
1) Mohamad Aslam

2) Wang Chaw Ann

3) Vincent Chong Min Fui

4) Ahmad Shahrim Abd Rashid

5) Chin Nyu Wah

6) Ong Ming Yin

7) Alicia Teng Ling Sim

8) Gan Chern Siang

9) Boon Kok Soong

10) Jessie Tan

11) Andrew Ong Ching Yip

12) Hew Lian Fern

13) Ghanesan Mayavar

14) Oh Teik Peng

15) Chee Choon Seong

16) Chen Yi Fei

17) Wong Ah Suan

18) Kumarasan Balasubramaniam

19) Sim Tze Vui

20) Alex Yoon Kou Leong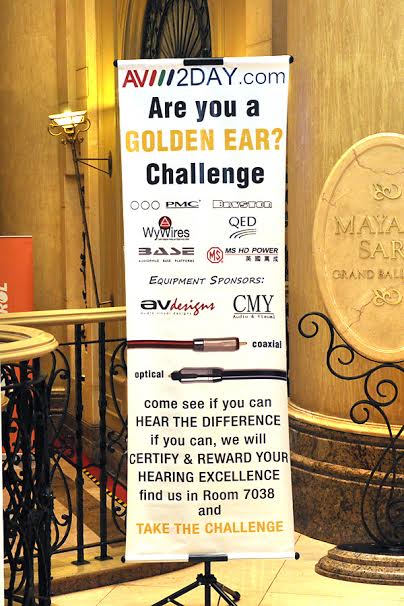 At the same time, if you've participated in our "Golden Ear" challenge during the KLIAVS 2014 show with your name and IC No. listed below, then a big, big congrats in order.
Winners:
1) Chua Lin Chyin
2) Adrian Alex Foo
3) Chua CK
4) Joseph Ki
5) James Chin
6) Vincent Lau
7) Alvin Chang
8) Lee Fook Yuan
All the 8 winners(or their representatives) above must be present to collect their "Golden Ear" certificate and winning prize, courtesy of CMY Audio & Visual.
Once again, congratulations to all our Lucky Draw and "Golden Ear" winners of the KLIAV 2014.