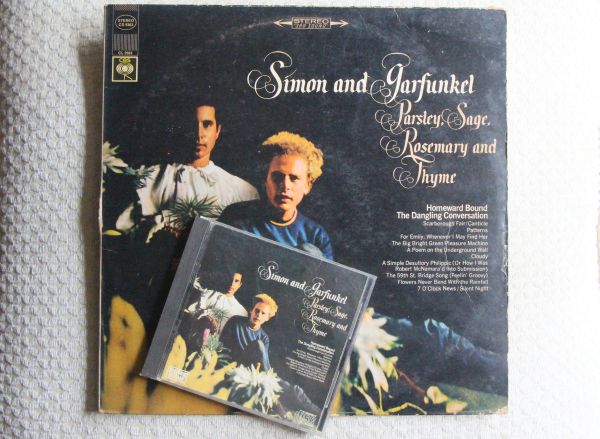 By Lam Seng Fatt
There I was still continuing with my journey of discovery to find differences in sound quality between the analogue LP and digital CD when I suddenly discovered there was a major difference not related to sound quality. The channels were switched on the CD!
I was playing Simon and Garfunkel's Parsley, Sage, Rosemary and Thyme. The CD (CBS62825) was printed by CBS/Sony in Japan while the LP was released in 1966 on the CBS label.
Initially, I played the CD and LP simultaneously and switched sources back and forth every 20-30 seconds, so I did not notice anything peculiar. It was only when I decided to play the LP in its entirety followed by the CD that I noticed that the CD had the channels switched – music from the left channel on the LP came from the rignt channel on the CD and vice versa.
This was especially noticeable on the second track – Patterns – which had the bass and percussion on the left channel when the LP was played and on the right channel when the CD was played. It was also obvious on the last track – 7 O'Clock News/Silent Night as the newsreader was on the right channel on the CD while it was on the left channel on the LP.
Since I am not an expert in music production, mastering and pressing of LPs and CDs, I decided to ask an expert – Dr AIX aka Mark Waldrep, PhD, of AIX Records and iTrax.com. I have been subscribing to his newsletters and I thought I would just chance it by sending an e-mail to him with some questions. I was not sure if he would entertain such an outlandish query and waste his time answering – but he did and quite promptly too.
I told him that the channels were switched and asked:
Q1: was this done on purpose?
Q2 did someone in the studio accidentally click the 'reverse channels' switch and forgot about it?
Q3 is this common?
Q4 isn't the CD version compared with the master tape before it is released for sale?
Mark's answers:
"Not really surprised by this. I found the same thing when I did the remastering of the 'Will the Circle Be Unbroken' by the Nitty Gritty Dirt Band. The original CD master had the left and right channel reversed and NO ONE in the band or label ever knew!
It is not deliberate…it was a mistake.
It does happen…although I don't think it's common.
The final comparison is almost never done."

So there you are…a little mystery has been cleared up. We now know that Murphy's Law applies to the music industry as well.