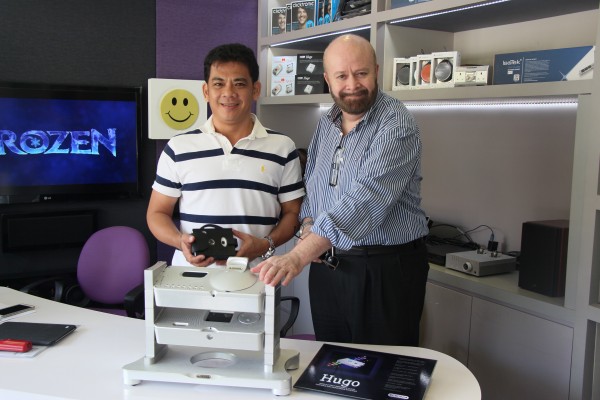 By Lam Seng Fatt
Inspired by the runaway success of its Hugo battery-powered headphone amp/DAC/preamp, Chord has embarked on at least six projects including an upgrade and upsize of the Hugo.
The new Hugo, called Hugo TT (for 'Table Top' and not 'turntable' as I initially thought) was launched at the CES 2015 in Las Vegas which began yesterday.
The Hugo TT is larger – 10″ by 10″ – and has (thankfully) normal-size switches, and normal-size jacks (I cannot use my Toslink and co-ax cables with the Hugo). It has an AES-EBU input and balanced XLR output jacks. It has two full size and one mini headphone jack. It has a small display so that users can see the format and sampling rates of the music files being played instead of looking at changing colours.
Essentially it is a souped-up Hugo for the desktop market with a boosted power supply. Still battery-powered, it has 100,000 microfarads of capacitance in banks of super caps. Inside the unit is a longer Bluetooth aerial to boost the useable distance of Bluetooth devices.
All these were revealed by John Franks, founder and chief executive of Chord Electronics, who was at the showroom of his Malaysian distributor Centre Circle in Taman Tun Dr Ismail, Kuala Lumpur, in early December last year.
John said Hugo was a phenomenal success and has sold about 10,000 units worldwide, but with the growth in the desktop market, Chord decided to upsize Hugo for that market after listening to comments from Hugo owners in various online forums.
John also revealed that Chord is working on a Class A amp that is 93 per cent efficient! That kind of efficiency is in the realm of Class D amps! The invention of genius Rob Watts, who also designed the Hugo, the amp will be a 40 watter that is stable to 2 Ohm loads.
The way John explained it, the Class A amp will be driven by a Class D-based power supply which will lead and follow the needs of the amp stage.
Among the other projects that Chord is working on is an ADC for the pro and consumer market which will have a range of equalisation curves and a QBD reference DAC which will have 160,000 taps.
Indeed, Chord is on a bull run.
Note: This post was initially published on Dec 10 last year, but John made a request for us to hold on till the Hugo TT was launched at the CES in Las Vegas.