Light Years Ahead
Article by Dick Tan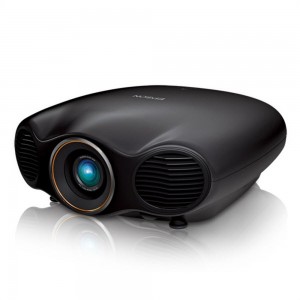 Epson has finally done it…. make a projector that is capable of producing enhanced 4K performance.
Although not a native 4K design the LS10000 feature the company's proprietary 4K enhancement video scaling technology that electronically shift each and every pixel in a diagonal fashion and then edge enhance it to such a refined stage that the results appear to match that of a native 4K imaging device.
To achieve this remarkable feat the LS10000 utilizes not the conventional LCD (Liquid Crystal Display) chip found in all of their home entertainment projectors but a variation of it.
Known as Liquid Crystal on Quartz or 3LCD Reflective, Epson says this newly developed imaging technology is crucial in giving the LS10000 an edge over its competitors in areas of contrast, visual detail, picture sharpness and a smooth, organic looking picture quality that is being recognised as the visual characteristic of 4K video.
'Packed to the gills' with other resolution enhancing features designed to push the 4K resolution umbrella to the limit, the LS10000 also feature a Dual Laser Light source instead of conventional lamps.
Probably the first home cinema projector to feature such an unique form of illumination the LS10000 uses no lamps and thus requires no lamp change and unlike lamps that usually last no more than 3000 to 4000 hours, the Laser light engine has a life span of 17,000 hours when used in the extra Bright Mode or 30,000 hours in the Eco mode.
In addition to an extended life span the Dual Laser Light engine is also said to significantly improve start up time (at least twice as fast as conventional lamps).
Light output is rated at 1500 Lumen, more than enough to light up a medium/large room on a screen size that could at least be 150″ wide  Videophiles will also be delighted to learn that the LS-10000 is equipped with a HDMI input that is both HDCP (copy Protection) 2.2 and HDMI 2.00 compatible. This means it is, out of the box, fully compatible with the soon to be launched 4K Bluray format.
The LS10000 also comes with a powered lens memory function that allows it to be used with cinema-scope type 2.35.1 aspect ratio screens where similarly shaped movies can be shown without the top and bottom black bars.
Another key feature of this premium Epson projector include a proprietary five step Super Resolution picture enhancement algorithm that is said to effectively improve dynamic picture detail and sharpness at 4K resolution.
While modern AV products with the benefit of advanced manufacturing technique has gotten more compact and thus easily transportable the LS10000 is no slouch.  If is fairly massive measuring at least 22 inches square and has a hefty 40 pounds weight to match.  Videophiles will likely welcome this 'massiveness' as indicative of the quality of the components to be found in the LS10000.
The LS10000 and other Epson projectors can be auditioned at the coming KL International AV Show 2015, July 03 – 05 at the JW Marriott, Jalan Bukit Bintang, Kuala Lumpur.
Article by Dick Tan