Article by WL Low
Folks, this may be the next best thing since slice bread, well not exactly as I haven't been this excited over a Hi-Fi or AV product for a while now! Now you've heard about RCA or XLR caps, speaker terminal caps, even, but HDMI caps???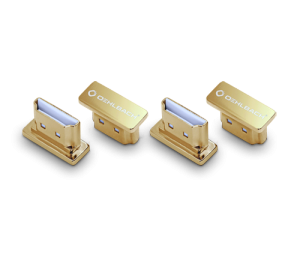 All those caps you see on the left exists because one and only problem. As Dick used to tell me,"The whole problem is the hole problem! And us men spend our life time trying to plug as many holes as we can!" I am a self confess cap user, bar the French kind anyway!
The sifu in Puchong once asked if a great Hi-Fi designer should give as many holes to plug as an option? Or just provide the barely needed holes for the necessary connections? There lies two schools of thought here, none more correct than the other. It's something that's been troubling me for a while too.
And along came David from Audio Art, with a pack of 4 OELBACH XXL HDMI caps with a premium XXL series HDMI kabel for me to play. I had never thought of this as an exciting assignment, and nothing could have prepared my for what I am about to get my self in to.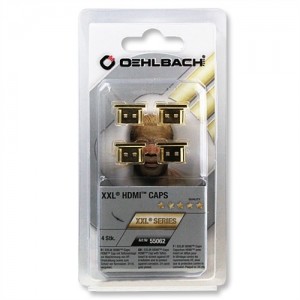 The XXL HDMI caps came in a blister pack of 4 pcs, priced at RM$138.00/pack.
The 5 star rating on packaging confirms it's product for top dog/alpha status in the OELBACH range of goodies. OELBACH ranks 3 stars for their entry level products, 4 stars for the mid range stuff, and 5 stars for the top drawer stuff.
The HDMI caps are made from solid brass with 24K gold plating and are inserted with what looks like teflon coatings on the inside contact area to provide effecting shielding against high frequency radiation (or so says it's web site in German, thanks to Google translate!)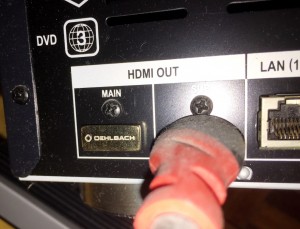 After inserting all the required HDMI caps in to my OPPO BDP-95 Blu-ray player, Denon AVR 1612 HT amp and Samsung Plasma 64E8000 TV's spare inputs & outputs, I turn on some of my favourite movies to reference for picture and sound quality. The immediate Blu-ray was Star Trek, In To Darkness, say what you want about JJ Abrams, but he is the best thing to have ever happened to the Star Trek franchise. I quickly noticed an overall less glare on the picture quality. The whole colour palate had taken on a softer, and lush tone, giving epic movies like the Star Trek much more depth in the land scape cinematography. Blacks are indeed blacker, bringing much of the shadow detail never before realised previously.
Sound quality took on a more dynamic and punchy pace. The impression is the sub woofer seemingly working harder then before, yet dialogues retain that easily discerning quality, without having to stress one's ears, especially during the loud crash, boom, bang action sequence of the film. Bit of surround sound information for spatial cues and panning effects were made more dramatic than they used to be.
With my whole system unused HDMI holes plugged, my movie experience became more dramatic, that made me wanna watch all my favourite movies all over again!
Now that my interest is pique, I wanna try the HDMI caps for my music system as well. I have been using for sometime, an ol' Pioneer DV-LX 50 DVD player as a CD transport, feeding digital signal to my resident Bryston BDA-1 DAC via co-axial cable connection. The Pioneer DVD player had an unused HDMI output, and so in the OELBACH XXL cap. I notice the same dramatic transformation to my music enjoyment too!
Bass had a fuller, meatier quality to it, while transient was speedier and dynamics was boosted. The imaging factor took on a more rounded and 3D projection in the centre of sound stage. I was gobsmacked, because the music emotion intent just flowed out from the speakers like never before. I kept getting goose bumps inducing moments on my favourite tracks, such as Jennifer Warnes, The Well CD, on the And So It Goes track, where she sing with just a piano. This track has been an AV2Day team reference for many years due to it's simplistic piano backing which easily exposes a systems short comings. And here I was, all teary eyed, experiencing goosebumps after goose bumps, sitting on the lonely throne for one!
Then I decided to buy a second pack of 4pcs, and in they went on to all the spare unused HDMI inputs & outputs, on a Pioneer BDP-450 Blu-ray player and a Sharp AQUOS LED LC-50LE460X TV. The insertion of the XXL HDMI caps again brought about a dramatic reduction of glare, and more pristine and lush tone quality to the picture. Blacks were denser too, with improved shadow detailing on dark scenes. The sound from the TV's back facing crappy speaker suddenly became less echo-ey and more distinct, in speech and clarity. Even on a simple system, I did not envisioned such degree of improvement.
The OELBACH XXL HDMI Caps proved even better value proposition than upgrading HDMI cables! In fact, they are one of the best upgrades given the silly money they cost! Highly recommended tweak at any price. Now who has problems with unused holes?
Experience them at next weeks KLIAVS 2015 in the Audio Art demo rooms.
Contact David on 012-2499823 for more details on OELBACH items.
Article by WL Low