Article by Dick Tan
VENUE: LEVEL 3, BINTANG 1 & 2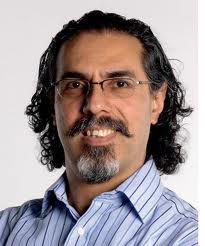 Vertere Acoustics – Touraj Moghaddam
Seminar Topic: Weakest link in the audio Chain – Cables and Tonearms.
Date: 4th July, Saturday
Time: 1.30pm-2.30pm
A graduate of the Imperial College of Engineering, Moghaddam spent 25 years in Roksan Audio, a company that he founded. While at Roksan Audio Moghaddam was responsible for the design of dozens of audio products that achieved award winning status globally. A respected perfectionist who strived for only the best, Moghaddam left Roksan Audio to found Vertere Acoustics as its CEO.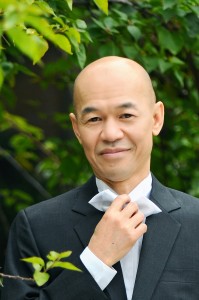 Acoustic System International – Frank Tchang
Seminar Topic: Understanding Acoustic Resonators
Date: 3rd July, Friday
Time: 1.30pm-2.30pm
Chinese émigré educated in America, Frank Tchang is an acknowledged expert in precious metal alloys and their acoustical properties. After extensive research Frank today produces a range of acoustic resonators that is said to be able to cure acoustical anomalies in any room. Frank's acoustic resonators have met equal amount of success as well as ridicule. The former from highly satisfied customers and the latter from those who refuse to accept his theory. However, one may choose to regard him, Frank is nevertheless highly regarded by many to be a great inventor in a controversial world and has never fail to amuse and impress the crowd in all his eagerly attended seminars.
P

ro-Ject Audio Systems – Frank J. Votruba
Seminar Topic: The story of Pro-Ject and turntable designs
Date: 4th July, Saturday
Time: 3.30pm-4.30pm
For over 20 years, Pro-Ject has been producing quality hi-fi audio components. Their Debut Carbon turntable has been a highly influential piece that has opened up the hi-fi market to everyday listeners. In addition, their modular Box components (Phono Box, Tube Box, Head Box) are space saving, high performance pieces that you can obsessively collect much like the vinyl records they enhance. Lastly, for its price range, Pro-Ject offers the best value you'll find in the audiophile category.

Focal Audio – Quentin Morieux
Seminar Topic: The Sopra Line and its Design
Date: 5th July, Sunday
Time: 1.30pm – 2.30pm
A graduate of the Audio Engineering fraternity in France Quentin Morieux is the Home Expert Sales Representative for Focal, a world leader in the audio industry based in Saint-Etienne, France. A well travelled and highly experienced engineer Quentin has chalked up immense knowledge working in the U.S. in various recording studios with artists that include famous singers such as Shakira, Jennifer Lopez, and Natalie Cole. Quentin Morieux is today the Focal representative in charge of territories in Asia. In his seminar Quentin will share his experience about Focal's new Sopra Range, the techniques used and the source of inspiration that led to the new speaker design.

MS HD Power – Simon Hung
Seminar Topic: 78K Products Design and its benefits.
Date: 3rd July, Friday
Time: 3.30pm -4.30pm
MS HD Power is a premier manufacturer of high performance and safe power equipment for Audio and Visual System. With over 45 years of experience in this field with global network of sales and distribution, MS – Windo Industries is a proven industrial leader. Simon Hung, a veteran in the design and manufacture of power supply system will speak on the design intricacies of quality power supply systems. Note: Seminar to be conducted in Cantonese.

Chord Electronics Limited – John Franks & Rob Watt
Seminar Topic: Digital Products and Design
Date: 3rd July, Friday
Time: 11.30pm – 12.30pm
Chord Electronics Ltd is a world-leading manufacturer of high-end audio products. Since 1989, under the leadership of proprietor John Franks, Chord Electronics has been pushing the boundaries of innovation, creating some of the planet's finest hi-fi, home cinema and professional audio equipment. A technology-driven leader, Chord Electronics' philosophy of ongoing evolution and refinement continues to deliver landmark audio products with extraordinary performance and unrivalled design features.

KRONOS – Louis Desjardins
Seminar Topic: Turntable Teabundary
Date: 5th July, Sunday
Time: 3.30pm -4.30pm
A native of Montreal, Canada, Louis Desjardins is a professional photographer by training. He is also passionately driven by a love for the beauty in aesthetics as well as music. In addition Desjardins is also a blues guitarist and collector of vintage Gibson electrics guitars. It is such passion in engineering, aesthetics, music and hi-fi that eventually led Desjardins to design and create the new much talked about KRONOS turntables which he debuted in 2011 which attracted considerable attention given its striking appearance. Desjardins will be discussing the finer points of turntable technology at his seminar.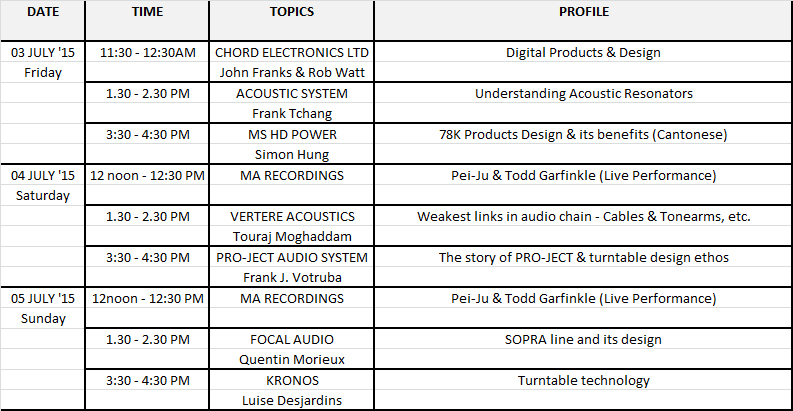 Article by Dick Tan