Article by WL Low
I started listening to the all tube and horn system on demo in O'Lagenda, Our Stance Kafe. The sound was nicely pleasant and musically flowing. Then I started thinking if I was listening to the spinning turntable, or music files from the lap top starring right in front?
I analyse the sound further, while very analogue sounding, it was just too noise free to have come from an LP playback system. I asked Gunther(boss & designer of Tobian tube gear and horn speakers) to confirm which source am I listening to? He replied, the laptop! There and then I knew I had to get to know the digital conversion better, which led me to have a cuppa with the exD DAC designer from Hong Kong, Albert Leung(as pictured with the exD DAC).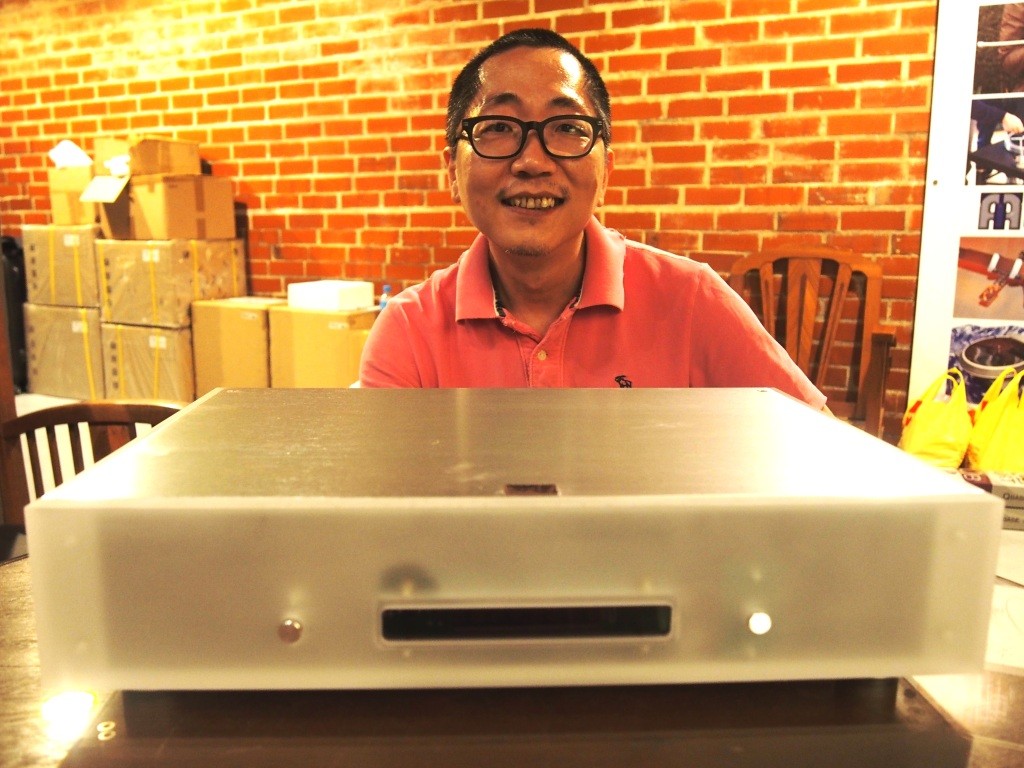 Albert had spent about 5 years or so developing the exD Dac, which aspires to be in the high end section of the market. Being in the high end section of the market, the DAC must not only sound good, look good, but be at least future proof for sometime in the ever developing world of digital audio.
The exD DAC that you see here is based on an open platform carrier chip, which allows future algorithm based firmware updates when new digital file standards become available. The unit is currently configured for PCM conversion of up to 32/384 files and DSD 64 & 128 music files(DSD processing can only be done via USB 2.0 input). Then there's the 6922 tube based output section, specifically chosen due to wide availability NOS versions of the said tubes. There's a pair of the 6922 tubes inside the exD. Another technical design feature of the exD DAC is the use of a custom wound C-Core transformer, for that richer mid range sound character.
The exD DAC allows USB 2.0, and BNC input, which I requested Albert to double up each with co-axial and AES/EBU inputs if I ever bought a unit from him! The DAC offers apair of  single ended and balanced(XLR) analogue outputs each, which is deriguer in high-end-dom these days!
In fact talking to Albert so far only re-enforces how much tube design play book schematic is used as the technical benchmark to make the DAC sound as close to analogue like as possible. Which explains why I was nearly fooled upon initial listening session. Albert also emphasizes the point that all exD products are hand assembled with care in their own factory at Wan Chai, in Hong Kong. Only certain components are sourced from China. So don't let anyone tell you otherwise!
At point of writing, I am still waiting for the review sample of the exD DAC to come to me. Please stay tuned for the review to come soon!
For exD DAC enquiries or demo appointment, please call Thomas Lim at 016-9683383.
Article by WL Low