Article by Tan TE
.
In the early days of my audiophile life, I missed out on experiencing many venerable entry level gear. I did not have the fund for frequent upgrades nor did I know many audiophile friends, so my chances of getting to actually listen to these equipment were slim. I only got to read the rave reviews in the likes of "What Hi-Fi?" and "Hi-Fi News and Record Reviews" about the entry level models from Audiolab, Rega, Mission, KEF, Proac, B&W, Dynaudio etc.. Later, when I started writing about hifi, my mind was fixated on bigger, shinier and all the while more expensive stuff, but who wouldn't? No audiophile could resist any opportunity to test out some exotic, high end stuff for free.
.
Now, as my main system has kind of gotten to a stable state, I want to revisit this big gaping hole in my audiophile experience. I am going to test out entry level and mid level hifi gear and report about them (what's entry /mid level? Hard to say, I think of to just go by price and set an arbitrary limit of RM10k list price per piece of equipment)
.
However, before I could get on to loan equipment from the dealers, I needed to build myself an entry level system to be used as a reference. I thought if I could not get this system to perform to my satisfaction, then I would abandon the idea altogether. There was no point proceeding as I would be doing the loan equipment an injustice. My concern was twofold: firstly, I didn't want to move my main system as that is not work that can be handled by one person alone (mainly because of the weight of the equipment) so the new system had to be placed around the main system, it was imperative for the new system to be able to work well in such an environment; Secondly, (a snobbish thought in hindsight), could the smaller system be musically satisfying for me after me being more used to higher end equipment. Well, did I say that this second thought was snobbish?
.
I went around assembling the system with what I had lying around. The digital source was the Marantz DV7001 DVD/SACD player which was not doing its AV duty anymore, now I am glad that its audio capability could be put to good use. The amplifier was another piece of AV gear, a Denon AVR2106, now obsolete as it does not have HDMI capability (ya, I also liked to know how well AV equipment could do with pure audio). Later, I also commandeered my son's NAD C315BEE integrated amplifier which he used in his bedroom system. The loudspeakers were a pair of Sonus Faber Concerto Home which had not been listened to for a while. The Sonus Faber were placed on a pair of no-brand 4 pillar metal stands, 2/3 filled with sand. Interconnects were Wireworld Polaris III and the speaker cables were vdH The Wind II. All power cables were stock. Power conditioner was Shunyata's Hydra 8 which I also used in my main system. The Disc player and amplifier were individually placed on a piece of wooden chopping board bought from Ikea (I think it does not have them any more), which was in turn supported by 3 pieces of Finite Elemente Ceraballs underneath.
.
How did this ragtag group of gear perform?
.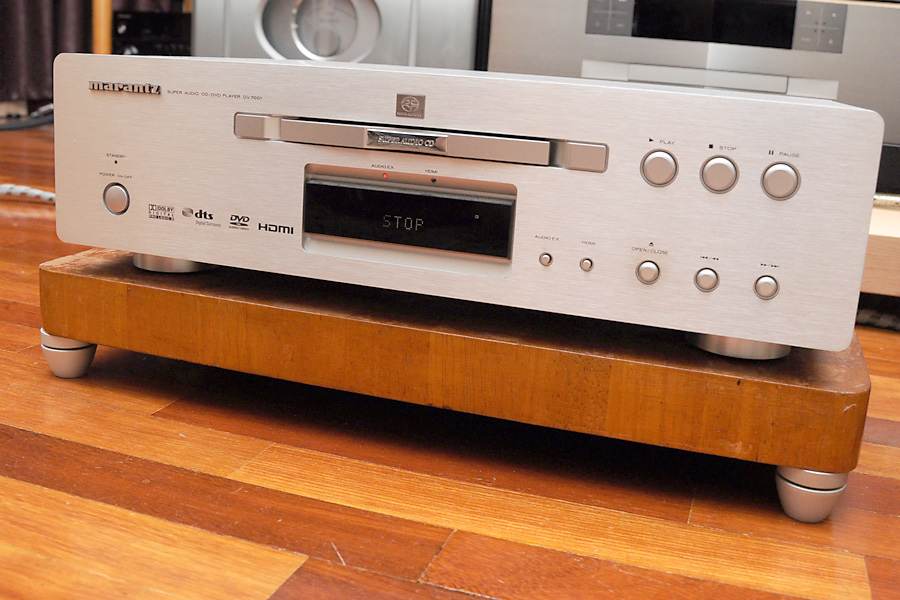 Marantz DV7001 DVD/SACD Player
.
After setting the system up, I started with something simple, a female vocal track with Stacey Kent.
.
My jaw dropped seconds into the song.
.
Wow! If this little system performed like this, I thought to myself, I would be in on an interesting and exciting ride.
.
As I moved on to other music and also improved on the speaker positions, this surprise and new found appreciation didn't diminish, instead my admiration for these guys grew.
.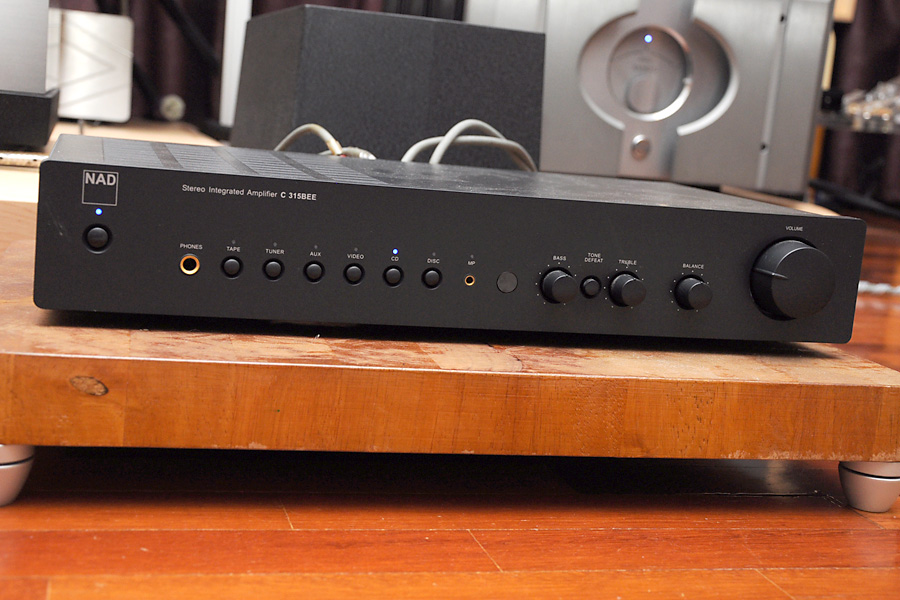 NAD C315BEE Integrated Amplifier
.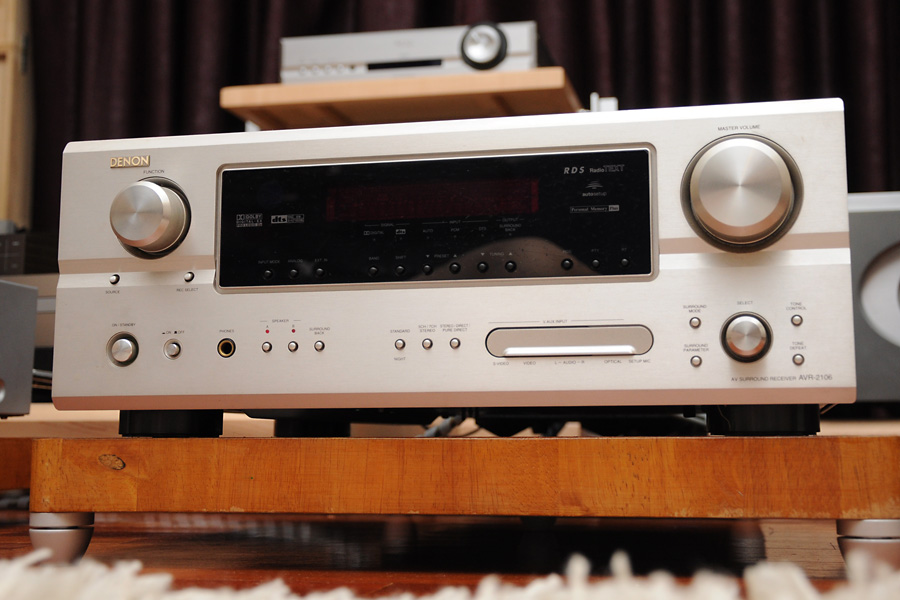 Denon AVR2106
.
The speaker positioning effort was important. Initially, the Sonus Fabers were positioned between and on the same plane as my TAD-CR1, firing straight ahead. They sounded a little dark and had a somewhat lumpy bass though everything else was quite fine. Through experimenting I found that the best way to place them in my room was to have them closer to the listening position than the TAD-CR1 (10ft vs 12ft), spread 9ft apart and toed-in fully with the speakers pointing directly at my ears. This last bit was crucial, the toe in largely ameliorated the dark and warm character that some attributed Sonus Faber with, and produced a more even tonal balance from top to bottom.
.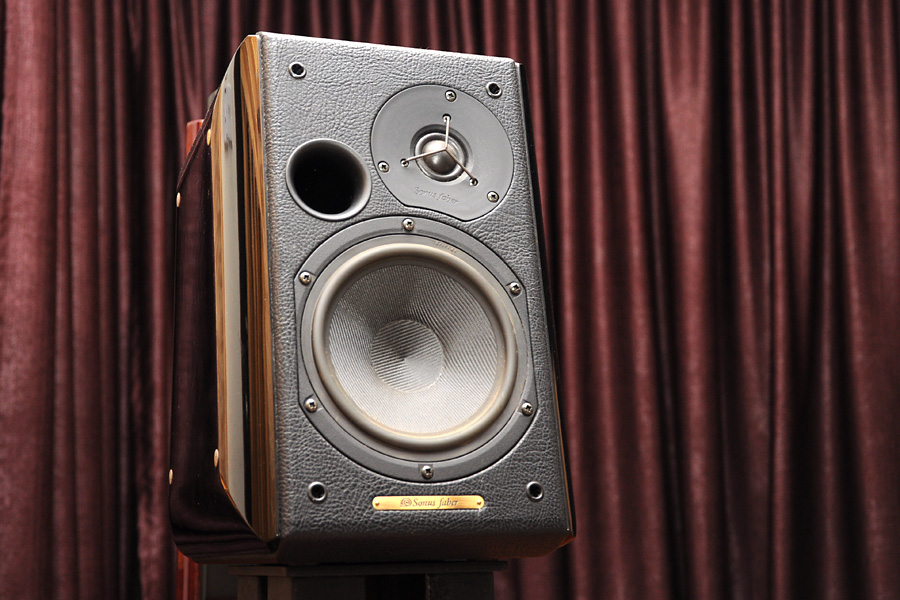 Sonus Faber Concerto Home
.
Set up this way, the sound easily passed my first hurdle – it did not had what I call the 3 top sins in hifi – an overly bright, overly sharp or harsh sounding high; a thin and dry mid; and an exaggerated or boomy bass. Any of these problems would easily make me want to stop listening after a short while.
.
On top of this, the system played the recordings I fed it with more than a good amount of nuances and details coupled with good dynamic expression, the music reproduction held my attention and attracted me to listen on and on. A 1 to 2 hour long fatigue free listening session was not out of the question, in fact that was the norm.
.
The soundstage was another surprise, it was well formed from behind the line of the speakers and stretched all the way to the front wall. Horizontally the stage easily filled the space between the left and right loudspeakers. Height information was there too with the vocalist's "mouth" placed a few inches above the plane of the loudspeakers' top panel.
.
The Sonus Fabers turned out to have a sweet and warmish character, they embraced female vocals particularly, imbuing them with sweetness and a sultry feel. Tonal colours were rich. But the sound overall was quite open and things did not turn into mush or became lethargic. In fact, many would call this presentation organic and musical.
.
On the other hand, this system, like any other, does have its limitations. I could hit the loudness and dynamic limit earlier than I used to, that was when the sound began to compress the music sounded stressed (the NAD C315BEE, despite its 40w rating, fared better than the Denon in this respect. This little gem from NAD also sounded cleaner and more open than the Denon AVR overall). Having said this, we must also take into account the not-so-small size of my room (15'x22'x10′ wdh). I believe there will be no such issue in a smaller room. Also, bass extension was limited, but there was enough bass quantity for a nicely balanced sound. The sweet spot of the Sonus Fabers was small, it was limited to the centre listening position. If you sit away from the sweet spot, the sound became darker and somewhat muffled.
.
Obviously, I enjoyed music with this system thoroughly and liked it very much.
.
Which brought us to an interesting question. Some audiophile friends who heard this system at my place cheekily poked me with this, "After listening to this, don't you think it foolish that you had to spend so much on your big systems?!"
.
I smiled.
.
Let me put it this way, I get more performance from my main system – in terms of frequency extension, scale, dynamic range, details, ease, among others. These together give me a more enjoyable listening experience than the small system, in the absolute sense. In another sense though, i.e., in terms of returns to spending ratio, the small system does come out ahead instead. Economists call this diminishing returns, for every incremental improvement after a certain point you have to pay increasingly more.
.
So, is it better or more correct to look at the "absolute" or the "relative"? Well, I can only say you live your own life and you choose your own poison.
.
Which brought us to another interesting question again. If one enjoys the "good" sound from a higher end system, which gives more in every performance area, can one also enjoy "good" sound from another system that gives relatively less? The answer to me is in the affirmative, as I am experiencing with these 2 systems in my room. One sounds better than the other but both sound good to me.
.
So is it that there is a fundamental set of performance areas with certain threshold that every system must pass, whether entry level, mid, or high end, before listeners recognise the sound as "good"? Could it be that, given an entry level system which passes all these areas, and a high end system which performs better in some areas but failed the threshold of one or two of these fundamental areas (may not be the high end equipment that is at fault, could be setup or room issue, say), people will say the entry level system sounds good and even bettered the high end system. If this is so, I'd be really interested to nail down what these fundamental areas are.
.
I don't have the answer to this, I can only hope to learn more as I test and listen to more equipment. But I know what I want as a minimum in a system, any system, which is that the sound must not possess my top 3 sins in hifi that I alluded to earlier, that would be my starting point.
.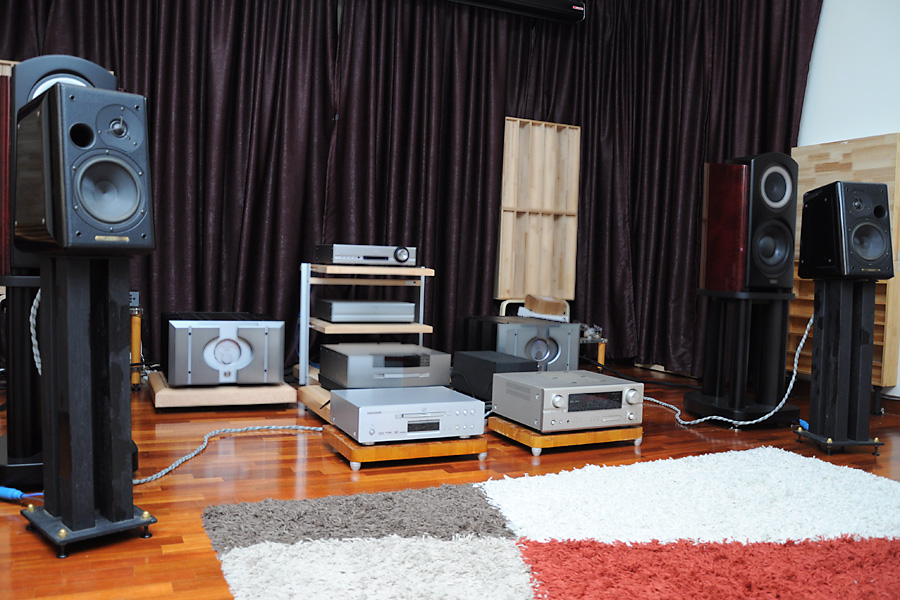 .
In the context of the price point of this system that I put together (among the main components – obsolete DVD player and AV amp wouldn't fetch much on the used market, the NAD C315BEE integrated amp cost me RM1k+, and the SF Concertos may still be worth RM3-5k), I had half expected to have some disappointment with the sound, but I was shown quite the contrary. I am learning.
.
This is a system that conveys the musical message excellently. You can get more when spending more, but for pure music enjoyment a system like this is as good as any to start and it does not have to cost too much.