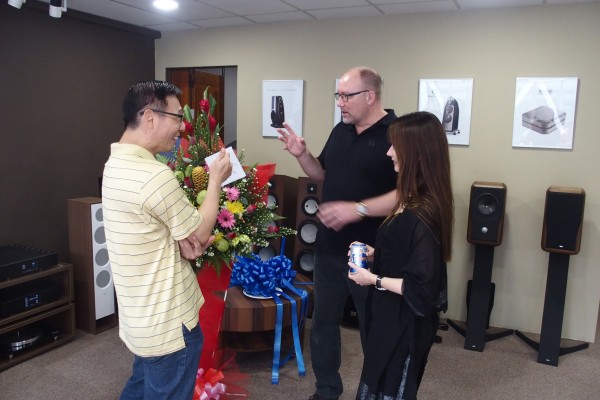 By Lam Seng Fatt
Founder of Vitus Audio, Hans Ole Vitus, and his wife graced the opening of the Swedish Statement Boutique at Jaya One in Petaling Jaya this afternoon.
About 50 people, including some of the highest-end audiophiles (including one who has several Vitus components in his million-dollar system) in Malaysia, turned up at 1pm for a buffet lunch before venturing into the showroom to listen to the systems.
There are two listening rooms – the smaller room has Vitus components and a pair of Rockport speakers, DAC from MSB Technology and an Acoustic Signature turntable. The larger room featured a pair of Chario Academy Serendipity speakers with Vitus Signature series SL-102 and SM-011 components. An Acoustic Signature turntable was on the rack, but it was not used for the demo sessions.
Later in the afternoon, the diehard group of top-end audiophiles just had to listen to the Vitus pre/power amps with The Horn speakers which had been on static display in the front part of the showroom. It took several strong audiophiles and two trolleys to move The Horn to the listening room.
Here are some photos of the event: