Pushing and Pulling
Article by Dick Tan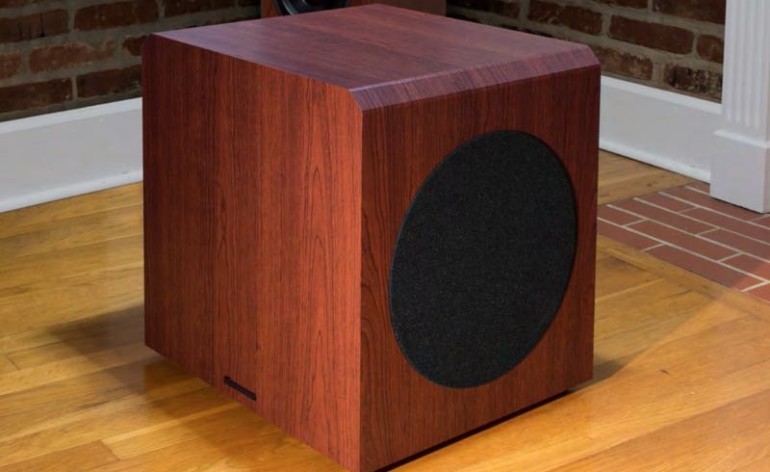 Following the success of its T Series speaker system first launched in 2012 Bryston has recently followed up with the more affordable A Series range.
Like the T Series before it, the new Bryston A Series features a comprehensive range of speaker systems, which include a subwoofer, the Model A Sub.
However, unlike the subwoofers in the T Series, which feature tall column like enclosures with multiple 8″ drive units, the Model A Sub has a more traditional cube enclosure.
According to Bryston, the design of the Model A Sub is a direct response to the many requests from audiophiles and AV enthusiasts for a more decor friendly subwoofer, which may be hidden away if so required.
Measuring only 43cm x 45cm x 38,5cm (17″ x 17.75″ x 15.25″) the Model A Sub features dual rear ported 10" bass drive units mounted on the sides of the enclosure.
This side mounted woofer technique calls for the bass unit to be acoustically loaded out of phase in a push pull configuration.  Driving the woofers is a powerful built-in amplifier with a conservatively rated 400 watts RMS power output.  The power amplifier is itself mounted in an isolated chamber within the enclosure.
Bryston claims that this unique driver/amplifier arrangement is highly effective in eliminating unwanted cabinet resonance.
While compact, the Model A Sub is nevertheless hefty, weighing some 23 kg.  This is undoubtedly due to the heavy duty drive units, built in power amplifier and the heavily damped cabinet made from solid 3/4″ MDF (Medium Density Fibreboard).  Bryston claims that the Model A Sub is able to reproduce bass frequency extension to   28 hertz with a maximum sound pressure level of up to 110db measured at one (1) metre distance.
In short, the model A Sub is able to reproduce subterranean like bass frequencies at a volume level that is guaranteed to rattle the 'teacups in the cupboard'.
The Model A Sub retails for RM7, 250 and is available in standard finishes of Cherry or Ash Black.
For further information contact:
Audio Visual Designs Sdn Bhd
Tel:  03 21712828
Tony: 012 2330771
Article by Dick Tan